Submitted by
global publisher
on Tue, 07/26/2016 - 12:04
English
Intro:
Abraham Jacky Nercessian is a French actor of Armenian origin. He considers his identity to be the fruit of his life's journey. "When I am asked about my emotional nationality, I say I am an Armeno-Anatolo-Greek from Saint Etienne and Paris!" he says.
Story elements:
Text:
Abraham Jacky Nercessian is a French actor of Armenian origin. He considers his identity to be the fruit of his life's journey. "When I am asked about my emotional nationality, I say I am an Armeno-Anatolo-Greek from Saint Etienne and Paris!" he says.
Text:
While most Armenians remember Jacky as the character Apkar in
Henri Verneuil
's film "Mayrig," he is also recognizable behind the heavy makeup as professor Esperandieu in Luc Besson's "The Extraordinary Adventures of Adèle Blanc-Sec." Contrary to popular belief, Jacky has not only played Armenians on the screen, but was also perfectly comfortable in the roles of a Turk Mustapha in "The Great Journey" by Ismael Ferroukhi, a Sephardic Jew in Agnès Caffin's "Shéhérazade et le Délice Casher," or the Algerian Si Kadour in the "L'Algérie des chimères" mini series. 
Family in many places
Jacky's childhood, spent in a family of refugees in Saint Etienne during the Algerian War, was not the happiest one. 
His mother, the daughter of a carpenter Lucie Bartevian, was born in Gallipoli and grew up in Kokkinia, Greece, a shantytown near Athens. "At the age of 19, my mother spoke five languages and wrote four," Jacky boasts. 
Born in Yozgat on January 1, 1912, Jacky's father Parsegh was the youngest in a family of five children: Pirapion, Oghimpion, Filor and his older brother Nerces. The family patriarch, Abraham, was a lawyer from Kayseri. "Every night, my grandfather entertained judges, lawyers and court presidents in his home," Jacky remembers. "Abraham Effendi was a prominent lawyer in Central Anatolia," elaborates Jacky's cousin Verkine. 
Besides his job, Abraham had administrative functions in Marzvan, the city that housed an American school his son Nerces attended. In 1915, a Chechen who worked for Abraham came to warn him of the disastrous fate in store. To escape certain death, Abraham was told he had no choice but to convert to Islam. The honorable lawyer, however, refused to do so, and his decedents are still unsure of his motivation. Was it a matter of principle? Or did he not believe in the dramatic fate that would befall him and his people? Tragically, he was arrested along with other notables in Constantinople, brutally murdered and thrown off a cliff. 
Abraham's wife Noenzar was forced to renounce her faith in order to save herself and her five children. 
Once converted, members of the family Islamized their first names and little Parsegh (then 30 months old) was circumcised. However, this conversion was for appearances only. To fool their neighbors, they kept the lights on until late at night, pretending to be fasting during the month of Ramadan. Noenzar was forced to work at a small oil extraction factory and sell off her property in order to survive. Finding herself unable to feed her children, Noenzar sent her youngest, Parsegh and Filor, to an American orphanage in Lebanon. "Once the war ended, Turks started courting Pirapion, who had reached marriageable age," says Verkine. "Sensing the danger, Noenzar decided to marry her daughter off to the first Armenian who proposed." 
Pirapion was married in a hurry and went to France with her in-laws. They took her eldest brother, Nerces, with them – his basic French would be helpful there. Noenzar joined them in Saint Etienne in 1925. Jacky's father also rejoined the family in Saint Etienne when he was 13 years old, but he did not remember his mother. 
As soon as he arrived, he began working at brick factories until his hands bled. At the age of 19, he joined the French army. He spent five years as a prisoner in southern Germany during World War II, an experience that left him emotionally devastated. "At that moment, he rejected everything, including God and church. He did not understand why I converted to Protestantism when I was 16 years old," remembers Jacky. 
Image: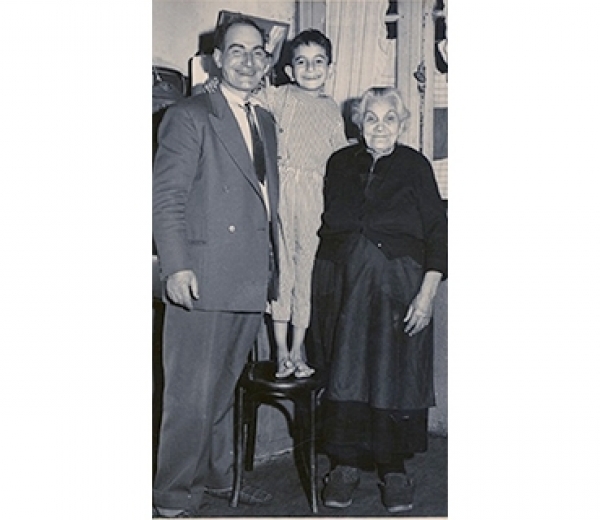 Text:
            Left to right: Jacky's father Parsegh, little Jacky and Jacky's grandmother Noenzar
Jacky's mother Lucie escaped the Greek Civil War (1945-1949) and reached France with her parents; Lucie's brother has repatriated to Soviet Armenia. She met Parsegh through a cousin. Lucie has always been close with her son. In the movie "Mayrig" she plays Digeen Antaram, the coffee cup fortune reader. "She rolled the r's with a Greek accent," Jacky adds with a smile. 
"I made people laugh because we were crying at home''
"My grandmother pressured my parents to call me Abraham. She called me effendi (master), and when we went to my aunts' house, she would tell them: 'You have to cook su bereks for Abraham because he is your father! His inherited first name is a heavy burden.' The women in my house, my mother and my grandmother, were crying all the time. I realized early on that I had to make them laugh. It was my first job as a comedian. Later, I started to make my whole class laugh in order not to show that I was sad deep inside," says Jacky. 
Making people laugh was a crutch for him. However, at some point he set out to get rid of it. 
As a child and adolescent, little Jacky spent his summers at the Armenian Protestant camp. There, he met his future wife, who gave birth to a son named Hmayag. In his quest for spirituality, he found answers to his questioning among Protestants. While his father sank deeper into alcohol, Jacky decided to change his environment. "I could not bear all their suffering anymore, nor carry on being the ghost of my grandfather for my grandmother. At one point, I exploded," he says. 
Every day is April 24
"At our house we did not celebrate anniversaries, or Easter, or Christmas because my alcoholic father would benefit from the occasion to drink more," he remembers. One day, Jacky met a man named Henri Verneuil. While shooting the scene (eight times) where the character Apkar has his feet nailed by Turkish soldiers, Verneuil told him: "There are 1.5 million Armenians who are watching you in the deserts! This is not to put pressure on you." 
Jacky is aware that many Armenians recognized themselves in Apkar due to the simplicity and humility of his character: "Many Armenians think that Henri Verneuil picked me because I was Armenian, but the truth is that I went in search of him." Jacky and Isabelle Sadoyan – the only comedians of Armenian origin in "Mayrig" – were the only actors Verneuil addressed using the formal "vous." 
Jacky does not hesitate to reveal his deep truth: "Every day I think about the Genocide; I do not need a date to commemorate it," he says. Refraining from joining processions did not stop him from making his own pilgrimage to the Athens suburb of Kokkinia, where St. Hagop church, the site of his parents' wedding, still stands. Jacky's journey, bathed by the Mediterranean sun, followed in the footsteps of his family's history. At the age of 64, this pilgrim, actor and comedian of Anatolian-Armenian origin intends to continue pursuing his journey freely, aspiring for even more humanity.
The story is verified by the 100 LIVES Research Team.
Subtitle:
An Armeno-Anatolo-Greek actor from Saint Etienne
Header image: