Varujan Pambuccian currently heads Romania's Parliamentary Commission for IT and Communications, but his list of accomplishments also includes more than 600 amendments to the country's legislative code, a Ph.D. in physics and mathematics from the University of Bucharest and recognition as a person who has dedicated his life to serving society.
Pambuccian's family name comes from the Armenian word for "cotton" ("bambak"). The Pambuccians lived in Adana (present-day southern Turkey), a large industrial center with a well-developed textile industry. Members of the family were involved in cotton processing. "They lived rather well before the Genocide. My grandfather would buy cotton from Egypt and he had a factory that processed the fibers into yarn. The final product was exported to Europe, mainly to Great Britain," says Varujan, apologizing for the "simple Western Armenian" that he picked up before learning Romanian. Aside from carrying on the traditions of the family cotton business, Margaros Pambuccian established Adana's first ice production factory.
"My grandmother and grandfather had a year-old son, my uncle, and my father was about to be born when they were forced to march to Deir ez-Zor. Grandmother Tigranuhi was eight months pregnant," Pambuccian recalls. In a moment of desperation, Tigranuhi shoved her son into a pit full of bodies of dead children, thus saving his life. A little while later the boy was found by a Turkish neighbor and spent a couple of years living with her family. "By saving an Armenian she was risking her own life. It was a heroic deed. Interestingly enough, several years later the same neighbor met my uncle once again, but this time in the Romanian city of Constanța. She came to that country on business and she just ran into him on the street. The Turkish woman recognized him by his eyes: his were the only ones that were deep blue."
Varujan's father Vage was born on the road to Deir ez-Zor in Syria. "After the child was born, my grandfather realized that something had to be done. I don't know how he managed it, but they were able to escape this 'caravan of death' and made it to the house of grandfather's friend and partner, an Arab who had converted to Christianity. The family spent a week with him," Varujan continues.
"Once Turks came to the house. The Arab hid the Armenians under the bed, and when the Turks went into the room and took their guns to the beds to check if anyone was hiding, that one-month-old boy stayed quiet. After that the Pambuccian family was able to make it to a French ship that was sailing for Cyprus."
For a long time Margaros Pambuccian hoped to return home and to continue his interrupted life, but finally realized it was not possible. The family considered its next move, with Egypt on the list of potential destinations.
But they finally chose Romania because it was one of the first countries to officially accept Armenian refugees and because grandmother had a cousin in Constanța, the politician explains.
After settling in Romania the family was unable to continue its traditions in the cotton trade. Nonetheless, the Pambuccians gave all of their children a good education. "Grandfather and grandmother spoke little of the tragic events of their youth. My father, who heard the whole story from his parents, was the one who regularly brought it up. But neither he nor I were ever able to learn the names of the people who saved our family. Grandfather wouldn't name them to keep them from harm. My father and I wanted to find their descendants and thank them, but, unfortunately, we've been unable to do so," Pambuccian laments.
Margaros and Tigranuhi Pambuccian
Across the frozen river
Varujan Pambuccian's mother Nazlu and father Vage met in Romania after World War II. Nazlu was a Bulgarian-born Armenian. Her mother's side of the family lived in Silistra (Bulgaria), while her father's side of the family lived in Kemah (present-day Turkey). Varujan's maternal grandfather escaped the massacres in the Ottoman Empire by running away to Romania at the age of 16.
The young man quickly found his bearings and established his own business. His work saw him travel a lot and he often visited Bulgaria. There he met his future wife but, faced with opposition from the bride's father, he decided to abduct her. It was wintertime and bitterly cold: Pambuccian's grandfather crossed the frozen Danube River on horseback and took the girl to Romania, where the young couple settled.
After the Communists came to power in Romania Pambuccian's father became an accountant, while his mother received a degree in economics and worked at a bank her whole life.
The politician himself married a Romanian. Varujan and Mirella have two sons — Aram and Vardan — and one grandson, Vagan. Did his wife object to giving their children Armenian names? "Why would she object? Mirella herself is almost Armenian. Romanians and Armenians have similar mentalities. We are well liked here, Armenians have a good reputation," Varujan smiles.
According to official statistics about 2,000 Armenians live in Romania, but Pambuccian is convinced that the number of ethnic Armenians is much higher: "There are about 5,000 of us here, but during the census many call themselves Romanians. Today many Armenians, Greeks and Jews keep their identities hushed," he explains.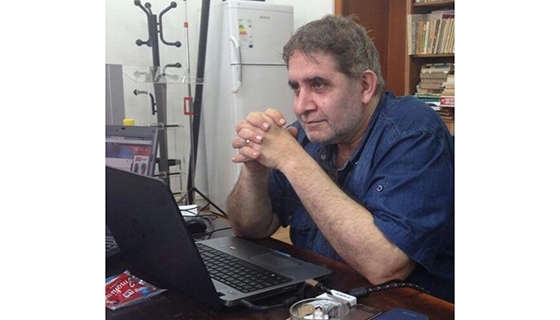 "Following the Romanian revolution of 1989 we established the Union of Romania's Armenians. Our first deputy was Varujan Voskanian. Several years later he decided to establish his own party and suggested that I represent the Armenian community in Parliament. And so it happened that I took it upon myself to work on two issues — information technologies and national minorities. IT is a sort of minority as well," Pambuccian says jokingly.
It's been 19 years since Varijan began representing the interests of Armenians and Romania's other national minorities in the country's Parliament, as well as heading the Parliamentary Commission on Information Technologies. The politician says Armenian schools and churches are crucial for preserving national identity. At Sunday school, which Pambuccian hopes his grandson will soon start attending, the children are taught Armenia's language, history and the history of its religion. "It's important to be a part of the environment. To remember that you are an Armenian, but to accomplish something in the Romanian society," the politician believes.
Pambuccian also takes part in the community's cultural life. "Every August we hold a popular Armenian street festival, which lasts from two to five days. It draws crowds of about 30,000 people, many of them Romanians. The Armenian duduk is always a part of the festival's program. The first time I heard the duduk, I was five years old. Since then, Armenian music has played a special role in my life. I even sing a bit myself," he boasts.
L'ombelico del mondo
"We need to acknowledge the Genocide because it wasn't just an extermination of people, it was the destruction of a whole century of development. To secure this acknowledgment, we need to work together.
But if we focus all our attention on the fact of the Genocide, this prevents us from talking about our present and future. We forget to pay attention to the things that are happening around us, and this is not acceptable.
You can't only have the past," he stresses.
Answering the question of what Armenia means for a person living beyond its borders, Pambuccian answers in Italian: "L'ombelico del mondo — it's the center of the world!"
Today Pambuccian believes that the only way to move to Armenia is to bring new ideas with you, and says he still has a lot to do in Romania: right now he's working on three different projects. His ongoing mission is to change people's lives for the better and to repay the country and the people who helped his family and many others to survive.
The story is verified by the 100 LIVES Research Team.