Vera Anush Nazarian, the founder and CEO of the INICIAR for Global Action Foundation, has been serving as adviser to the Permanent Mission of Armenia to the United Nations for the past seven years. She holds a Master's Degree in Human Rights from Columbia University and specializes in women's rights. She has devoted her life to assisting vulnerable communities and humanitarian work in Armenia and Argentina.

A woman of entrepreneurial spirit, she shares her time between New York, Beirut, Montevideo and Buenos Aires, and defines herself as a "citizen of the world." But while she is always on the move, she makes sure to stop over in Armenia at least once a year.
Vera was born in Argentina, but has lived in the United States for over 30 years. Her face lights up when she speaks of her ancestors' land. "It is an honor and a privilege to serve Armenia, my motherland, my nation," she asserts. Proud of her origins, Vera perpetuates the legacy of her parents Vera and Kevork Karaguezian, who were major pillars of the Armenian community in Argentina.
A light in the darkness
The Karaguezians were a well-known family of textile manufacturers and landowners in Adana. Vera's grandfather Asadur Karaguezian was born in Kevork Karaguezian's second marriage. In 1915, during the Armenian extermination campaign in the Ottoman Empire, Kevork and his two older children born of his first marriage were beheaded in Adana's public square.
Asadur was some 20 years old during the massacres and was only able to survive thanks to his neighbor's courage.
"A Turkish neighbor hid him at his house, but then another neighbor reported him. The neighbor had to ask my grandfather to leave, otherwise his entire family would be at risk," Vera recalls. Asadur's three half-sisters Lusaper, Mariam and Ester Karaguezian, born in Kevork's third marriage, were rescued by American missionaries. "This year I found out there was another brother, a baby called Panos. He was in his mother's arms when he was killed," says Vera.
During those confusing times, Asadur married Haiganush Simsiroglu, an Armenian girl also from Adana. "My grandmother was coming back from school, she was 16, and her family told her she'd better marry so as not to be alone and be able to escape," says Vera. Following this advice, the young couple fled to Istanbul. Once there, Asadur continued his textile family business.
Asadur never forgot his Turkish neighbor's courage and continually showed him his gratitude: "For a long time, my grandfather sent him textile goods as a token of appreciation for what he had done. But the last thing he sent was returned to him. We never knew what happened," says Vera.
Vera Anush with her parents Vera and Kevork Karaguezian
Asadur and Haiganush gave their four children the best education possible. They studied at international schools and spoke many languages. Kevork Karaguezian, Vera's father, studied textile engineering in Germany. During World War II, he returned to Istanbul to serve in the military. "My father was part of the cavalry, and because he spoke many languages, he did desk work. He translated for a colonel. His friends told him that should Germany win, Turkey would exterminate the Armenians, the Greeks and the Jews," Vera remembers.
A place without mosques
Some years later the Karaguezians decided to leave Istanbul. "My grandfather said, 'We're going to a place without mosques'," Vera recalls. In 1950, they arrived in Buenos Aires. Kevork stayed behind in Turkey to close some family business. "At that time, my father proposed to my mother. He told her he had to go to Argentina and promised to come back for her once he settled there. My mother said: 'If you go, don't come back.' In just 30 days, they were engaged and married," Vera laughs.
Vera Kuyumciyan was a beautiful young lady from one of Istanbul's renowned families. They were also textile manufacturers and the Armenian Patriarch of Constantinople frequented their house. "Church was very important to my mother's family. My mother and her siblings knew all the shagrans by heart," Vera recounts.
On April 24, 1915, Armenian intellectuals and community leaders were arrested in Istanbul. Among them was Scon Dermendjian, Vera Kuyumciyan's maternal uncle. "He was later released, I suppose because he was a pharmacist who could prepare medicine for one of the Turkish leaders," Vera says.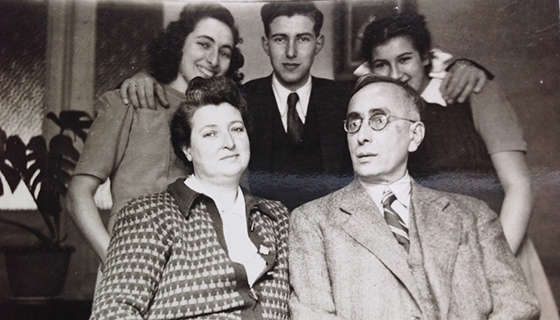 The Kuyumciyan family: Shake and Kerope Kuyumciyan (Vera Anush's grandparents, seated) and Silva, Garo and Vera (standing, left to right)
Two drops of water
In Argentina, the family continued in the textile business. Kevork Karaguezian bought a property in the city of San Martin, province of Buenos Aires, which would later become the first factory of the renowned company Karatex. "Before setting up the factory, my father wanted to give something to his neighbors. He provided the neighborhood with drinking water. My father used to say 'if I don't give something to this community, I can't do anything,' and he was right. My parents were true humanitarians," Vera says.
Sixty years passed and Vera ended up going down the same road. "It is incredible how all the loose ends were tied up. At the Iniciar Foundation we have long been working on resolving problems with water in vulnerable communities. When I noticed that connection, I was deeply moved," says Vera.
Vera Anush at a rural school in El Impenetrable, Chaco, Argentina The school is part of the assistance program available on the Foundation's platforms.
The family settled in Vicente López, province of Buenos Aires, and fell in love with the country the moment they arrived. Vera elaborates: "My parents were immigrants who adopted Argentina and loved it as their own homeland. My mother filled the balcony with Argentinian flags on national holidays, she put them everywhere. It was also a form of gratitude, and this was how we were raised."
A church for father
The newly acquired love for Argentina did not mean the family forgot its origins. The Karaguezians always remembered their roots.
Asadur bought a plot of land in Vicente Lopez to build a church in memory of his father, Kevork.
"He didn't want it to belong to a single family, so he invited the community to choose it together. They organized parties and events to raise money. All families participated," Vera recalls. The cornerstone was placed in 1965, and in 1968 His Holiness Vazken I, Supreme Patriarch of all Armenians, arrived in the country to celebrate the opening of the Surp Kevork church. But that was not the only church built by the family. The Karaguezians supported the Holy See of Etchmiatzim, helped with the maintenance of many churches and with restoration of the Yot Verq church in Gyumri.
Vera Anush with her husband Levon Nazarian
Vera continues the humanitarian work her parents undertook in Armenia: "I always said that if I could do a quarter of what my parents did, I would be satisfied. I really admire them," Vera says. She is currently working on many projects in Armenia, including supporting for the building of dorms for University of Karabakh, an initiative led by her husband Levon Nazarian and Arthur and Tamar Nazarian.
The story is verified by the 100 LIVES Research Team.