The 2022 Aurora Prize Ceremony weekend in Venice opened with a 2022 Aurora Dialogues event titled "Tribute to the 2022 Aurora Humanitarians," which took place at the Scuola Grande San Teodoro in Venice, Italy on October 15, 2022. The discussion presented the courageous work of 2022 Aurora Humanitarians Jamila Afghani, Hadi Jumaan and Mahienour El-Massry. It was moderated by Dele Olojede, Pulitzer Prize winner and Aurora Prize Selection Committee member, and Julienne Lusenge, 2021 Aurora Prize Laureate and Co-Founder of the Fund for Congolese Women (FFC).
Prior to the introduction of the Aurora Humanitarians, Dele Olojede welcomed the guests and emphasized the uniqueness of the Aurora Prize for Awakening Humanity whose mission is to empower modern-day heroes and help those in need. "The best part of the Aurora Prize, at least to me, is that the Laureate receives a $1,000,000 award that they can use to continue the cycle of giving and support the organizations that help people in need. That is simply amazing," said Dele Olojede.
Julienne Lusenge, who explained that she felt very emotional to be back in Venice, this time as a distinguished guest and a moderator, was the right person to testify to the truth of Dele's words: "As one of the Aurora Prize Laureates, I know the importance of such support and recognition. Aurora gives activists a way to elevate their work so we can achieve even more."
In his remarks, Noubar Afeyan, Co-Founder of the Aurora Humanitarian Initiative, reflected on the painful parallels between the issues that the 2022 Humanitarians deal with and what had happened to the Armenians in the Ottoman Empire more than 100 years ago. "Today, we are honoring the 2022 Aurora Humanitarians. These are extraordinary people who fearlessly risked their lives and freedom every day for the sake of others. It is the ultimate sacrifice, and it is also the ultimate testament to their humanity. When faced with a daunting challenge, they made an incredibly difficult choice. Compelled by their sense of justice and compassion, they remain committed to helping and protecting those who need it the most," noted Dr. Afeyan.
Lord Ara Darzi, Aurora Prize Selection Committee Chair, came onstage to honor the three courageous human rights activists who have shown extraordinary heroism and compassion towards those less fortunate than themselves. "This has been a turbulent year for the world. The COVID-19 pandemic, which wreaked such terrible suffering across the globe, and continues to do so, has been followed by the first war in Europe for 70 years and the worst energy and cost-of-living crisis for a generation. All nations and all peoples have been affected. But it is always the poor and dispossessed who suffer most. Who will come to their aid in such difficult times?" said Lord Darzi, implying that it would be people like the Aurora Humanitarians. In his speech, he also paid tribute to the memory of 2021 Aurora Humanitarian Paul Farmer and Aurora Co-Founder Vartan Gregorian, whom Aurora lost in 2021.
Unfortunately, despite all efforts, Jamila Afghani and Mahienour El-Massry were unable to travel to Venice, but Hadi Jumaan attended the 2022 Aurora events in person. His fearless work was introduced by Hina Jilani, Aurora Prize Selection Committee member and former United Nations Special Representative of the Secretary-General on Human Rights Defenders: "Hadi Jumaan acts as a mediator, convincing the combatants to allow the delivery of humanitarian aid and the exchange of prisoners. He also picks up bodies from the toughest locations to return them to the families. This work is very dangerous and requires a lot of careful planning."
Hadi Jumaan talked about the taxing journey he had to embark on to get to Italy. It took him three days of moving from one place to another, crossing perilous roads, to leave Yemen. Despite that and the general exhaustion he feels because of the burdens of his work, he cannot bring himself to seriously consider quitting it. "Every single day, you face death, and I almost fall in major frustration, brokenness, despair, even inability to carry on with this job. But there is always that human feeling when a mother, a father, a brother, a sister, or a son contacts me asking to find their missing loved one. Then, I cannot say no," said Hadi, unable to hold back the tears.
He also expressed his gratitude to Aurora for the medal and recognition that he got: "This recognition comes from heaven. It comes from above. This can also be a tribute to two people who supported me and stood by me despite all suffering. First, my mother, to whom I dedicate this medal, and second, I owe it to my wife who shared all these years' sufferings. This recognition is to all the people who have supported me."
The achievements of 2022 Aurora Humanitarian Jamila Afghani were presented by Ernesto Zedillo, Aurora Prize Selection Committee member, Director of the Yale Center for the Study of Globalization, and former President of Mexico. "Jamila Afghani's work has always been important, and today, it's even more important, because one of the purported objectives of the Taliban regime is to oppress and repress women. Ms. Afghani hasn't stopped and from abroad, in exile, has continued her work," said Mr. Zedillo. After the Taliban took over in Afghanistan in August 2021, Jamila Afghani became a refugee – not for the first time – and she was not able to obtain the necessary papers to travel to Venice.
She did, however, send a video message to share her thoughts with the audience: "I believe that education is like a candle that can reduce the darkness. And the light of many candles around education will diminish the darkness from our society. And today, more than ever, I have no other alternative but to fight and continue my struggle with hope of the better tomorrow for the younger generation."
2022 Aurora Humanitarian Mahienour El-Massry, lawyer and political activist from Egypt, was banned from travelling by the authorities." Her work was introduced to the audience by Nobel Laureate Shirin Ebadi, Aurora Prize Selection Committee member, human rights lawyer, and Iran's first female judge. "Mahienour's latest arrest happened in 2019, after yet again taking part in antigovernmental protests. The activist was released in July 2021. Mahienour El-Massry continues to defend social justice and fight police brutality. Despite all challenges, she remains passionate and optimistic about the future of her country," explained Ms. Ebadi.
"Being a lawyer in an authoritarian country is very hard, because you have to use the law in a country that doesn't respect the law. The thing that keeps me working is the hope for a better future and the belief that all the people deserve a better future," said Mahienour El-Massry in her video message. She was also celebrated in the speech of Mariam Grigoryan, the person who nominated Mahienour for the Aurora Prize. "As a young woman from a traditional society making her own way, Mahienour is a guiding light to thousands of like-minded people in the world. And she is fully aware of the power of such solidarity," said Ms. Grigoryan.
Ruben Vardanyan, Co-Founder of the Aurora Humanitarian Initiative and Noôdome, reflected on the importance of building network of people who trust each other, and spoke about Aurora bringing together such people who can take the responsibility and make a difference. "You give me the power to feel what I need to do. This is why I moved to Artsakh (Nagorno-Karabagh), and I decided to stay with the people who need my help, just because I saw your example. […] To continue to build trust and to have Aurora [events] despite all the challenges we are facing in Armenia and in Artsakh, is very important for sending a message and saying, "Despite the fact that we're all facing an absolutely different reality, we are together, and we can do our best to save the world, save the people, and give hope to the next generation," said Ruben Vardanyan.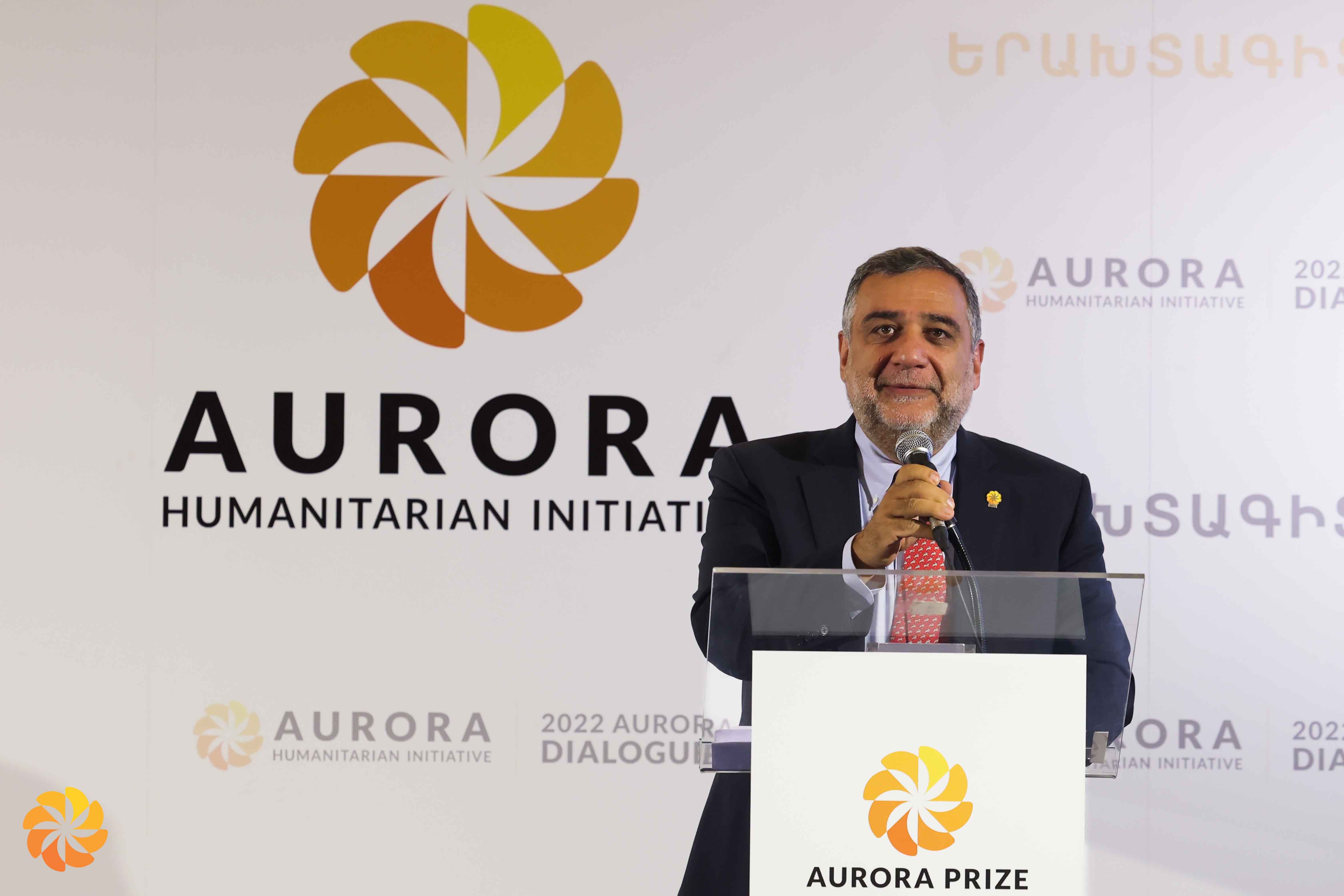 In the end of the event the guests had a chance to watch the film showcasing Aurora's impact and telling the stories of real humans behind the statistics. Each year, the Aurora Prize Laureate is given the $1 million award to continue the unbroken cycle of giving. This is possible thanks to the Aurora's supporters. Thanks to their generosity, the Aurora Humanitarian Initiative has already reached more than 2.7 million beneficiaries through its programs over the past six years.
Top photo: Aurora Prize Selection Committee member Hina Jilani honoring 2022 Aurora Humanitarian Hadi Jumaan with a medal. Venice, Italy. October 15, 2022