Moscow-based singer Mariam Merabova's name used to only ring a bell with music connoisseurs and jazz club patrons. She kept a low profile while doing back vocals for Eurovision contestants from Russia, Armenia, Belarus and Ukraine. Her breakthrough came in 2014, when she partook in the Russian version of "The Voice" TV show, enthralling the audience with her expressiveness and musicality. Having gone from the jazz underground to an all-Russian limelight, Merabova believes that fame is temporary. The singer's main objective is to stay true to herself and her roots.

Salvation in Tiflis
Mariam's maiden name is Alakhverdova. Her father's side of the family hails from Kars, where the Alakhverdov family was a well-known medical dynasty. The Kars Region was part of the Russian Empire until 1918, when it was occupied by the Turkish military. Over 10,000 Armenians were slain in the process, while hundreds of thousands were forced to flee.
The Alakhverdov family escaped and settled down in Tiflis (now Tbilisi, Georgia). "My father Onik was born in 1921. Some time later he lost his mother and his older sister, and then, after several years, his father died. He was left with his aunt. When World War II began, he was 19. He went to the battlefront and was wounded near Solnechnogorsk, but later returned to the frontlines," Mariam says. After the war Onik Alakhverdov graduated from law school in Moscow and returned to his native Tbilisi, where he met his future wife.
The Sulkhanyants family. Left to right: Asya, Georgy, Tatyana, Sofia, Alexander, Artemy, Solomon, Ivan, Nikolai and Tatyana next to her father Minas and mother Mariam.
Mariam's mother came from the noble and prosperous Sulkhanyants family in Tiflis. Mariam's great-grandfather Minas, one of Tiflis's most influential residents, was a merchant and an industrialist. He owned several houses in Tiflis and several country homes in Erzurum, Batumi and Odessa. Minas and his wife Mariam had 12 children, two of whom died in infancy. Minas gave his children a good education, including a musical one — each of them played at least one instrument. But the family's trouble-free life ended with the mass deportations and killings of Armenians in the Ottoman Empire.
Mariam's family treasures the memory of the clan's perished members. "Aunt Sofia was a painter, she studied at Munich's Arts Academy. In 1915 she went to visit her brother Solomon at the family country home in Erzurum, which is where the killings caught up with them. I know that aunt Sofia shot back, trying to flee the pursuers on horseback. Uncle Solomon, his wife and two children were slaughtered. None of them survived," Mariam remembers.
Sofia Sulkhanyants in a Kurdish costume, 1914
To get his mind off the tragedy Minas threw himself into his work, trying to bring family life back to normal. "My grandfather was remembered well. He was a patron of the arts and invested lots of money in talented people, sending them to study abroad. Then they would return to work for him," Mariam says. The situation improved, but in 1923, when the Bolsheviks came to power in Georgia, Minas was forced to weather another tragedy. The Soviet state confiscated all of his property.
Minas died shortly afterward. "In 1923, the family was in ruins. After their father's death, the children moved away: Ivan and his wife Irene moved to Hamburg, Tatyana — to St. Petersburg, Georgy — to Moscow, while Nikolai, Alexander and Artemy stayed in Tiflis. Nikolai, my grandfather, became an engineer and worked his whole life at one plant," Mariam recalls. In 1926 Nikolai met Mariam's grandmother, Arfenia Gukasova. Her family came from Nagorno-Karabakh, but had been living in Tiflis for a long time. Mariam's mother Irma was born in 1930.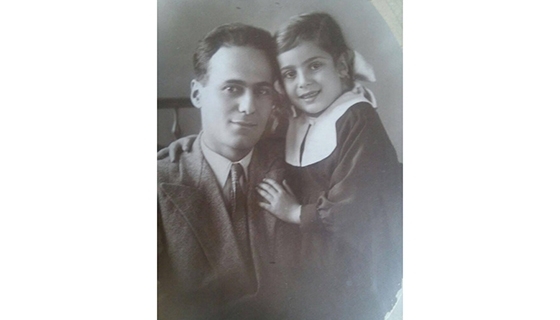 Nikolai Sulkhanyants with his daughter Irma
The tragedy that's Moscow
In the late 1960s the singer's parents moved from Tbilisi to Armenia. Mariam, the only child, was born in Yerevan. She spent her childhood in the very center of the city, at the crossing of Nalbandyan and Tumanyan Streets. For two years she studied piano at the Tchaikovsky Central School of Music under the guidance of Aida Saakyants. Mariam's mother wanted her to become a professional pianist and it was thus decided that the girl's talent should be developed in Moscow. A new life and a bright future awaited her in Russia's capital, but she found it difficult to settle in her new home. She had trouble communicating with her classmates and often longed for Yerevan.
Mariam Merabova with her father Onik Alakhverdov
"My mother brought me to Moscow in 1980. I was eight years old and our move was a great tragedy for me. For many years, whenever I heard spoken Armenian I would approach those people and ask them something in Armenian, simply to prove that I belong, that I am also an Armenian," Mariam admits.
The ties that bind
Mariam's family kept in touch with uncle Ivan, who lived in Hamburg, with the help of famous Soviet actor Rostislav Plyatt, whose niece Irene was Ivan's wife. Ivan was an avid fan of racing cars and kept a well-stocked garage. As an actor who was allowed to travel abroad, Plyatt would pass letters to Ivan. Unfortunately, they were never able to reunite: after one of his trips, Plyatt told Mariam's family that uncle Ivan died in a car accident.
Ivan Sulkhanyants (Jean Sulkhan) in Hamburg
"My honor is my family, the memory of each person. Knowing your ancestors' history and adhering to traditions serves as an important buffer against the uncontrollable, chaotic movements of modern times," Mariam says.
Fate is no simple concept for Mariam – she entrusts her life to it. Thus the music she overheard at a jazz cafe brought the near-professional pianist to the Gnesin Music School's vocalist department. Her meeting with talented musician Armen Merabov in her freshman year was no accident, either. "Later we discovered that my grandmother was friends with Armen's grandmother in Tbilisi," Mariam notes.
Mariam and Armen Merabov sing «I Just Want to Make Love to You,» on the final episode of "The Voice"
Music in their genes
Armen Merabov's family also hails from Western Armenia. According to Mariam, an Azerbaijani family helped them flee from Kars to Tiflis on an araba cart. Armen's father Levon Merabov was born in Tbilisi in 1934. He later moved to Moscow and became a musician, well known as a talented pianist, harmonist, composer and conductor. Levon directed a great number of music hall orchestras and for many years, led the orchestra accompanying singer Muslim Magomaev. He also authored the "Robot" song for Soviet pop diva Alla Pugacheva, helping to jumpstart her career.
Armen's jazz band Miraif was founded in 1998. Thanks to Mariam's outstanding vocals, the group has been recognized by many famous contemporaries, including American saxophone player Richie Cole. Armen and Mariam dream of releasing a double LP, with music written by Armen and lyrics composed by Mariam.
The artistic Merabov spouses have three children: Irma, Sofia and Georgy. Just like their mother, they love to spend time perusing old family photos and listening to stories about their ancestors. "My kids haven't been to Armenia yet, but I know very well what will happen to them when they go," Mariam says.