Submitted by
global publisher
on Fri, 03/11/2016 - 16:18
English
Intro:
In a retirement home in the hills above Nice, a childhood photo takes pride of place in Shamiram Sevak's room. In the enlarged image she stands wearing a baby's hat with a big ribbon tucked under her chin. Her brother and mother stand alongside her. But this is no fond memory of a family vacation: the three frowning faces were pictured in Constantinople in the fall of 1915. Their mother wears mourning black, their father is gone forever. A great misfortune has irrevocably changed the family's destiny.
Story elements:
Text:
In a retirement home in the hills above Nice, a childhood photo takes pride of place in Shamiram Sevak's room. In the enlarged image she stands wearing a baby's hat with a big ribbon tucked under her chin. Her brother and mother stand alongside her. But this is no fond memory of a family vacation: the three frowning faces were pictured in Constantinople in the fall of 1915. Their mother wears mourning black, their father is gone forever. A great misfortune has irrevocably changed the family's destiny.
Text:
"This was the passport photo that helped us to escape with the German ambassador's support," says Shamiram. In 1915, she was just one year old; her brother Levon was three. Their mother, Jenny, was trying to contact her father in Germany using the telephone in the German embassy in Constantinople. "We couldn't get out, the borders were closed," Shamiram recalls. "There was a war on, and the Genocide was underway. We were facing annihilation." 
More than a century later, there is a striking contrast between this elegant, cheerful lady with her beautiful, well-groomed hands and her tale of a childhood in turbulent times. 
Image: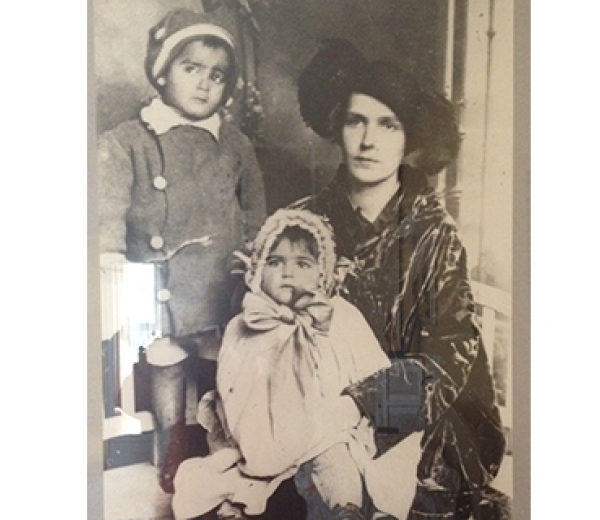 Text:
                         Shamiram (center) with her brother Levon and her mother Jenny
A strong father figure
Shamiram was born in Istanbul on July 10, 1914. Sadly, she barely knew her father – he was arrested when she was still a baby and never seen again. But his influence is still felt today, within his family and throughout the Armenian world. Ruben Sevak, born Ruben Shilingirian, is still a pre-eminent figure in Armenian literature. Like William Shakespeare in England or Alexander Pushkin in Russia, his portrait is a frequent sight in classrooms in Armenia and the diaspora, where his work is revered. In Yerevan there is a school named after him. In Etchmiadzin, a museum dedicated to his life and work was inaugurated in 2013, supported by a donation from his nephew Hovhannes, a great collector of Sevak's work.
All her life, Shamiram has been under the spell of this father, who is absent and yet strangely omnipresent. A man forever young, with piercing dark eyes. A young poet who became a legend among his circle of renowned intellectuals. Shamiram's room is decorated with pictures of her beloved parents. "They never leave me," she said. "Somewhere I have remained forever a child." Approaching her 102nd birthday, she combines a youthful zest for life with the wisdom of her years.
Image:
Text:
Ruben Shilingirian was born on February 15, 1885 in Silivri, near Istanbul. He was killed on August 26, 1915. He epitomized romantic character. During his days at the Berberian High School in Constantinople, his teachers noticed his talent for literature and his precocious maturity. In 1905 he left his hometown to study medicine in Lausanne, Switzerland. Immersed in Western Europe, he began writing for the Armenian press in Constantinople. When a coup d'état overthrew Sultan Abdul Hamid in 1908 and brought the Young Turks to power, Ruben and his Armenian intellectual friends published a short-lived literary review named "Surhantag" ("Messenger"). In 1910 Ruben Shilingirian adopted the pen-name of Sevak and published "Garmir Kirke" ("The Red Book"). It was his first collection of poems, in which he put the pain of the previous year's massacres at Adana into words on behalf of his suffering people. One poem, "Verchin Hayer" ("The Last Armenians"), seems to anticipate the Genocide to come. Still based in Switzerland, Ruben Sevak cemented his ties with the Armenian intellectual circles of the Ottoman capital during summer visits. In Lausanne, he worked with Azadamart, an Armenian journal published in Constantinople. 
Image:
Text:
                                           Jenny and Ruben shortly after their wedding
Like Romeo and Juliet
Shamiran's eyes light up when she recalls the story of how her parents met. "It's almost better than a novel," she says. One day while strolling through Lausanne with a friend, Ruben noticed a beautiful young woman: tall, thin and blonde. "He was convinced he had seen an angel. His heart was turned upside down and he was willing to do anything to see her again, if only to catch a glimpse of her. He just wanted to be sure of what he had seen," Shamiram explains.
It was love at first sight, and even a century later his daughter struggles to imagine the intensity of the young couple's feelings. That "angel" was Helen Maria Apell, the daughter of a German army officer who fought in the 1870 Franco-Prussian War. She was enrolled at an upscale boarding school in Lausanne.
"Every day, my father went back there to see her. It wasn't easy, but one day he managed to get a note to her asking for her name. She replied in kind: 'My name is Jenny'," Shamiram says. Later Jenny would let down her long hair through the window, hoping that her lover might be able to reach out and touch it. But the fairytale romance caused a scandal at Jenny's establishment and she was sent to a different school in Chambery, high in the Alps.
Despite all obstacles, the lovers would concoct elaborate plots to snatch a tender moment away from prying eyes. Eventually Jenny's parents were told of the relationship and ordered their daughter back home to Germany. In desperation, Ruben followed. He met the father of his intended and assured him of their plans to marry as soon as he completed his degree in medicine. "I ask you to be my parents," he told them. He also dedicated his degree thesis to his future in-laws.
In 1911 Shamiram's parents were married in Paris, at the Armenian church on the Rue Jean Goujon. "My father was fiercely attached to his Armenian identity, to the extent that he wanted to turn my mother into an Armenian! For example, when he sent her love letters, he would write some letters of the Armenian alphabet at the bottom of the pages," Shamiram recalls. "It's incredible to imagine the extent to which he remained Armenian. He wanted everything to be Armenian. It cost him his life!" In 1912 the couple's first son was born. The following year, Ruben Sevak wrote his "Pjichguin kirken pertzvadz etcher" ("Pages from a Doctor's Book"), a series of passionate discussions about medicine.
Image: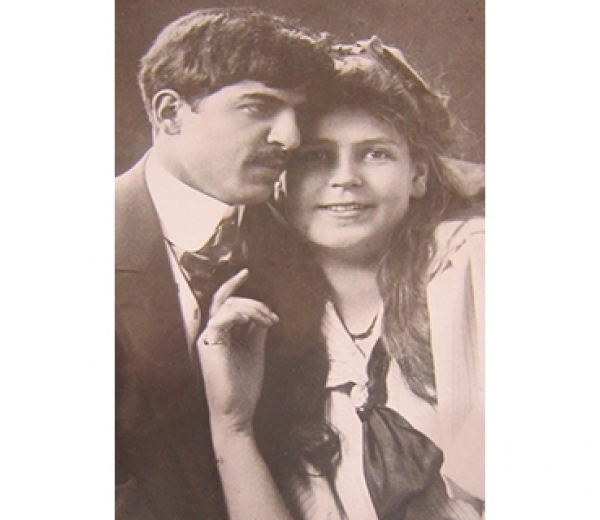 Text:
Back to Istanbul
In early 1914, before the start of the war, Ruben decided to return to Istanbul. Jenny, pregnant with Shamiram, was less keen. "My father didn't want to listen to my mother. She was against this project and kept telling him: 'With your degree, you could practice anywhere in the world!'." Ruben had gained a considerable reputation as a doctor, but he dreamed of returning to serve his people. He wanted to create an Armenian-language medical journal and devote his time to poetry and literary work.
When the war broke out, Ruben served as a lieutenant in the medical corps of the Ottoman army. His Turkish superiors noted his courage and loyalty during the defense of Canakale, a strategic city besieged by allied troops. But when he returned to Istanbul, some men knocked on his door and ordered him out. It was June 22, 1915. "Somehow my dad knew that he would never see my mother again," says Shamiram. "His departing words were: 'Never forget that your children are Armenians'." Arrested in a purge of Armenian intellectuals, Ruben was deported to Cangiri six days later. There, he treated the daughter of a Chété militia, a slaughterer of Armenians named Atapach Ismail. When Atapach's daughter fell in love with the young poet-doctor, her father invited Ruben to convert to Islam, marry his daughter and live in peace. Ruben refused. In his final telegram, dated August 28, 1915, Ruben told his wife about a transfer to Ayash with his friend Daniel Varoujan. They were both killed the same day on the road near Sapali.
Image:
Text:
                                             Ruben Sevak in Ottoman army uniform
Jenny's own battle
In the wake of Ruben's arrest, Jenny enlisted the help of her father. She hoped that Franz Appel Dor, a distinguished veteran of the German Army, could influence the German and Ottoman authorities in Istanbul and secure her husband's freedom. The case reached the highest echelon of power, but to no avail. On September 2 the chief of the Bedri Police asked the German Embassy to take Jenny back to Germany. She refused to leave without news of her husband. It wasn't until September 11 that the Embassy confirmed Ruben's death. 
Jenny left at once, heading to Switzerland with her children. Hurt and heartbroken she blamed her compatriots, whom she saw as accomplices of their genocidal Turkish allies. "My mother renounced her German nationality and in 1918 she obtained citizenship of the independent Armenian Republic. She never spoke to us in German and she always refused to return to that country. I am half German, but I have never visited Germany," Shamiram says.
Image: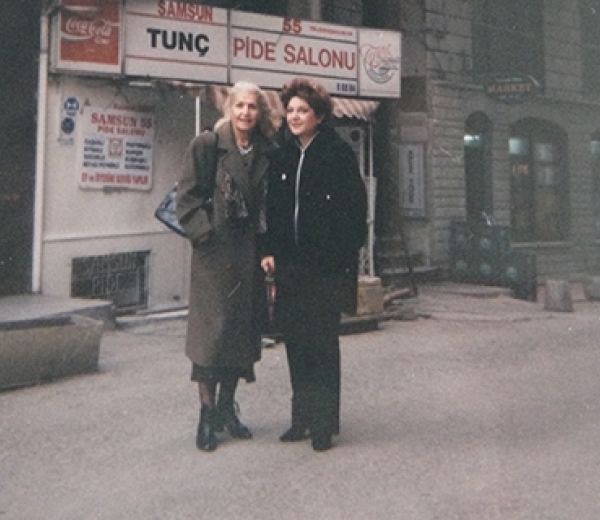 Text:
                    Shamiram (left) in front of her parents' house in Istanbul's Pera District
One more try
The small family settled in Paris. Jenny wrote to Avedis Aharonian, an Armenian writer and politician, asking him to help her children get an education in Armenian. In 1918, the war ended. Shamiram's paternal grandparents welcomed her and her brother Levon to Silivri, where they had a big farm. "The fields stretched as far as the eye could see," she remembers. "There were goats, bulls, cows … many animals!" However, when the Kemalist nationalists chased the allies away, Shamiram's mother feared for the children and went back to Paris. "The massacres restarted," Shamiram notes. "My grandmother placed us on the first boat sailing for Marseille. We arrived at France in 1922, covered in lice and dirt." In Paris, the Armenian church welcomed the family. "A man named Avedis Hampartsoumian, a rich diamond merchant, was our tutor. He raised us and brought me splendid gifts," Shamiram says.
One beautiful day, Shamiram's mother learned that Father Komitas, one of Armenia's greatest musicians, was making a rare visit to the Armenian church. "He was sick and he could rarely leave hospital," Shamiram says. Jenny took her children to see him. Shamiram still remembers that day. "She didn't say: 'These are my children.' She said: 'These are the children of Ruben Sevak.' Komitas was very impressed. He was a tall man with an immense forehead. But he was already sick and could no longer talk. When he realized who we were, I saw tears streaming down his cheeks."
Image:
Text:
                                                Shamiram with her brother Levon
Millinery to military uniforms 
Shamiram's tutor was ruined by the crisis of 1929, so she had to interrupt her studies to help her mother. She joined the fashion trade, making hats for prestigious houses in the Rue Royale and the Place Vendôme. Meanwhile, to pay for her vacations she took up modelling on the Côte d'Azur. She quickly garnered the attention of the local boys and had many suitors, but she was determined to marry an Armenian. "Unfortunately, nobody wanted to marry a poor young girl," she recalled.
Until the outbreak of the war she worked in haute couture, styling hats for the bourgeois ladies of Paris."The war drove us out of Paris. My brother was committed to the fight against the Germans and I had to find a way to take care of my mother," Shamiram says. "A friend helped me find a job in a factory that made military uniforms down in Agen, in the south of France."
After the war Shamiram joined one of her friends on a drive to Nice. That was a revelation: the azure skies, mountains and sea captivated her. She decided to stay there and never leave, even if the ladies of Nice had no interest in hats. Aged 45, Shamiram finally married. Her husband, Joe Folco, was a taxi driver in Nice, a handsome young man with blue eyes. "I told my mother I couldn't wait any more and it was time to get married," she smiles.
Image:
Text:
                 Shamiram receives a papal bull from Catholicos of All Armenians Karekin II
Shamiram's whole life has been spent alongside her parents. She says their spirit has never left her. She has visited Armenia on several occasions and is proud to see her father's name listed among the nation's heroes. Even today, she still believes it is important to share her family's story. "Something has protected me. I was looked after, and that's how I became a witness. I am still alive because I must bear witness."
In her 102nd year, Shamiram still has a great energy that makes her tender toward her fellow man. "My father gave me this momentum, this drive," she says, looking thoughtfully at a photo of her parents, now united in the hereafter. "There's the reason why I am here on Earth."
Image: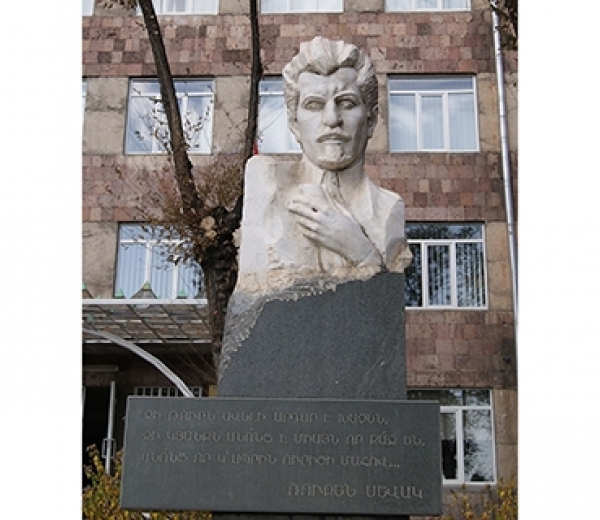 Text:
         A monument to Ruben Sevak in front of a school named after him in Yerevan, Armenia
Shamiram Sevak passed away in Nice, on October 18, 2016.
100 LIVES is grateful to Hovhannes Chilingirian for his precious help in researching and writing this story.
The story is verified by the 100 LIVES Research Team.
Subtitle:
Daughter of poet Ruben Sevak lives in the shadow of her father
Header image: