Submitted by
global publisher
on Fri, 02/26/2016 - 20:35
English
Intro:
Creating spaces where people feel like they belong is how Michel Mossessian describes an architect's ultimate challenge. Born into an Armenian family whose turbulent past has scattered generations of its members across several continents, he is enabled and inspired by this familial adaptability to carry out projects in different countries and cultures.
Story elements:
Text:
Creating spaces where people feel like they belong is how Michel Mossessian describes an architect's ultimate challenge. Born into an Armenian family whose turbulent past has scattered generations of its members across several continents, he is enabled and inspired by this familial adaptability to carry out projects in different countries and cultures.
Text:
It was at the age of five that Michel won his first architectural competition, and at the age of six that he won his second. During the annual family vacation on the beaches of Roussillon in Southern France, Michel won the first prize in a sandcastle competition two years in a row. Le Figaro featured a photo of the young aspiring builder, making the entire family beam with pride. After he developed a passion for construction sites, his father gave him proper coaching in the weeks leading up to the competitions – a quality time they both enjoyed tremendously.
Image: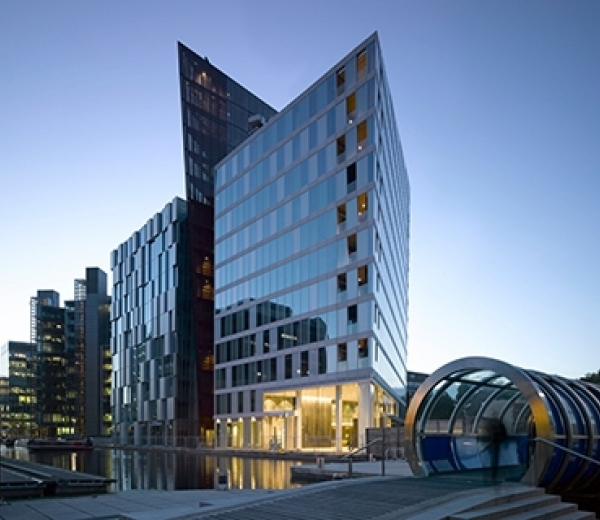 Text:
An office building in the Merchant Square in London, one of the flagship projects by Michel's architectural firm, completed in 2010
In hindsight, it may seem like Michel has always been destined to succeed as an architect. But he also took a strong interest in other things, such as the cinema, one of the many perks a city like Paris had to offer. "On Wednesdays, we would always go to the movies because there were no classes. At ten o'clock we watched a movie in the Galérie des Champs-Élysées, at two – another in Hautefeuille in the Latin Quarter, and then a last one at Les 3 Luxembourg. Most of the time we saw old black-and-white movies, but we also saw new ones, like those by Wim Wenders."
Michel was an eager director himself, shooting many movies on Super 8. He applied to film school and also attended lectures in philosophy given by Foucault, Serres, Deleuze and Derrida. No less important were the seminars at ICRAM, the avant-garde music lab, in which not only co-founder Pierre Boulez provided students with an insight into his work, but also composers such as Stockhausen, Cage, and Nono. The lab was based in the Centre Pompidou, which opened in 1977. Michel is still excited about this time of his life today, saying "that was a cultural revolution for us."
Sculpting the void
At the same time, he took up his architectural studies, which he completed in New York City and Cambridge, Massachusetts. After graduation, he worked for Skidmore, Owings & Merrill, one of the leading global architecture firms, significantly contributing to the transformation of the London Docklands. For 10 years now he has had his own architecture firm in the British capital, undertaking large-scale projects that have garnered international attention. Besides several projects in London itself, the firm was in charge of redesigning a central square in Fes, Morocco, building a huge technology center for ExxonMobil in Shanghai, China, and supervising the construction of the new neighborhood of Msheireb in Doha, Qatar. Michel also played a substantial role in designing the new NATO headquarters in Brussels, Belgium.
Image: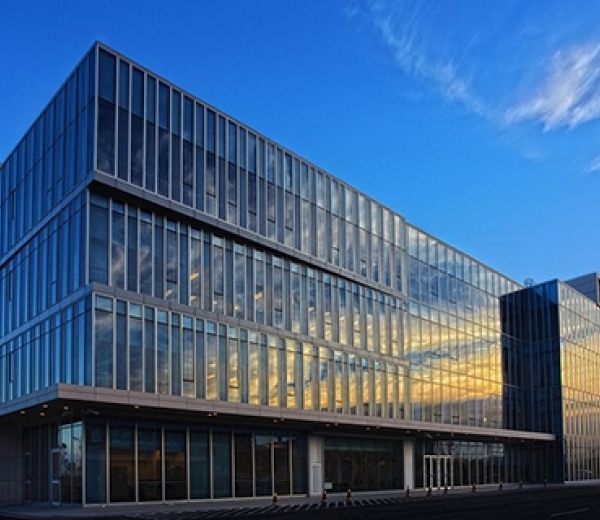 Text:
The technology center of ExxonMobil in Shanghai
"A building is not only a shell, it is derived from a conjunction of ideas and purposes which must be conveyed to both its own inhabitants and the general public," he believes. He keeps revisiting the subject of "cultural affinities," which are the key to his work. According to him, human needs always outweigh those of the markets and politics: "The question is, how to create spaces that people enjoy so that they will come back. First and foremost, it's a cultural tie they forge, not an economic one. In the end, economic success largely rests on whether people want to come back."
Image: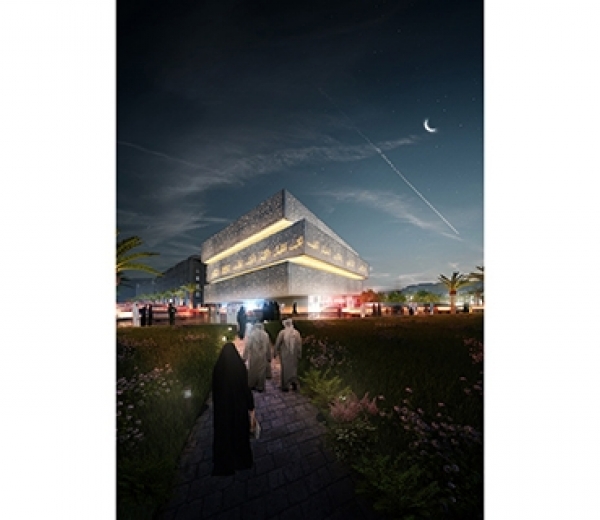 Text:
Michel's latest accomplishment is winning the design contest for the Museum of Islamic faith in Mecca
It is not without good reason that terms such as culture, identity, and belonging are important categories in Michel's thought process. "I've always had this feeling of being different, not just because of my last name. I may have been born in France and yet my history was different from that of my classmates," he says.
Michel's grandmother Elisabeth Altounian was born in 1897. She came from Amasya, a city in the Pontic Mountains in the hinterland of the major Black Sea port of Samsun. However, she grew up in Yalta on the Crimean Peninsula, where her father had settled as a vegetable and fruit wholesaler after spending almost 20 years in America. When the Russian tsar and his family would move to their summer residences in Crimea, he would supply their households. Like other girls from aristocratic circles, Elisabeth was invited to balls at court. Even in her old age, she never stopped telling of glittering soirees and waltzing around with officers in full dress. The October Revolution, however, put an abrupt end to the Russian monarchy.
Image: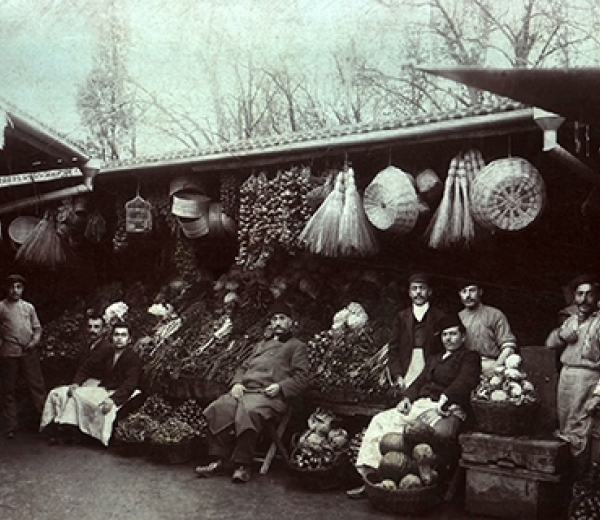 Text:
The fruit and vegetable trade of the Altounian family in Yalta
A journey with no return
The family was dealt an even more devastating blow a few years prior. On the eve of World War I, Elisabeth was to accompany her grandmother on a journey to Amasya in the Ottoman Empire, to meet extended family and to sell the house they still owned in the city. She looked feverishly forward to the journey and was bitterly disappointed when the family council decided that she was too young to go. Instead, her older sister Siranoush went with their grandmother.
A few months after their arrival, violence against the Armenian people began all across the Ottoman Empire, and the community of Amasya was not spared. The two women were never to return. Fifteen years went by before the family learned the horrific details of their fate.
After the war, Elisabeth married the grain dealer Missak Mossessian. He, too, happened to be a supplier of the court. The local priest wed the couple in civilian clothes, because persecution of Christians in the Soviet Union had already begun. The newlyweds then moved to Moscow. Initially, Missak learned to cope with the communists, but when Joseph Stalin brought trade to a standstill and closed the borders, he saw the hard times coming. He procured Persian passports and changed most of his property into diamonds, which he hid in the buttons of his suit and some hollow teeth. They fled to Tabriz in Persia via Nakhijevan, and finally made it to Beirut, Lebanon a few weeks later.
After their arrival, a cousin of Elisabeth's told them what had happened during the Armenian Genocide in Amasya. At first, most men had been deported. Soon after, the few remaining men had been rounded up in a church and burned alive. The women and children, including Elisabeth and Siranouch, were then driven into the interior of the country and robbed, beaten, raped and murdered on their way. Only a few had escaped with their lives, Elisabeth's cousin, who was still a child at the time, among them.
Image: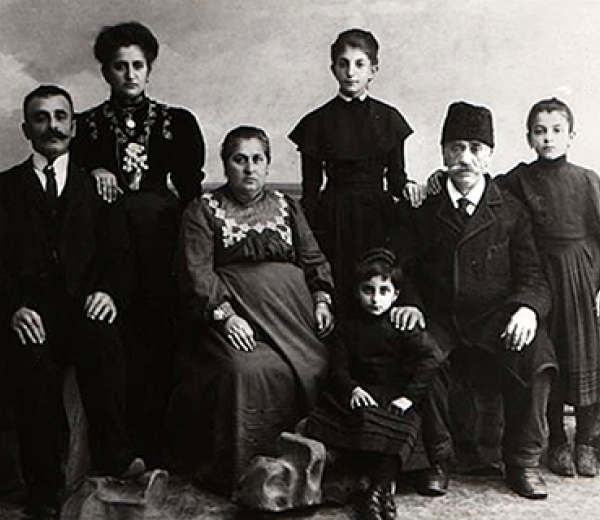 Text:
The Altounian family circa 1910. Michel's great-grandmother Elisabeth (center) and her granddaughter Siranoush (center right), both massacred in 1915 in Turkey. Michel's grandmother Elisabeth (far right, standing) was spared by chance.
Arrival in a foreign country
While the young family of four had originally planned to immigrate to America, they changed their minds when the French consul offered them French citizenship on the condition that they settle down in France. They moved to the historic town of Albi near Toulouse, where they started a shoe business. In France, Missak became Michel.
Soon after, another child, Georges, was born. When they first arrived, they didn't know anyone and there were no Armenians around. Yet the Cathedral of Albi was full of people on the day of Missak's funeral in 1979. "Could there be any better proof of successful assimilation?" asks Michel, who is very proud of the grandfather he was named after.
Michel's father Charles became the technical director of a multinational company. Not long ago, Michel built his father a house in Southern France for him to retire to. Not far from the exact beach where the sandcastle competition had once taken place, the two teamed up once again.
Image:
Text:
Elisabeth and Missak Mossessian with their children Georges, Ginette and Charles in southern France in 1937
The school of difference
From an early age, Michel has been influenced by the "internationality" concept: his great-grandfather had spent almost two decades in America. This background certainly broadened his horizons, and so did knowing that the situation is always precarious and having a special identity. "For me as an architect," Michel explains, "this 'school of difference' has always been an advantage. My abilities to listen to others, share my own experiences with them, get so close to them that they feel understood have made it much easier for me to work with people from different cultures. This type of communication is not necessarily based on language only, but rather on intuition and imagination, which I believe are at the core of it. I really do think there is something particularly Armenian about this. Yes, there is!"
The story is verified by the 100 LIVES Research Team.
Subtitle:
French architect channels family's experience into fluid designs
Header image: