Submitted by
global publisher
on Tue, 12/01/2015 - 16:29
English
Intro:
From an early age Tengiz Mikoyants, a Georgian-born Armenian artist who is in love with Tbilisi, knew what he wanted to do with his life: "By the time I'd served in the army, I realized that I could think of nothing but art. I studied design at the art academy, but painting is really my thing."
Story elements:
Text:
From an early age Tengiz Mikoyants, a Georgian-born Armenian artist who is in love with Tbilisi, knew what he wanted to do with his life: "By the time I'd served in the army, I realized that I could think of nothing but art. I studied design at the art academy, but painting is really my thing."
Text:
A descendant of a Genocide survivor, Tengiz Mikoyants found his voice in art. His canvases, painted with a palette knife, are full of colors, vitality and good humor. His works are highly regarded by the Georgian authorities and are often given to visiting dignitaries as a memento of their trip to Tbilisi.
Having lived among Georgians his whole life, the artist says he never felt any cultural or other differences between himself and his neighbors. As a child, he never felt the need to learn about his roots. It wasn't until he was older that some of his peers started questioning his background. "I was indignant. Why was this happening? People wanted to know what I was doing here. I ran into some problems. 
Someone even suggested that I should change my last name before applying to the Arts Academy. 
But I'm very proud of being Armenian, and why would I need to change my last name? It's not that bad," Tengiz jokes.
Tengiz Mikoyants was born in 1964 in the town of Khashuri in the Soviet Republic of Georgia. From 1985 to 87 he studied at the Toidze Art College. In 1989 Mikoyants was admitted to the Tbilisi State Arts Academy, where he completed his studies cum laude in 1995. After graduating, he displayed his works in Germany, Italy and the United States.
Since 2005 Mikoyants has held solo exhibitions in Yerevan, Tbilisi, Moscow, St. Petersburg and Tyumen. His works can be found in private collections in the United States, Great Britain, Germany, Italy, France, Georgia and many other countries. In 2011 the Armenian Ministry of Diaspora awarded the artist the Arshile Gorky medal. The award is given to those who disseminate fine arts, painting, sculpture and drawing and raise awareness of Armenian arts in the Diaspora. 
"Tbilisi is my real art instructor," said Mikoyans, remembering how he "got forever stuck in this fairytale city." "I first came there in 10th grade. That was when the first 'Tbilisoba' (city day) was taking place. In the evening light, the festive city seemed looked like a setting for a fairytale. I forgot about my plans to apply to the Art Academy in Kiev, I was smitten with Tbilisi. It put its spell on me," he recalls. 
The artist has lived in Tbilisi ever since. He says that even if he lived somewhere else, he would still paint the old part of Tbilisi, which inspires him to this day. 
This is where Tengiz started a family. Smiling, the artist talks about his three sons and young wife, Gana, half Armenian, half Ossetian. His face lights up when he shows her picture on a smartphone. 
From loveless to loved
"A lot of my character comes from grandmother Arevak. She was a very cheerful and a very proud person," says the artist. Grandmother Arevak (maiden name Arevat Vardanyan) lived a long and hard life. She was just three years old when the Turks slaughtered the population of her native Mush (a town located in modern-day Turkey).
Image: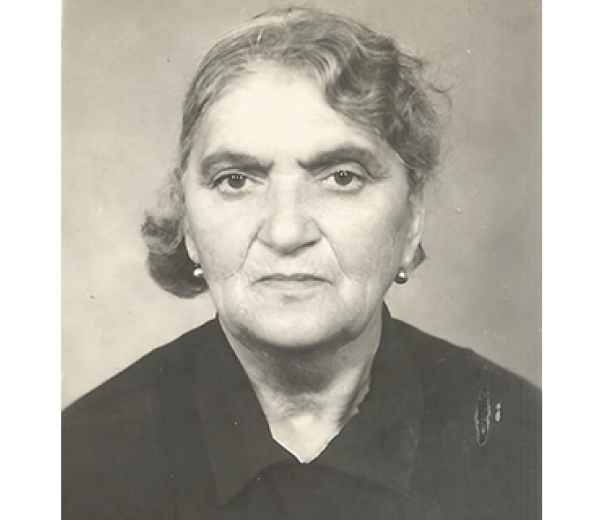 Text:
                                               Arevak Madilyan (Vardanyan)
Thanks to some kind people, Arevak made it to the United States and lived there for many years in an orphanage. But when children at the orphanage were asked whether anyone would like to move back to Europe and live with an Armenian foster family, her blood called and she raised her hand. A childless couple by the name of Madilyan, who lived in Sochi, adopted Arevak. Unfortunately, her dreams of a new and loving family crumbled. Her new parents didn't take kindly to her, and as soon as possible married her off to a man at Akhalkalaki. There was no love in that marriage. 
Instead, Arevak's new home became a living hell. Hopeless poverty, filth, degrading treatment and constant humiliation forced her to run away to Khashuri. A young janitor called Hukas Mikoyants noticed the beautiful young woman crying her heart out in the town's bus station. That meeting was fateful: Arevak was finally able to find peace in the home of her new husband.
Image:
Text:
   Arevak Madilyan with her husband Hukas and her children Sergey, Aykush and Nvard
Hukas Mikoyants had his own share of terrible ordeals — his wife was raped by the Turks and died soon afterward, leaving Hukas with two little children. Arevak became a loving mother to her adopted children and a pillar of support for her husband. Soon they had three kids of their own, including Sergei, the father of Tengiz Mikoyants.
"Arevak was an oriental beauty: large emerald green eyes and dark hair. She was very energetic, but rather short. All that I know I learned from my father. Grandma herself never shared her memories," Tengiz says. "She was fearless. When they took down the monument to Stalin in Khashuri, she was almost stabbed with a bayonet because she got too close to the soldiers. She was never one to gossip. She liked to knit socks and to write letters to her daughter and other relatives."
"Arevak had a kind heart. She was grateful to the Madilyan family for adopting her and kept in touch with them even though she never forgave them for the unfortunate arranged marriage. Grandma also had a knack for languages — she knew Armenian, Georgian, Russian and English. I once addressed her in English and was greatly surprised when she replied in that language. She was pragmatic, punctual and never asked anyone for anything," Mikoyants remembers.
Image: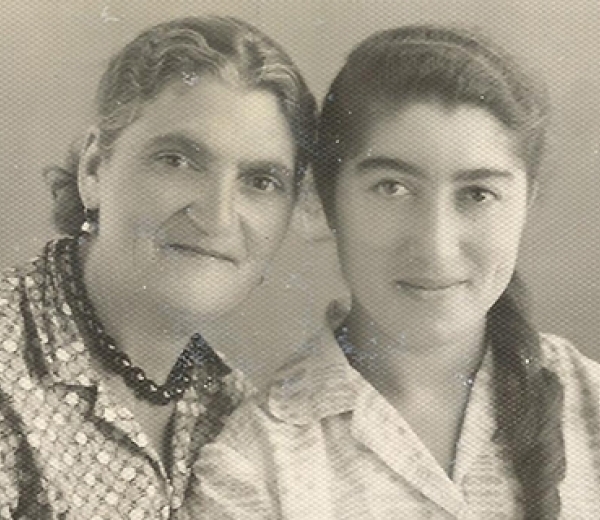 Text:
                     Arevak Madilyan with her daughter Aykush Mikoyants
Arevak's peaceful life was disturbed by another fateful event. She learned that her father survived the Genocide and was living in the village of Sarnakhbur, not far from the Armenian town of Gyumri. The news shattered her usual composure and she soon decided to go to Armenia and meet him. That was where she learned that her maiden name was Vardanyan. Unfortunately, nobody knows what happened when the father and daughter met. After the meeting Arevak returned to Georgia to her family. Tengiz says that his grandmother kept a notebook of handwritten Western Armenian lullabies that she sang to put her children and grandchildren to sleep.
Image: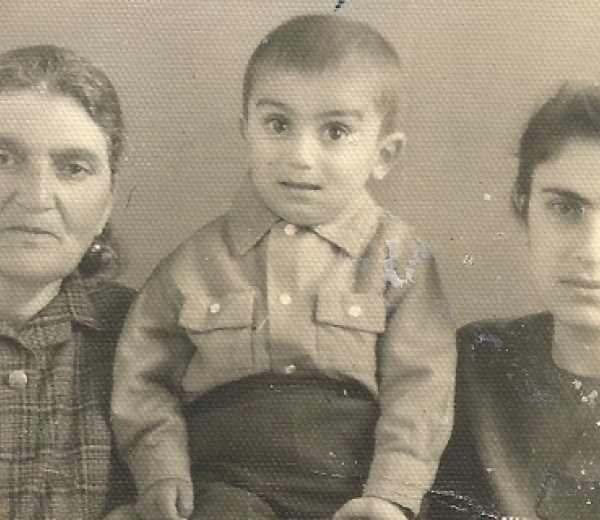 Text:
          Arevak Madilyan with her grandson Tengiz and daughter-in-law Asya Mikoyants
When asked where this delicate woman found so much will to live, so much strength to survive the Genocide and the subsequent grief and ordeals and to remain a loving daughter, wife and mother, Mikoyants answers thoughtfully: "Because she was Armenian…"
Going back, going strong
Tengiz Mikoyants enjoys visiting Armenia and often takes his sons and his wife with him. The artist's eldest son Artur was so enthralled by the country of his ancestors that he decided to study Armenian, while his wife has fond memories of trips to the village of Shorzha near Lake Sevan. Tengiz regularly holds exhibitions in Yerevan. "An exhibition is like an exam that you take in front of society. This is why you should prepare properly. When you share your work with other people, it's important to gift them with warmth, light and kindness," he explains.
Image: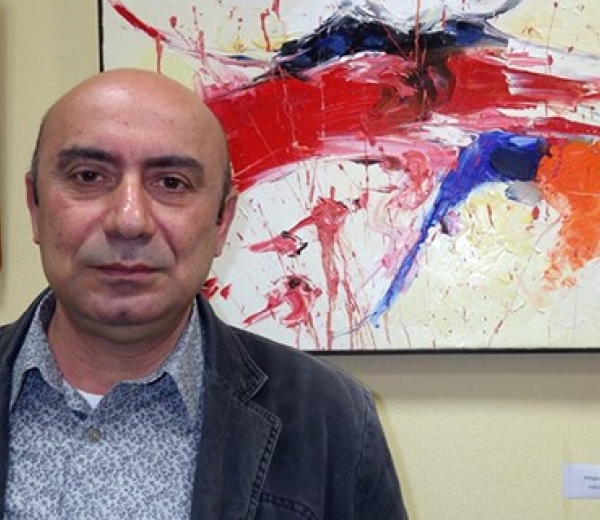 Text:
                                             Tengiz Mikoyants with his works
A century after the Genocide, Mikoyants is happy to say that his family line is going strong. This was made possible by the tenacity of his ancestors and the love that now fills his own family life. "If Turkey acknowledged the Genocide it would change a lot of things and would prevent such tragedies from ever happening again," he says. "I would really like for them to admit that it happened and to finally say to us 'Barev dzez!' ('Good day' in Armenian)."
The story is verified by the 100 LIVES Research Team. 
Subtitle:
A Georgian Armenian artist and an heir to good humor
Header image: