Submitted by
global publisher
on Fri, 11/13/2015 - 20:12
English
Intro:
Dr. Mégo Terzian, president of Medicines san Frontières (Doctors without Borders) in France, has worked with the Nobel Peace Prize-winning international medical organization for over 15 years. Growing up during civil war in Lebanon cemented his profound dedication to delivering healthcare to some of the world's most war-torn regions.
Story elements:
Text:
Dr. Mégo Terzian, president of Medicines san Frontières (Doctors without Borders) in France, has worked with the Nobel Peace Prize-winning international medical organization for over 15 years. Growing up during civil war in Lebanon cemented his profound dedication to delivering healthcare to some of the world's most war-torn regions.
Text:
Mguerditch Terzian, or Mégo, as he calls himself, welcomes guests to his small office on the second floor of Médecins sans Frontières (MSF), a multinational humanitarian organization, with humility. His French is melodic, and though his accent is Lebanese, it is tinged with the sound of all the places he has worked during his career at MSF, from Africa to Asia. Since 2013 Mégo has been leading the French division of this NGO, which numbers some 32,000 staff members in over 62 countries. A grandson of Armenian Genocide survivors, he doesn't feel the need to flaunt his origins to feel Armenian.
Never-ending violence
Mégo was named after his paternal grandfather, Mguerditch. His family name, Terzian, comes from Turkey and means "couturier," a custom tailoring trade his ancestors undertook in Adana, the metropolis of Cilicia, just south of Turkey. "My grandfather sold silks and was very wealthy – he had associates all the way from Lebanon to India. In fact, before the Genocide, my father, then just a baby, went there with him," he recalls.  
The Terzian family of Adana owned vast expanses of land, farms and horses. They managed to escape the Genocide by traveling to Lebanon via Syria thanks to Mégo's grandfather's connections in Beirut. For four generations, the family lived under the same roof in the Gemmayze neighborhood, close to the center of the city. "My father was a couturier, the same profession as his father," Mégo says. "He had a store three floors high in the center of Beirut, Bchara al Khoury Street. Then came the civil war, which broke out in 1975, and he lost everything – his store was right on the front lines."
He remembers walking with his dog to the ruins of his father's store in 1978, when Mégo was eight years old. "He wanted to rebuild it at all costs, but a few months later, war started up again and once more shattered his plans," Mégo says. "He despaired – all his attempts at straightening out his affairs failed. My mother, who normally didn't work, began to teach in the Jesuit school in Achrafieh, a district in the eastern part of Beirut, where we went to school and whose director, Father Sahag, was Armenian."
Image: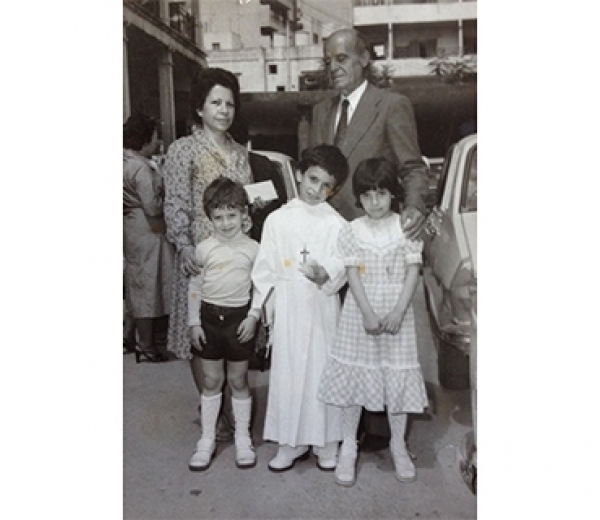 Text:
Mégo's first communion in Beirut in the mid 1970s, surrounded by his parents and siblings.
On his mother's side, Mégo's family comes from the sandjak (district) of Alexandretta, an area on the Syrian coast annexed by Turkey in 1939 with the aid of France. His grandparents, like most Armenians of the sandjak, fled to Syria and settled in Damascus, where Mégo's maternal grandfather Garabed Sumundjian became a cook.
Bombs define career choices
The bombings of the Lebanese Civil War left an everlasting impression on Mégo, and eventually resounded throughout his career with MSF. Mégo, his sister Maral and brother Ara spent their school years close to the demarcation line, where they endured bombings practically ever night. They had to leave Beirut several times in the middle of winter to find refuge in the mountains, where the family rented a vacation home in the summer. "We played soccer on a little lot in front of a big building (the Burdj el Murr tower), from which a sniper used to shoot to scare us. We hid, laughed and went on playing. But one day he threw a bomb, and one of our friends, a very pretty girl, was wounded and lost an eye," Terzian remembers resignedly. 
"I belong to a generation that saw the war up close."
The eldest of the three, Mégo registered to attend medical school at Lebanese University. At the end of the 1980s a large part of Lebanon was under Syrian occupation, and the voice of Lebanese General Michel Aoun, calling for a war of liberation, appealed to Terzian. 
Fighting began in 1989 and quickly turned to Syria's advantage. Terzian's parents, fearing that their son would be arrested, decided to send him to the University of Yerevan to finish his studies. At the time, Armenia was still under Soviet rule but undergoing a transition would lead the country to independence two years later. "I lived on the inside of this whole period, I can remember the dark years, the lack of electricity, the cold," he says.
Although he wasn't active in the Karabakh movement, Terzian had a few Armenian friends from Lebanon, fellow students, who left for the frontlines to fight the Azeris. "When my friends came back from the front to rest, we got together and discussed the situation in Karabakh," he recalls.
Then came 1994. In May, a cease-fire between Armenians and Azeris was signed. Terzian was in his fourth year of medical studies, and a French doctor from MSF asked him to join translation missions to Karabakh. He jumped at the opportunity. "With my Lebanese passport, it was hard to go to Karabakh, so I took advantage of this humanitarian mission to visit the region. I translated medical protocol guides for Karabakh's doctors – we distributed a huge number of medicines and explained their use, but never so much as counted them. Looking back, I realize how much our working methods have evolved since then."
Terzian nostalgically recalls the days spent in remote villages of Karabakh, when the fighting had just ended. "In the morning, we visited the villagers beginning at 9 a.m., and we stayed all day – there was coffee, cognac, welcome toasts – one after another."
Mégo eventually married an Armenian from Yerevan and earned a degree in pediatrics. He worked as a doctor in a pediatric hospital in Arech, near Erebouni, on the outskirts of Yerevan. At the same time, he practiced medicine in an institution that cared for street children. "The conditions were horrible. Thanks to MSF, we managed to facilitate social aid and allow those children to reintegrate in society," he says.
Image:
Text:
                                                    Operating in Afghanistan.
Hopelessly devoted to a cause
Mégo's tendency to pay out of his own pocket for medicines that destitute mothers couldn't afford caused a falling out with his supervisor at the hospital. He was facing dismissal when an expatriate MSF staff member offered him to go on a mission to Sierra Leone. "I thought I'd be leaving for just a few months until the tension eased," he remembers. 
In this West African country devastated by civil war, he worked day and night saving lives. Humanitarian work was indeed a true calling.
His real baptism of fire took place on his second mission, in a remote northern region of Afghanistan adjoining Tajikistan. That mission lasted eight months and he was the only Westerner. Alone, he managed to crisscross through the wilderness at the wheel of an all-terrain vehicle. "I wasn't at ease with it, so I exchanged my four-wheel drive for a horse and lived like in the Middle Ages," he recalls.
After briefly returning to Yerevan, he took on one emergency mission after another – war zones, catastrophe zones, food crises – such was the everyday routine in the Democratic Republic of the Congo. He was head of a pediatrics service in the forest, then off to Nigeria, Liberia, Côte d'Ivoire, Pakistan and Iran. 
Tireless and pragmatic, this Lebanese polyglot of Armenian origin is highly adaptable. In 2010 he took on direction of the emergency service at MSF, a key post where he continues to impress his superiors with his courage and capacity to carry out missions successfully. Indeed, it was Terzian who set up clandestine hospitals in Syria when war first broke out. "I am different from a lot of Armenians who are nationalists and patriots, but that doesn't mean I'm not interested in Armenia and that I'm not proud of my origins," he says.
Image: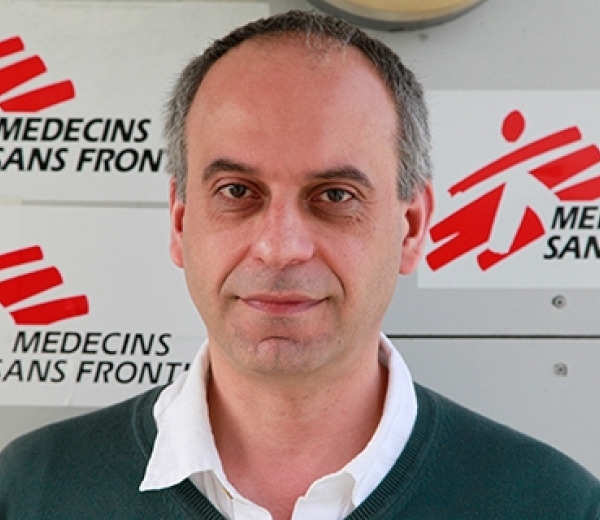 Text:
The question of the current mass exodus of Syrian refugees to Europe strikes a nerve. "I feel anger and incomprehension. I think to myself, 'It's a good thing my dead father didn't see them – he who idealized France!' I can't understand why these same French who saved my ancestors at Mussa Dagh a hundred years ago behave as they do today."
Yet, commendably, Mégo manages to remain objective when it comes to his work. "With time, our organization has become very professional and the quality of care is modeled on European standards. We do specialized surgery wherever we intervene. I've seen MSF expand – especially our section, MSF France, which is always ahead – and become international. The proof is that for the first time, they've elected a non-French person as president." 
However valiant, Mégo Terzian is discreet by nature, hardly someone who pursues honor and glory. He believes that his permanent mission at MSF headquarters is fueled by loyalty. He modestly claims to be "learning his profession every day," but has already realized the importance of accompanying his staff on each and every mission. Though he may be unaware, he singularly embodies that better part of humanity that has remained buried in people across the world for too long.
The story is verified by the 100 LIVES Research Team.
Subtitle:
President of Medicines sans Frontières
Header image: