Submitted by
global publisher
on Wed, 09/28/2016 - 22:55
English
Intro:
Many names stand out from the early years of today's thriving Armenian community in Argentina – and Don Jorge Sarafian is undoubtedly one of the most notable. Don Jorge was a man who overcame the struggles of his youth, maintained his love for his homeland and left a valuable legacy. His tireless work for Armenia and his efforts to pass on its culture are an inspiring example.
Story elements:
Text:
Many names stand out from the early years of today's thriving Armenian community in Argentina – and Don Jorge Sarafian is undoubtedly one of the most notable. Don Jorge was a man who overcame the struggles of his youth, maintained his love for his homeland and left a valuable legacy. His tireless work for Armenia and his efforts to pass on its culture are an inspiring example.
Text:
The city of Urfa has had many names throughout its history: Urhai, Edessa, Hetesia, and now Sanliurfa. This ancient settlement is just a few miles from the Euphrates River in present-day Turkey.   
Jorge Sarafian was born there in January 1911, in a traditional Armenian family of talented jewelers and craftsmen. His parents were Harutiun Sarafian and Varter Saghatelian.
The end of the 19th century saw the first massacres of Armenians in the Ottoman Empire. The flashpoint came in December 1895, when Saraf Boghos, an owner of a jewelry workshop, was killed by a Turk. Armenians took to the streets to catch the killer and do justice. After these events, the government ordered the liberation of prisons and encouraged the masses to avenge their Turkish countryman. As the mob rampaged, the Armenians of Urfa sought refuge in the church of Surp Astvatsatsin (the Blessed Virgin), believing that the Ottomans would not attack holy places. However, the enraged mob burst into the church, doused it with fuel and set it on fire, killing over 2,500 people. Many members of the Sarafian family lost their lives; Harutiun survived only because he was in the care of his aunt. 
The Saghatelian family also suffered in the massacres. Varter's grandfather, Saghatel, was a judge in the Region of Urfa. He was killed, along with all other Armenian men in the district, and their properties were ransacked. The constitutional regime brought some respite and the Armenian community remained, living under Ottoman dominion alongside other minorities such as Arabs, Greeks and Jews.
Having lost all his property, Harutiun started working as an administrator for the Armenian Apostolic Community. Through sacrifice and hard work, he and his wife eventually established themselves and raised three children: Rebeca, Boghos and Jorge.       
With the onset of World War I, the Turkish state implemented a systematic plan to exterminate the Armenians. In June 1915, 18 individuals from Urfa were apprehended and taken to Rakka (now Al-Raqqa, in northern of Syria) by Turkish officers. Harutiun Sarafian was among them. He and his comrades were never heard of again. 
Armenians in Urfa organized themselves and put up a heroic resistance, but the Turkish army responded with bombs. Only a few Armenians survived. 
Jorge's uncle, Daniel Saghatelian, was a landowner; he had stables and traded with the Arabs. When the massacres began, he and his partner dressed in tunics and left the city on horseback. They went to the town where their Arab partners lived and took shelter there. Some months later, Daniel invited Varter Sarafian to bring her family to the village. The Muslim villagers helped them. They were very hospitable and the Sarafians adopted their customs.  
In 1918, the British army occupied the region. The situation improved and many Armenians could return to their cities, but this period of tranquility did not last long. In 1921 Turkey came under the control of Mustafa Kemal, and the French government signed an agreement that handed all of Cilicia to the Turks. Fearing renewed massacres, the Armenians organized themselves and prevented the Turks from entering the city. There were no further attacks, but the Armenians were forced to retreat. After long negotiations, the Turks imposed extreme conditions: not only were the Armenians forced to leave their homes, but they also had to sign a statement that they were leaving voluntarily and handing over their possessions to the new occupants.
Jorge was 11 years old and his mother wanted to get to Syria to join her brother Daniel. In 1922, they smuggled Jorge aboard a truck laden with goods so that he could flee to Aleppo.
Daniel Saghatelian lived on his own and worked during the day, so there was nobody to look after his nephew. He decided to take Jorge to the Near East Relief orphanage, where he stayed for two years and attended the Haigazian school. His brother Boghos was also there. Boghos had arrived before him, saved by some camel herders, and was learning to be a mechanic at the orphanage. In 1924 the Sarafian family was reunited at last in Aleppo, following the arrival of mother Varter, sister Rebeca and brother-in-law Daniel Youssefian. His elder brother, Boghos, was sent to Argentina to join the Geghalians, another branch of the family who had escaped from Adana. Jorge remained in Syria to complete his studies, going on to work at a famous tailor's shop.
Image: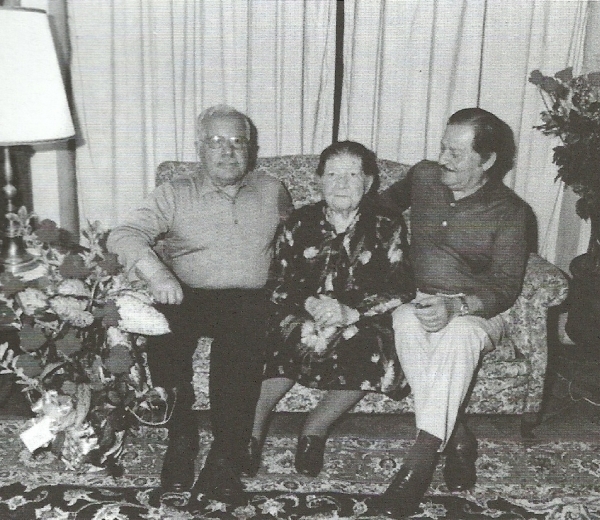 Text:
                                           The Sarafian siblings: Boghos, Rebeca y Jorge.
Southbound
In May 1927 Varter finally decided to go to Argentina, where her son Boghos and her cousin José Geghalian awaited. 
As soon as he arrived in Buenos Aires Jorge took on an active role in the Armenian community. After just a few months he founded the Compatriotic Union of Hetesia. At the same time, he was looking for work – and struggling against the language barrier. Starting out as a salesman, he went door to door. He built up a loyal group of customers, eventually finding work at a wholesale store in the neighborhood of Once before launching his own wholesaler, Casa Jorge. Gradually, he built one of the most important wholesale companies in Once. His children later worked alongside him. In addition, he founded a spinning mill, together with other key players in the industry. The company of Once grew and became the Emporio Comercial Hetesia. As part of his success, Jorge was elected president of the Wholesale Chamber of Once.  
Business was booming and Sarafian decided it was time to start repaying Argentina for the welcome it had offered him and his family. Jorge donated knitting wool and children's clothes to the Eva Perón Foundation. Eva herself asked him why he was doing it, as her requests to other businessmen had been turned down. Jorge replied: 
"I am a refugee, an orphan who arrived in Argentina. The country has helped me and now it is my turn to help people in this country."  
Community life in Argentina
Many Armenians arrived in Argentina as they fled from terror. They sought the peace to move on with their lives and they began to build a community that grew and continues to thrive. 
Jorge, together with his countrymen, chose the pen over the sword. He wanted to explain what had happened to the Armenians, to help others understand the Genocide that had driven them across the world to Argentina. With his colleagues he helped to establish the Armenian Cultural Commission. They organized different events: choral concerts, theater groups, and even formed a radio station. His community work saw Jorge join several community commissions and organizations; he became the president of Homenetmen (Armenian General Union of Physical Culture), he founded the Commission for the Armenian Cause in Latin America and contributed greatly to the process of establishing several Armenian schools in Argentina.  
Jorge introduced the Spanish-speaking world to Armenian culture, writing and translating several books, literary works and other texts from Armenian and French into Spanish. When Armenians celebrated the 1,700th anniversary of the adoption of Christianity in Armenia, Jorge Sarafian also wanted to leave a mark in his Mother Country. He decided to build a new church in Nor Hetesia, located in Ashtarak. It is the church of Surp Astvatsatsín (the Blessed Virgin), in allusion to the old church in Urfa where Jorge was baptized and which, after the Genocide, was left in ruins.
Image: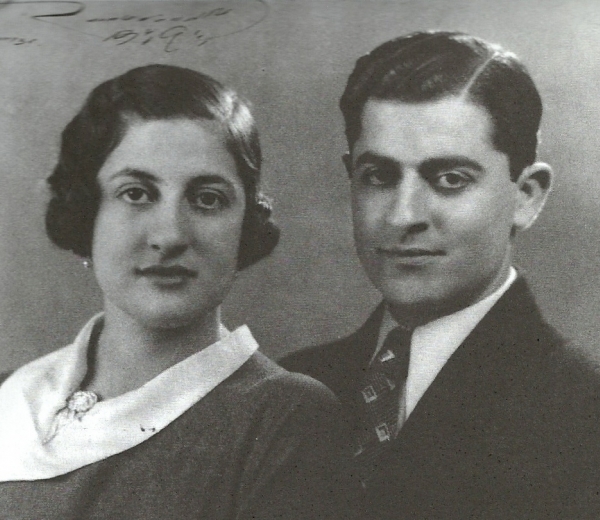 Text:
                                                       Rosa Andonian y Jorge Sarafian.
From generation to generation
Jorge Sarafian's legacy lives on. His children play a significant role in the Armenian community in Argentina, continuously working to promote Armenian culture and community life. They have held senior positions in several institutions, encouraging cultural activity through choirs and helping to set up schools for younger generations. Jorge's 13 grandchildren have also continued their ancestor's tireless work. They are involved in the community's youth commissions. Lusiné Sarafian is currently president of the AGBU Youth League and believes that her Armenian background continues to shape her life, despite her having grown up far from Armenia itself. 
"Even though I was born in Argentina, I feel that many characteristics of my Armenian heritage are stamped in my DNA: taking responsibility for hard work, showing commitment to my homeland, loving my family and sharing the pain and dislocation experienced by our ancestors," she says.
"I am thankful that I belong to a family – and a nation – that never gave up. A nation that believed its cultural background was worth more than surrendering to resentment, and which has vindicated that commitment through active communities in Argentina and Armenia," Lusiné continues. "My grandfather Jorge, or Kevork, Sarafian was orphaned, he suffered exile, but he used that feeling to motivate him, becoming a community leader who passed his energy, his culture, his cause, his faith and his ideals on to his children. They, in turn, passed them on to us, the grandchildren. I am proud that the Sarafian family is committed to Armenia and to the Armenian cause. I feel it is my responsibility to continue the work started by Don Jorge, as his friends and family used to call him, and to broadcast his values and ideals to the people around me and to future generations."
The story is verified by the 100 LIVES Research Team.
Cover image: Jorge and Boghos with their parents, Harutiun Sarafian and Varter Saghatelian.
Subtitle:
The Armenian who inspired Argentina
Header image: