As a war surgeon, Mohammed Elgazzar has been saving lives since the age of 30. Mohammed was born in Garbia, Egypt in 1965, and today thousands of patients owe him their health and well-being. "By saving the life of one man you are saving mankind in the eyes of God. That's what the Quran teaches us," says Mohammed. "Everybody should live and be helped, regardless of religion, nationality or skin color."

Constantly moving between various conflict zones, Mohammed can't imagine a different lifestyle. In 1994 the Arab Medical Relief Agency sent him to Yemen, when civil war broke out there.
Mohammed Elgazzar in Yemen in 1994
In 1996 he worked as a war surgeon at an Arab hospital in Makeni, a town in the West African state of Sierra Leone. This was the first of many experiences he would later recount as the worst of his life. In 2013 Mohammed and his colleagues were caught in a carpet-bombing attack in Syria while trying to evacuate wounded people from Aleppo to a field hospital near the border with Turkey. "Bombs rained down everywhere, behind us, in front of us, our ambulance driver's hands were shaking with fear. He didn't know which way to go." Miraculously, all medical staff survived that attack, but Mohammed did lose two colleagues, a driver and a nurse, in repeated carpet bombings.
Mohammed Elgazzar operates at a hospital near Aleppo, Syria
Later the same year Mohammed witnessed mass killings in Egypt. Shortly after President Mohamed Morsi was removed from power in July 2013, continuous clashes erupted between Egyptian security forces and supporters of the Muslim Brotherhood with close ties to Morsi. The conflict culminated in a massacre on Rabaa Al-Adawiya Square in Cairo on August 14, resulting in the violent deaths of hundreds of people, including women and children. The Relief Agency of Egypt Medical Syndicate and the Relief Agency of Arab Medical Union sent Mohammed and his friend, the head of the field hospital in Syria Dr. Ahmad Hamad, to a clinic in Rabaa, Egypt. "We were actually in Egypt to recover from the fighting in Aleppo. While we were helping the wounded in the streets, Ahmad took a bullet to the head. I lost a good friend that summer," Mohammed says. "It was one of the most traumatizing events in my life."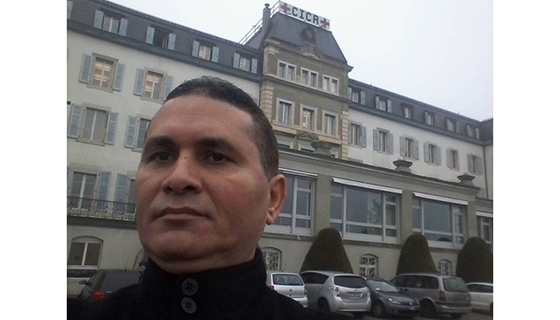 Mohammed joined the ICRC for a mission to South Sudan
In 2015 Mohammed joined the International Committee of the Red Cross (ICRC) and was sent to Juba, South Sudan, then to the Syrian border with Jordan. His latest position is that of medical officer for surgical and trauma management at the UN/WHO Euro office in Gaziantep, Turkey.
Mohammed provides a chemical weapons disaster management course for Syrian doctors in Turkey just before a chemical attack in Ghouta, Syria
A boy's first attempt at surgery
"I knew I had what it takes to be a war surgeon from the time I was a child. My childhood largely shaped who I am," Mohammed explains. "My mother raised chickens, and the young ones would always wander off. When I came home one day, I saw a bleeding and screaming chick on the ground. Someone had kicked it in the stomach with such force that its skin had torn, the guts hanging all out. I felt so sorry for the little one, I felt like crying," he remembers. He grabbed a needle and thread, held the chick firmly, pushed the guts back in and stitched up the wound. Following the operation the chick walked around the room a bit before dropping dead. "As a surgeon, I am fully aware today that you can't do it just like that, if only due to the risk of infection, but back then…" Mohammed remembers.
After his first failed attempt to save a life even more grief befell Monhammed: his mother died of intestinal cancer just two years later. He watched her suffer all the way through it and remembers her time at the hospital as if it were yesterday. "She always wanted me to be a doctor," he says.
Mohammed provides training courses for other medical personnel with limited resources
After graduating from medical school at the University of Alexandria in 1989, Mohammed spent a few years as a resident surgeon in his hometown. When he completed his post graduate degree in surgery and married at the age of 30, he decided to practice surgery in Sierra Leone and moved there with his pregnant wife.
Enduring loss after loss
By the time they arrived in Makeni, located some 80 miles northeast of the country's capital Freetown, Mohammed began experiencing symptoms of malaria. The medicine he was given didn't help and his fever kept climbing. "I talked my wife through what she was to do if I died, promising we would go back in just two months should I recover miraculously," he remembers. Mohammed beat the odds, but the promised two months turned into two years. It was during this time that he lost his first-born, a daughter who died during birth. "I was the only surgeon in the hospital and within a several-mile radius. Both our living conditions and the hospital equipment were extremely poor. With only two hours of electricity per day, I had to deliver the child all by myself with candlelight, unable to see that it had become entangled in the umbilical cord."
Mohammed's home and hospital next to the jungle in Makeni with primitive living conditions
Mohammed mourns this loss deeply and goes silent for a long, long moment. His voice trembling, he continues: "The first months were difficult for us, but my wife soon got pregnant again. We tried not to think about it too much." The second child, a son they named Omar, was born in good health. Today, 18 year-old Omar is studying dentistry in college.
When he was just six months old, however, his parents feared for his life and their own. "We lived pretty far from the center of Makeni, just next to the jungle, so news was always slow to reach us. When the ICRC manager left the country, she warned me that the rebels were advancing on Makeni and strongly advised us to pack up and leave." Mohammed tried to persuade other personnel to leave, but when they refused, he decided to go alone.
The next morning he loaded his suitcases, child and wife into his Land Rover. "When I started the engine I saw a car with armed men about 500 feet away and heading our way. They shouted 'Stop! Stop!' and pointed guns at us. Losing the car would have dealt a fatal blow to the family, so Mohammed confronted the leader.
"I recognized his face because I had treated him and his wife two days earlier. Outraged, I asked how he was capable of doing this to me after receiving treatment. He said something I didn't understand, but the threatening gestures of his comrades in arms were clear enough. The rebels took my car, including the papers I had left inside," Mohammed recalls.
(Un)friendly fire
"After some 90 minutes, we heard more shots. I had nothing left to offer, so the rebels must have been out for rape or murder. I hid my wife and son under the bed, locked the door to the room, grabbed an African throwing knife I used to cut branches and positioned myself in front of the door. Only over my dead body would they enter this room. The gunfire became louder as the rebels neared our house. These were the most terrifying moments of my life," Mohammed remembers.
"The door swung open and I heard an Arab man shouting: 'It's us, Dr. Mohammed, you needn't worry.'" The gunmen were national army soldiers sent by the head of the Arab community, Ali Hassan, to look out for Mohammed. They had orders to escort him to Ali's home in the capital. "He had seen my car in town and realized I was in danger," Mohammed explains.
Once at Ali's, Mohammed realized that the house had been surrounded by rebels, who demanded $13,000 and Ali's car. "Ali Hassan, a man held in high esteem, refused to yield. They started shooting and a bullet narrowly missed my ear. A man collapsed behind me. I begged Ali to give in, which he did, eventually. In return, he managed to persuade the rebels to escort us to the border with Guinea, near Conakry, in old trucks. More than 100 had sought refuge in Ali's home. As we boarded the trucks, we were attacked with tear gas, which made everybody cry. All I could do was wash their eyes," Mohammed laments.
The journey through the jungle to Conakry took two days. Food and water were scarce and rebels stopped them frequently. "We had little money on us, but we bought our freedom with what we had left. In order to quench our thirst and satisfy our hunger, we picked oranges from the trees. That's when we found two women lying in the brush, who had been robbed and raped. We took them with us. They were with the French organization Action Contre la Faim," Mohammed recalls.
Members of the Arab community escape to Conakry in old trucks
After these traumatic events of 1998 the family moved to Russia to recover. Mohammed's wife suffered from PTSD. After a few months Mohammed went back to Sierra Leone, where he was needed. This time, he went without his wife.
Mohammed with wife and son in Moscow
In the years that followed he operated on hundreds of wounded and sick people in South Sudan, Syria and Egypt. "I often faced death, but I survived. There is a time to die for everyone, and I will die when my time comes," he says.