In 2015, the Global Terrorism Index named Boko Haram the deadliest terror group in the world. In that dangerous environment, 60-year-old Zannah Bukar Mustapha is committed to creating a safe space for children caught in the violence and giving them the future they deserve.
Mr. Zannah Bukar Mustapha abandoned his 20-plus years in law to focus on education after realizing the scale of the damage done to the youngest generation of Nigerians in Maiduguri, which by 2007 became the stronghold of Boko Haram. As the government forces fought the insurgents, it was innocent civilians who often became casualties, and none suffered more than the children. Many of them were orphaned; most had no hope for a better life. "I felt that we were no longer becoming models for the young ones who were looking up to us. I saw the number of children roaming the streets with no hope for the future and that is why I felt the need to set up the Foundation," Mr. Mustapha recalls. "It was not about simply giving them shelter. That was not enough."
In 2007, despite the fact that his experience in education was very limited – he had been a teacher before studying law, but that was many years ago – he opened the Future Prowess Islamic Foundation School. At first, 36 orphans enrolled. By 2009, the school had students born to both sides – the Boko Haram insurgents and those killed by them. From the very beginning, the institution was committed to working with the widows, trying to rehabilitate the community torn apart by distrust, hatred and violence. "They formed cooperatives where they could gain support and coordinate [their efforts], because an average woman in northern Nigeria becomes vulnerable when her husband dies," explains the lawyer-turned-activist. The Foundation not only educated the children but also made sure their mothers had a support network to rely on.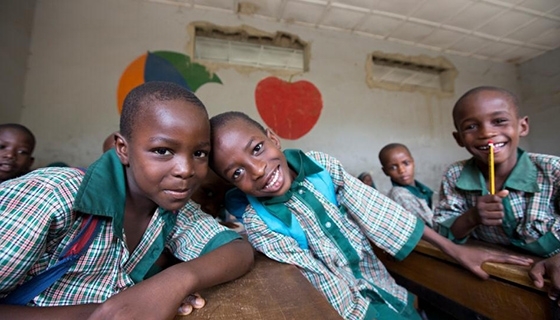 Students of Future Prowess Islamic Foundation School
"Children had been cast on the streets, with no one to care for them, so my foundation did. In 2009, we reached 250 children and 200 widows who had been abandoned," says Mr. Mustapha. As the community grew, it faced many challenges. Some concerned the school's curriculum. The educators wanted children to study a wide range of subjects, including languages spoken elsewhere, like English and French, but some of the widows opposed this as "Western influence." Their reluctance can be more easily understood if one remembers that, in the Hausa dialect, "Boko Haram" literally means "Western education is sinful." Ever the skillful negotiator, Mr. Mustapha managed to quell their fears and eventually received their consent. Some subjects were easier to advocate than others. Mr. Mustapha made a brilliant case for Algebra, for example. After all, wasn't it invented by Arabs?
However, navigating school politics was nothing in comparison to negotiating the release of underage captives held by Boko Haram. Over the years, Mr. Mustapha has fearlessly acted as mediator between the government and insurgents. He played a vital role in negotiations in October 2016 and May 2017, which brought home 103 of the girls kidnapped by Boko Haram in Chibok in April 2014.
He remembers those days as the scariest of his life. He persisted by focusing on his purpose. "I went to get them. I stood before those girls and said, you are now going home. This is the end of your suffering. And when I saw that they were out, I was happy." For this exceptional act of bravery, as well as creating "a safe space for children based on peaceful coexistence and gender equity," he was named UNHCR's 2017 Nansen Refugee Award winner.
Zannah Bukar Mustaha helped liberate 82 Chibok girls in Sambisa
As Mr. Mustapha bargained for the girls' freedom, the school kept going strong. The insurgents specifically targeted educational institutions, closing or even burning them down for spreading ideas considered alien to local culture. The fact that the Future Prowess Islamic Foundation School had students from all sides, including Boko Haram supporters, worked in its favor. In northeastern Nigeria alone, over 800 schools have been affected, but this one never closed its doors.
"One of our strengths is diversity. Everybody is part of it. Nobody thinks, I'm on my own, I'm not part of this. No one is left out or can say, I don't belong here," explains Zannah Bukar Mustapha. This goes for the parents as well – the school tries to engage them as actively as possible, strengthening their relationship with their children while subtly working on deradicalizing them. "The widows are studying with their children during break time. The parents are there, and that has a big impact," says Mr. Mustapha. The diversity is also reflected in the gender composition of the Future Prowess Islamic Foundation School – for this region, it has an unusually high percentage of female students. As Zannah Bukar Mustapha says, "This is a school where every child matters."
The project proved to be such a success that he decided to open another school for older students. He called it the Future Prowess Academy. "We have a center where we train widows, it is so amazing because people suspicious of other people see their old enemies eye to eye. And in two, three years they become friends and never again feel that nobody cares about them," says Mr. Mustapha. For such a simple idea, it certainly yields impressive results. People who have quite recently been on different sides of the barricades suddenly find themselves facing their opponents in a classroom, where they can't help but change their minds. Never feeling that he has done enough, Zannah Bukar Mustapha hopes to open the Future Prowess University one day.
Zannah Bukar Mustapha (right) and the Governor of Borno, Nigeria, at the World Humanitarian Summit, Turkey, 2016
His unfailing optimism is even more inspiring since international support to his foundation has been virtually non-existent. "It is a challenge," Mr. Mustapha admits. "We need to have advocacy; we need programs like ours here. Having received the Nansen award and being nominated for the Aurora Prize helps me bring this challenge to the international community at the global level."
The parallels between the tragedy that led to the creation of the Aurora Prize and recent events in Nigeria are easy for him to discern: "The genocide in Armenian history is similar to what many of our students are facing. When I got the call about the nomination, I was surprised, but I am very happy to identify with Aurora."
His work is dangerous and challenging, and yet he perseveres. The secret behind his commitment? A strong belief in unity in the face of adversity. "We are all bonded as one in humanity and we cannot be without each other. We cannot run away from it. We have to make sacrifices. We cannot leave humanity the way it is," says Mr. Mustapha.
Photo: © UNHCR, Rahima Gambo