With a family history that deeply influenced his worldview, Pedro Mouratian played a key role in passing the Argentinian law recognizing the Armenian Genocide.
On one of Buenos Aires's main historical streets, the Avenue de Mayo, stands the National Institute against Discrimination, Xenophobia and Racism (INADI). It is run by Acting Director Pedro Mouratian, whose white-walled office is on the fifth floor, adorned with photographs and the solemn presence of the Argentinian flag.
Mouratian was born in Valentín Alsina, a province of Buenos Aires. His four grandparents survived the 1915 Genocide and arrived in Argentina seeking peace and prosperity. From a young age he has been involved in the struggle for recognition, which continues to this day. According to Mouratian, the history of the Genocide catalyzed his interest in human rights. "One becomes aware of what humans are capable of doing, and having witnessed it first hand as victims, as my grandparents did, is even more striking," he says.
Mouratian's paternal grandfather Bedrós was from Bitlis (present-day Turkey) and was serving in the military when the atrocities began. Bedrós participated in events known as the "Battle of Bitlis" and formed part of the battalions of Armenian voluntary self-defense units under the command of General Andranik.
Some years later he was able to flee to Greece, where he met his wife, María Elmaian. She was born in Bafra (now in northern Turkey), where her parents had tobacco plantations. María was also a victim of the Genocide and survived thanks to staying in an orphanage. For seven years, the young couple lived in the region of Pireo near the port of Athens, where they had their first three children, two of whom died of harsh living conditions. "They immigrated to Argentina from Greece, not knowing much about where they were coming to, and settled in the area of Valentín Alsina," Mouratian explains.
"Bedrós did not talk about these events, he was emotionally broken," Mouratian recalls. "It was not uncommon to find him crying without an apparent reason. He had many nightmares, barely slept and was more serious than most people. He was unable to break free from the Genocide."
Having been uprooted from his motherland, Bedrós arrived in South America and at last found a new home: "My grandfather found the peace and quiet he did not have in occupied Armenia," Mouratian believes. "There were images of Sose Mayrig and Guevorg Chavush hanging on the walls of his room."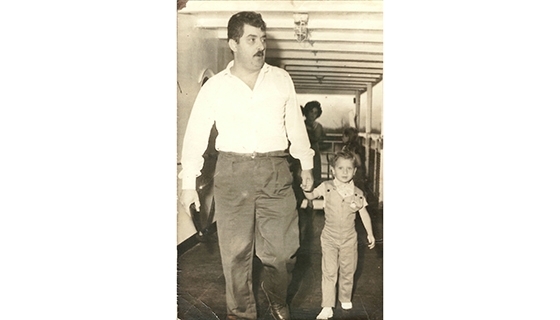 Pedro's father Garabed Mouratian holds him by the hand. Behind is Pedro's mother, María Cecilia Hekimian.
Mouratian's maternal grandparents, León Hekimian and Hripsimé Donbourian, were from Kharberd (Harput, now Elazig, in Turkey) and from Adana (now in southern Turkey). During the killings they fled to Lebanon and then to Uruguay, where they settled for many years before finally moving to Argentina.
The Mouratian family in Buenos Aires in 1953.
One man's fight for recognition
On January 11, 2007, Argentina enacted the national law number 26199, declaring April 24 the "Day of Action for Tolerance and Respect among Peoples" in commemoration of the Genocide suffered by the Armenian people. Pedro Mouratian played a crucial role in getting the law passed. The enactment was a major breakthrough in Argentinian policy and a source of great joy for Mouratian. "Even though it was an institutional achievement, I had also considered it a personal one. The Genocide is central to my life. I have been working hard for remembrance and justice and to ensure no other people would fall victim an event of this magnitude. Much of my commitment to human rights and respect is based on my experiences as a child," he believes.
Former Argentinian President Carlos Menem stroke down a similar law back in 1995, and it was many years of struggle Mouratian's goal was finally accomplished. "We let time go by because a new political process was necessary, a change of paradigm. The coming of Nestor Kirchner to power and the protection of human rights as state policy allowed us to move forward again. Although we faced the same pressures as during Menem's presidency, there was a political decision to move forward on this matter and recognize the Genocide by national law," Mouratian says.
Pedro Mouratian with Argenitnian President Cristina Fernández de Kirchner
Mouratian likes to emphasize the fact that human rights are universal:
"Human rights work across-the-board. A community has to react and understand the basics of solidarity with other peoples and other causes. We should not be confined to our own logic."
Mouratian has been a long-time supporter of local initiatives aimed at securing recognition of the Armenian Genocide, initially from his position at the Armenian Youth Federation, from the Armenian National Committee (South America) and currently from INADI. He's represented Argentina at many international forums and conferences on human rights. In July of last year, Armenian President Serzh Sargsyan recognized Mouratian for his outstanding efforts during his visit to Argentina.
The light-blue and white flag to Mouratian's right stands witness to the gratitude he expresses. "One must not forget all those people and organizations that helped Armenians, one should always be thankful," he believes. Mouratian acts on his gratitude by working to help others, "otherness" being an important concept worth pausing over. "It is important to regard 'the other' as a complement to oneself, and not as someone to eliminate. Through discrimination, exclusion and xenophobia we do not regard 'the other' as one's equal, and that's what happened to the Armenians. Behind political and economic interests, it was impossible to see that there was another, equal person," he concludes.
The story is verified by the 100 LIVES Research Team.