Submitted by
global publisher
on Wed, 05/13/2015 - 17:15
English
By Anna Arutunyan
Given its context, "1915," a film by Garin Hovannisian and Alec Mouhibian, was destined to become the movie about the Armenian Genocide. The name itself linked it to the Centennial commemorations around the world, and director Hovannisian's characterization of the work as a "film about denial" placed it squarely in a political context. It was a movie that set out to do everything at once: an epic commemoration of the Armenian Genocide, a psychological thriller exposing the skeletons contemporary actors hide in their closets and a biting statement on denial targeting the state of Turkey. The film's website was even hacked by a group called the "Turkey Cyber Army." It was a movie that simply could not miss. 
On the surface the film ticked off all boxes suggested in its trailer. This "Birdman"-like psychological drama (thriller isn't exactly the right word here) focuses on a theater director and his group of second-rate actors as they tackle their own unresolved issues about denial by putting on a production about the Genocide. Los Angeles theater director Simon (Simon Abkarian) has a lot at stake with this one-night play: putting his theater back on the map after a seven-year hiatus, getting his depressed wife, Angela (Angela Sarafyan) to confront the death of their infant son so that she can move on, and making a major statement about the Genocide. 
While in the making, the play is jeopardized by Armenian and Turkish protesters, cryptic death threats (that turn out to be from one of the jilted actors) and actor rivalries. The plot hinges on one central question: can Angela confront her past – the accidental death of her infant son seven years ago – by fusing with the role she plays in the production and finding the courage to elope with the Turkish officer who comes to arrest the family and ends up falling in love with her during the death march?
If that last sentence made little sense, it is because the story makes little sense in the film. Viewers are introduced to several movies' worth of dramatic questions: denial, falling for the enemy, historical trauma. It would be impossible to deal with these questions in a coherent way because they are crammed into just 82 minutes of a film that purports to be about the Genocide. Why is it so hard for Angela, the actress, to play a deported Armenian who runs away with a Turkish officer? How is this related to the pain she continues to feel for her lost son? Why does the director, her husband, use hypnosis on his already traumatized wife to get her to believe that she is the character she plays?
In reality, these are all extremely fascinating questions that could make for a hugely meaningful motion picture about the Armenian Genocide. They all deal with historical memory, personal denial and what collective trauma does to descendants many generations down the line. Unfortunately, they remain mere teasers in a film that looks like a trailer for these issues stretched out to 82 minutes. 
At times "1915" looks like a pastiche of themes taken from films that came before it. Like "1915," Atom Egoyan's 2002 epic "Ararat" wove the drama of making a film about the Genocide into the characters' own contemporary explorations of personal denial. "The Lark Farm," a 2007 melodrama by Italian duo Paulo and Vittoria Taviani, dealt with a young Armenian deportee who falls in love first with a Turkish officer and then with a Turkish gendarme during a death march. 
That is because part of the reason "1915" falls short of its claim has less to do with its directors and actors and more to do with the fact that past efforts to make a definitive motion picture about the Armenian Genocide have proved less than satisfying. Armenians have struggled for years to recruit Steven Spielberg to produce a movie on the Armenian Genocide as grand and impactful as "Schindler's List." Despite some reports in 2012 that the Armenian National Film Center was in negotiations with Spielberg, we are no closer to such a film. 
For that reason, it's hard to blame directors Hovannisian and Mouhibian precisely because there are underlying roadblocks for any mass-audience Armenian Genocide film. As Variety puts it in a review of "The Lark Farm," political controversy connected to Turkey "has kept [the Genocide] off of Hollywood development lists." 
But the biggest challenges to such a film's ultimate success have less to do with Turkey and more with how the Armenian Genocide is perceived in the West. After all, by the time "Schindler's List" hit movie theaters in 1993 the Holocaust had been taught to schoolchildren across America. By contrast, in order to be remotely successful for a mass audience a movie about the Armenian Genocide has to spend half of its time (much like "Ararat") telling viewers where Armenia is on the map and what the Genocide was. That was something that "1915," with its aspirations, simply could not afford to do. 
Image: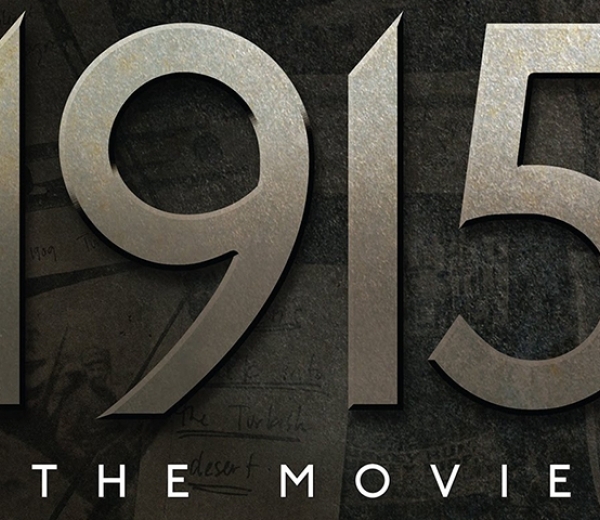 Subtitle:
Why "1915" is not the Armenian "Schindler's List"