Opera singer Natalie Aroyan is one of Australia's finest sopranos. Though she leads a life of global travel and stage success, she remains acutely aware of her Armenian roots.

She marked the centennial of the Armenian Genocide by writing and performing a new stage production, "An Armenian Journey," at the Sydney Concert Hall.
Left to die
Like many other Armenians, Aroyan's family suffered in the Armenian Genocide during the last years of the Ottoman Empire.
Her maternal great-grandmother, Baydzar Nercessian-Demirjian, was just eight years old when the massacres began, and within days she had lost her parents and siblings at the hands of the Ottoman Turks. She was later thrown into a river and left to drown. "Fortunately, someone heard her cries for help and rescued her," Aroyan says. Soon after, Baydzar was placed in an orphanage. Yet it wasn't long before American missionaries moved her to an orphanage in Greece.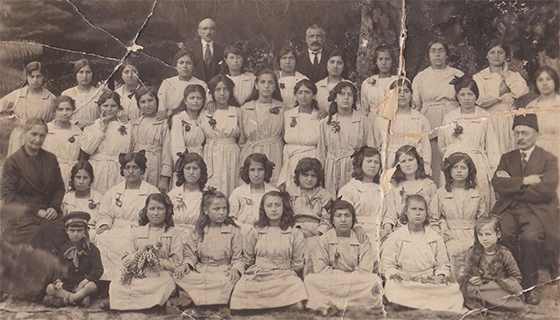 Baydzar Demirjian at an orphanage, marked with a black cross.
From Greece to Cairo
Baydzar remained in Greece for several years, but when offered the chance to move to Cairo she took it and moved in with an Armenian family, which gave her food and shelter in return for domestic help. "Both Baydzar and my great-grandfather, Megerditch Ashjian, had reached Egypt by the late 1920s. That's where they met and had three daughters together. What took them to Cairo was horrific, but you could say their story ends happily," Aroyan believes.
Megerditch and Baydzar Nercessian with their daughters.
Walk of terror
At the same time, Aroyan's paternal grandparents, Nerses and Khatoun Aroyan, were fighting for their family's future. Together with their children they fled their home near Rumkale in the present-day Sanliurfa province in Turkey.
With the terrifying threat of the Ottoman Turks looming, the group walked across the Syrian Desert and was forced to leave one of their children sleeping under a tree in their struggle to cope with deportation. "Fortunately, another survivor returned the child to the family before they continued on to Aleppo.
In Aleppo, they went straight to an Armenian camp belonging to a local church. It was the beginning of a long stay in Syria, where they had six more children. "My grandfather worked as a blacksmith, but he and my grandmother never forgot the kindness of the community that first sheltered them. In 1955, after an illness, my grandmother passed away and left their seven children in her husband's care," Aroyan recalls.
Nerses and Khatoun Aroyan.
A new life down under
Between 1968 and 1974 Nerses emigrated to Australia with his seven children. The family adapted quickly to life down under, with Aroyan's father Sarkis launching a successful career as a chemical analyst. He also met her mother, Lucy, following the move. "My parents have told me much about the Genocide, and knowing what both sides of my family went through to create the life I have in Australia is humbling," Aroyan says.
Nerses Aroyan in Australia.
"In my career I have travelled extensively; therefore, returning home to Australia is always a pleasing sensation.
But after having visited Armenia and seeing that 'Welcome Home' sign at the airport, my connection to the Motherland couldn't be more powerful.
Being constantly surrounded by people speaking Armenian was a very touching and humbling experience and made me feel like I belonged. Belonged to a country, a nation of people that is so far away from my current home, but never forgotten. The past of our people should never be forgotten, but we must look to rebuild a positive future for our country for it to flourish."
The story is verified by the 100 LIVES research team.