As a leading singer-songwriter and producer, Illinois-born Michael Omartian has been at the forefront of the music industry for close to 40 years. A multiple Grammy Award winner — including "keyboardist of the year" and "producer of the year" — Omartian stands out in recording history as having produced number one records in three consecutive decades, from the 1970s to the 1990s.
Since 1993 Omartian has been making his home in Nashville, Tennessee, where he helped to develop curriculum for the first Master's Degree program in Music Business at Belmont University and serves on the Board of Governors of the Recording Academy. Artists for whom Omartian produced albums include Clint Black, Michael Bolton, Dolly Parton, Debby Boone, Christopher Cross, Whitney Houston, Rod Stewart, Roberta Flack and Trisha Yearwood. In 1980 Omartian's work on Christopher Cross's self-titled album garnered a remarkable ten Grammy Awards nominations and three wins.
While Omartian has mainly concentrated on Christian music, his imprint is vast: he was an arranger and keyboard player for the 1985 number one hit "We Are the World," sung by a "super group" of musicians who banded together under the moniker USA for Africa.
In 1991 Michael was nominated in the Grammy's "album of the year" category for Amy Grant's "Heart In Motion." He followed this up in 1995 with a nomination for "country song of the year" for "When Love Finds You" with Vince Gill, and for "gospel album of the year" for "The Light Inside" with Gary Chapman. In 1994 Omartian's "Atlanta Reel" was used as the theme song for the swimming events at the Atlanta Olympic Games.
Some of Omartian's other works include Amy Grant's "River Lullaby" on the DreamWorks animated movie "The Prince of Egypt," Deana carter's "Once Upon a September" (the title track from the Fox movie "Anastasia"), Donna Summer's "She Works Hard for Her Money," and the single "Arthur," the theme song from the eponymous movie sung by Christopher Cross, which won an Academy Award for "best song of the year."
A musical ear
Omartian's sense of musicality developed early on. When he was just three years old, his mother noticed that he would walk around the house banging on furniture and humming tunes. His aunt Rose had an upright piano at her house, so he would sit at her piano playing old tunes for hours on end, until his parents agreed to enroll him in music lessons.
Omartian's father loved the accordion, so that was the instrument on which little Michael learned his first notes at the age of four, before eventually studying the piano and drums in high school.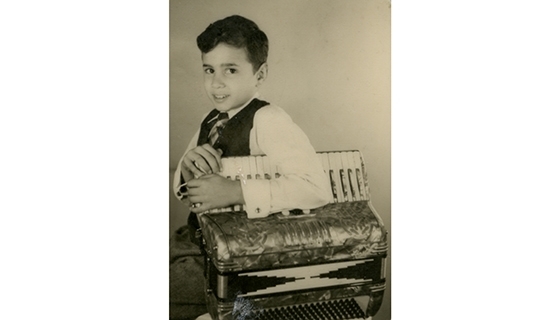 Five-year-old Michael Omartian with an accordion
He soon found himself writing scores for full orchestra in spare time. Winning a prize as the "Illinois percussionist of the year" led Michael to play in the Chicago Symphony orchestra summer program. His early influences — mainly jazz — included Oscar Peterson, Art Tatum, Count Basie, Dizzy Gillespie and Buddy Rich, followed by the British Invasion of the 1960s: "The Beatles became a huge influence in my life as a 19 year old," says Omartian. "This opened the world of pop music to me…I noticed that all of these albums, which I studied in minute detail, were recorded in Los Angeles, New York, Nashville and different parts of England...As very little commercial recording was done in Chicago, I boarded a plane for Los Angeles as a 20-year-old, with $3,000 in savings, no prospects of any kind and just the idealistic enthusiasm of youth."
Michael Omartian's high school graduation picture, 1963
Omartian is a spiritual person and a modest one at that – not necessarily qualities readily associated with the entertainment industry. His remarkable success came as a surprise to him: "All of this is a complete blessing that I would never have anticipated. I just made myself available from the very beginning, and was taught by veteran musicians and producers who went before me to be humble, willing to work for nothing in order to get started and have a cooperative attitude. Each experience was a learning opportunity…Then Steve Barri of ABC Dunhill Records took a chance and hired me into the A&R department in 1974. He made me a staff producer. He was a very important part of my success and I am very grateful to him for the opportunities he provided. We were constantly in the studio and producing records," says Michael.
A big Armenian family
When Michael was growing up in Evanston, Chicago had a large Armenian community. He was also connected to his roots through extended family, including "Aunts and uncles, two sisters named Annette and Linda, many cousins, an Armenian Orthodox church, picnics in the summer and many activities and get-togethers. The culture was everywhere for me," Michael remembers.
He spoke Armenian to his relatives and English to his friends, but like many others in America he lost the language as he grew up.
"I understand a little bit of [Armenian] now, but I really can't put a sentence together," he frowns.
Michael's grandmother Caironi Keyishian survived the Armenian Genocide of 1915. She lived with her husband and two daughters in Turkey. When the first deportations began, her husband abandoned his family to escape certain death, thus leaving Michael's grandmother at the mercy of Turkish authorities. Michael describes his grandmother as a sweet, God-fearing woman who sang hymns and read her Bible on a daily basis.
Michael's grandmother Cairn Keyishian Hajian (front row, left) with Michael standing behind her
Although she never spoke to him directly of the events of 1915, he knows from other family members that the Ottomans killed Caironi's oldest daughter. Her youngest child, Rose, was hidden in a burlap bag and covered with blankets.
"While I don't know how my grandmother survived, I have to speculate that there were some sympathetic Turkish Muslims who did not agree with what was happening and who helped her to get out of Turkey," says Michael.
Caironi and Rose eventually sailed for Elis Island, but their journey wasn't easy. An outbreak of "pink eye" (or a similar infection) aboard the ship caused Ellis Island authorities to request that the ship be re-routed to Europe. However, one of Caironia's relatives, who was there to greet her, climbed over a chain link fence that kept the ship at bay and somehow convinced the authorities to release the two refugees (no one knows whether a monetary incentive was involved). Caironi and Rose eventually migrated to Evanston, where Caironi remarried and gave birth to Michael's mother Sophie and his uncle Richard.
Left to right: Michael's uncle Richard, aunt Rose and mother Sophie
Michael has loving memories of Caironi: "When I would visit on a Saturday, she would immediately go into the kitchen and whip up some delicious shish kebab and rice pilaf. I remember her making yogurt and putting the pot of warm milk on the heat register. Her lahmajoun was the best," he says.
Caironi had a total of seven heart attacks in her lifetime, but she managed to bounce back from each one: "Her will to live and love us was truly powerful," Michael says in awe.
Born again
Today Michael is a born-again Christian who sees his religion as a welcome break from the dog-eat-dog nature of the mainstream music business. "I take my faith very seriously. It was natural for me to spend time working with Christian artists at the same time as I did secular music. It was, frankly, a breath of fresh air, where people weren't overly competitive and served a higher purpose," he says.
Besides music, Omartian also has a passion for trains: "I've built a model railroad in one of the rooms of our house. It's never finished, so it keeps my interest and keeps me motivated to work on it regularly," he smiles. He lives in Nashville with his wife Stormie, who is a successful author. Together they have a son, Christopher, and a daughter, Amanda. "Christopher and his wife Paige have given Stormie and I two beautiful granddaughters: 21-month-old Scarlett and five-month-old Juliette. My daughter is married to Dallas West, and they are both in the medical field," Omartian notes like a proud grandfather, then adds: "No grand kids from them…yet!"