Marina Tagakchyan
Submitted by
global publisher
on Fri, 09/30/2016 - 22:48
English
Intro:
"My grandfather was a very reserved person, sullen, with an iron exterior. I can't remember him ever laughing or with a smile on his face. All I remember is, pen in hand and lost in a pile of papers, he would write. And when he wrote, that 'man of iron' would weep. The tears would pour," composer Marina Tagakchyan describes her grandfather, Ghoukas, son of Sharo, from Sasoun.
Story elements:
Text:
"My grandfather was a very reserved person, sullen, with an iron exterior. I can't remember him ever laughing or with a smile on his face. All I remember is, pen in hand and lost in a pile of papers, he would write. And when he wrote, that 'man of iron' would weep. The tears would pour," composer Marina Tagakchyan describes her grandfather, Ghoukas, son of Sharo, from Sasoun.
Text:
The children and grandchildren didn't know what Ghoukas Hovhannisyan, well past 80 years of age, was writing and erasing from those pages. After a life of praiseworthy work, the man had retired and liked to spend his days at the summerhouse, under the walnut tree he had planted. Finally, one day, he gave his papers to his son and said, "My only wish is to see these edited and published."
Ghoukas Hovhannisyan had written the story of his family. No matter how reserved and strong a person you are, it is perhaps impossible to tell the story of your 27-member family when only you have survived – to describe every corner of your native land, or to recount what a young Sasoun native felt when passing by the ruins of his house. The reason for Grandpa Ghoukas's tears was finally known to all: "Let at least one person from our home escape, so that the family hearth remains ablaze."
Ghoukas's father Sharo and his brothers lived in Kelikouzan (Ungouzatsor), the largest village in Sasoun, known for its abundant walnuts.
"Sharo, my father, couldn't read or write. But he was sober-minded and known locally. When one of the neighbors would travel to Mush, he would give the person money and ask for a newspaper. He would have the village teacher, my uncle, read the newspaper and he intently followed what was written. My father wanted me to get an education. Despite my mother's protests that I was young, he remained steadfast and one sunny day he took my hand and we set off for Mush. With a letter from Kevork Chavoush (we are related), I was accepted at the Moush St. Garabed Monastery School," writes Ghoukas Hovhannisyan.
Image: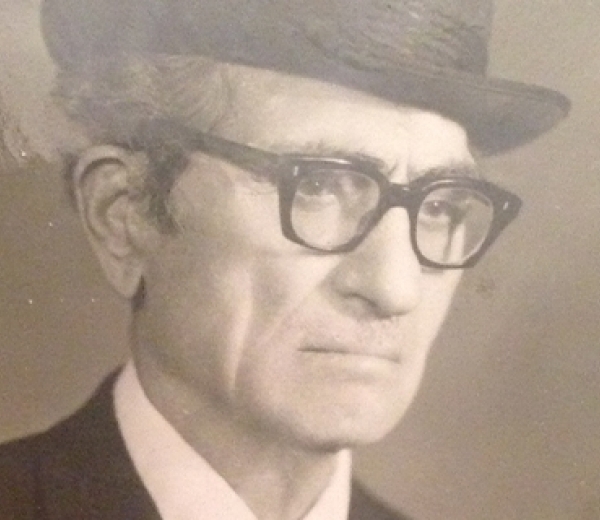 Text:
                                Ghoukas Hovhannisyan, Marina Tagakchyan's grandfather
In mid-1915, with the aim of wiping out the Armenians, the Ottoman Empire incited the Kurdish aghas and beks to conduct unexpected raids.
"The scene when the men and women were being separated was heart-wrenching and sad. One could hear the wails of the women and cries of the children all around. At night in the dark, many lost their relatives. Others toppled into the ravines after losing their footing from being jostled by the crowds while passing through stony and treacherous passes. Others shrieked and cried out after their three or four-year-old kids went missing. Others mourned their dead sons. Under the watch of the gendarmes, the women, children and the elderly were shoved and beaten, like animals, on the banks of the Mourat River (Aradzani, Eastern Euphrates). Eleven members of our family, women and children, were there – including my two sisters aged eight and ten. People were killed with machine gunfire and the bodies tossed into the river. Some threw themselves into the river," writes Ghoukas Hovhannisyan in his memoirs.
Fifteen-year-old Ghoukas was in a group of men taken to excavate the areas around the homes of wealthy Mush Armenians; they searched for gold and other valuables. Telou Hasan, an armed Kurd, approached Krikor, Ghoukas's uncle. As an acquaintance, the Kurd said, "The pardon is a lie and your surrendering is pointless. They will kill you all. Save yourselves." Upon Krikor's order, Ghoukas and his cousin Samson fled. They miraculously escaped several encounters with the gendarmes during their flight. Overcoming famine and thirst, deeply saddened by the news of their families' murders, they somehow survived. When the Russian Army was stationed in Mush, the boys decided to go there. On the way, Samson fell ill and the Kurds captured Ghoukas, who didn't want to be separated from his only surviving relative. Samson urged Ghoukas to leave him behind, saying, "Leave me here and go. Maybe you will survive. Let at least one person from our home escape, so that the family hearth remains ablaze."
At the home of Kurdish Dazo
Khalut, a Kurd who regarded Sharo's family with hostility, was part of the group of Kurds that seized Ghoukas. Khalut took Ghoukas to his home where his father, Ghazo, made Ghoukas his servant and, because Armenians were proficient at raising animals, also made him tend to his herd. While Khalut was engaged in pillage, their two cows had become skin and bones. Ghoukas explains, "They prepared a bed for me in one corner of the shed. They were poor and had two cows. I had to fatten up those cows in order to live."
"My past was tragic, my present full of death risks and my future forlorn. But I lived. Khalut didn't like me and beat me at every opportunity. I constantly thought of leaving that place of hellish death uninjured," recounts Ghoukas Hovhannisyan. One day, he was able to escape.
Image: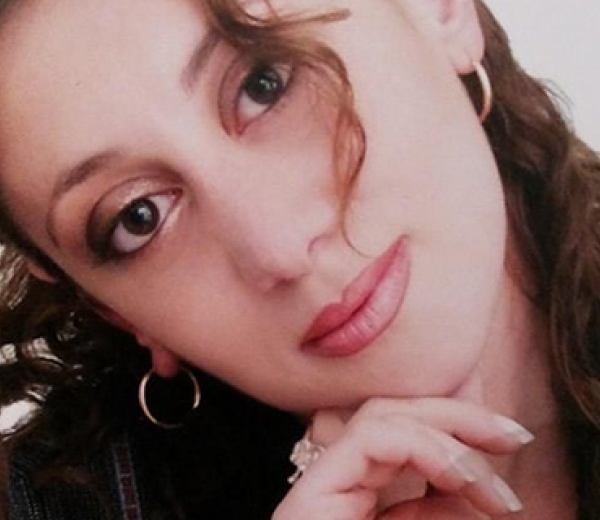 Text:
                                                   Composer Marina Tagakchyan
"My grandfather overcame numerous difficulties during this flight. One time, he escaped death by hiding in a sack of wheat. He must have had some inner strength that forced him to resist, to live and maintain the family name," says Marina, who frequently used to sit with her grandfather near the walnut tree. "I was only eight. Sometimes my grandfather would relate some things. Now, I think that everything was quite serious to be telling a child. Perhaps, making me out to be him when small, he was talking with himself, remembering and thinking."
Freedom
Fleeing from Ghazo's house in early June 1916, Ghoukas reached Mush alone. "I met the Russian soldiers. They gave me bread. They gave me a change of clothes and questioned me: where did I come from and where was my family. I said that there were 27 in my family and that all had been killed. Only I…..and I started to cry my eyes out," Ghoukas writes in his memoirs. Entering Mush, he met his uncle Krikor, who was living in the two-story house of a wealthy Turk. The owners had left after the Russians arrived. Ghoukas went to live with Krikor.
Sometime later, they started to gather up the orphans, Ghoukas included. The orphans were taken to Khnous, Kars, and then Alexandropol (Gyumri)). "I was in the orphanage by December. It was called the 5th or the Sasoun Orphanage, located opposite the Holy Savior Church."
While in the orphanage, Ghoukas mets General Andranik. He tried, unsuccessfully, to continue his education in Tbilisi or Etchmiadzin, but took a job at the Hayastan newspaper as a laborer. 
"He was very proud of meeting General Andranik. He constantly talked about it and repeated to us the advice the general had given him: 'In this world, the pitiable and the weak cannot survive. They will be swallowed by those who are unjust and powerful'," recounts Marina. 
"From July 21, 1915 until March 10, 1916, I was subjected to terrible torment and suffering. Hungry and without shelter, I wandered the forests and valleys, sometimes with others or alone. Finally, under the supervision of the Turkish gendarmes and enslaved by the Kurds, I witnessed the murder of innocents, the unburied and tortured corpses, the piles of skeletons of men, women and children or of those newly butchered. In Sasoun, in the forests and dales of Antog, Gelyesan and Grishig, in the gorge of Barbar and all over, it was common to stumble upon skeletons or tortured people and sometimes the bodies of those newly murdered. I saw the flames burning Armenian villagers in their homes in Souloukh. Now it is impossible to describe those horrific images. But I have written down those real events and my impressions to the best of my ability." This is how Ghoukas Hovhannisyan from Sasoun sums up his memoirs.
Image: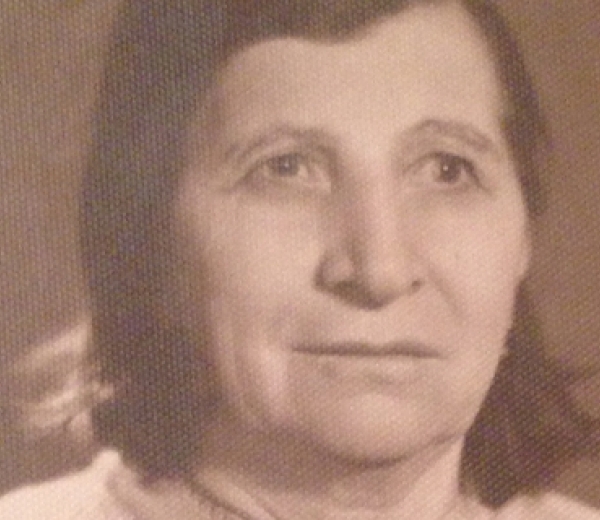 Text:
                               Aghavni Gevorgyan, Marina Tagakchyan's grandmother
Later on, Ghoukas married Aghavani Gevoryan, the orphaned granddaughter of Hazgeh Mgrdich agha of the Manazgerd Citadel of Moush. The couple would have seven children, 15 grandchildren and many great-grandchildren. Ghoukas graduated from high school and university and received several top government posts.
The walnut tree planted at the summerhouse was Ghoukas's resting place, a witness to his longing and memoirs. It reminded him of his native village, of his youth, of his family, of his sisters and brothers… and of their loss. It was under that walnut tree that 86 year-old Ghoukas suffered a heart attack and passed away.
In 1987, one year after leaving this world, the final wish of Ghoukas Hovhannisyan from Sasoun was realized. His memoir, "Sasoun in Flames," was published. 
The story is verified by the 100 LIVES Research Team.
Cover image: wardens of the Gyumri orphanage, Ghoukas Hovhannisyan in third row, sixth from the right. 
Subtitle:
Armenian composer remembers her grandfather from Sasoun
Header image: