By Christopher Atamian
Two-time Tony and Emmy Award-winning actress Andrea Martin has always been her own woman — independent, fun, ambitious and wildly popular: homecoming queen at her high school graduation in Portland, Maine, beloved member of Canada's "SCTV" and doyenne of offbeat comedic genius everywhere.
Andrea Martin with her date at her high school prom
She received her two Tonies for "Best Featured Actress" for her recent role as Pippin's grandmother Berthe in the 2013 revival of the musical "Pippin" by the American Repertory Theater in Cambridge, Massachusetts, and for her Broadway debut in the musical "My Favorite Year" in 1992. Altogether, Andrea Martin has received five Tony Award nominations in the "Best Featured Actress" category – more than any other actress in the award's history.
Martin has also appeared on Broadway in "Fiddler on the Roof!," "Candide" and "Oklahoma and Young Frankenstein," while some of her most accomplished film roles include the tough and somewhat deluded agent in "Hedwig and the Angry Itch" and the beloved Aunt Voula in "My Big Fat Greek Wedding" — the one who has the most difficult time pronouncing the word "biopsy" (bb-bop-boopsy!)
Andrea Martin stars as Aunt Voula in "My Big Fat Greek Wedding"
Growing up the daughter of John Papazian Martin, an Armenian grocer who worked his way up to own a successful chain of stores and restaurants, Martin recalls that while her father loved her dearly, he was also a perfectionist and thus always wanted her to do better, even though her gift for acting was evident early on. John knew that no one was handing out acceptance letters to Armenians and he also knew that his own parents had lived through terrible times in Van during the events of 1915. "My father saw a truck one day in Portland that said 'Martin' on the side of it, so he took the name. Then he took the truck," Andrea often jokes. Undoubtedly, Martin picked up a thing or two about a strong work ethic from a man who would make employees try every possible merchandising variant and novelty in order to better himself and his business.
Andrea Martin's parents Sybil Angel Manoogian and John Papazian Martin
Andrea's mother Sybil Angel Manoogian also grew up in a family that had been displaced and lost everything during the Genocide — she was a gifted host and a devoted mother with a decided flair for entertaining guests and fashion. As one might imagine not many Armenians lived in Maine, but the few that did stuck together. Andrea recounts many of the ups and downs of growing up ethnic in Portland, Maine — as well as her subsequent rise to Broadway and Hollywood fame — in a hilarious and touching 2014 memoir "Andrea Martin's Lady Parts."
Andrea Martin's mother Sybil Angel Manoogian
After attending Emerson College to study acting Martin immediately landed a role as Lucy in a touring production of "You're a Good Man, Charlie Brown." This led to a six-year run on Canada's famed TV comedy show SCTV (Second City TV), where her colleagues included none other than Eugene Levy, John Candy and Martin Short. Anyone who's seen her perform as the wonderfully oddball Edith Prickley delivering her trademark "paahaa" laugh or imitate Liza Minelli swallowing a fly, or her daring appearance as the first naked Star Trek Ferengi ever on TV, know just how sidesplittingly funny Martin can be. Since her SCTV days she has delivered one memorable performance after another. Martin's enviable talent is making almost anything funny, no matter how tedious the original script: she is the type who could proverbially read the phone book and make it sound interesting.
Andrea Martin as Lucy in "You're a Good Man, Charlie Brown"
Back to her roots
For Andrea's father and the rest of her family Armenia was a distant place, one to be avoided, a terrible past with no future. Growing up, Andrea knew very little about Armenia. It was while preparing for a one-woman show at the Joseph Papp Theater that Martin threw herself into researching Armenia and its history. When she announced in late 1991 that she planned to visit the fledgling Republic of Armenia, her father exclaimed: "Jesus Christ, Andrea! Why do you want to go there?" He still associated Armenia with the hardships his family experienced in 1915.
Like other Armenian families who lost loved ones during the Genocide, the Martins tried to forget the past and move on — a theme brought up by Peter Balakian, Eric Bogosian and others when discussing an Armenian upbringing in America. To this day, Andrea knows very little about the events that her family experienced during the Genocide. "I was always conscious that my family, like many other Armenian families, was made up of survivors," she says.
Andrea credits her 1991 trip (Armenia had just suffered a deadly earthquake and war in Nagorno-Karabakh) with instilling a sense of pride and ownership over her past and her ethnic background. Along with being overwhelmed by the poverty and need that she saw all around her, she was also touched by the kindness and hospitality that Armenians showed her.
Today Martin splits her time between New York City, Toronto and Los Angeles, where her two sons reside. She recently became a proud grandmother with the birth of her first granddaughter, Chloe Helena Dolman. And whether it was learning to fly a trapeze in her 60s in "Pippin" or dealing with the tragic death of her best friend from cancer, she credits friends, family and her sense of open, zany adventure with helping her persevere. She is presently starring in Michael Frayne's comedy hit "Noises Off!" at the Roundabout Theatre Company on Broadway and in an upcoming sequel to "My Big Fat Greek Wedding" slated for March 2016.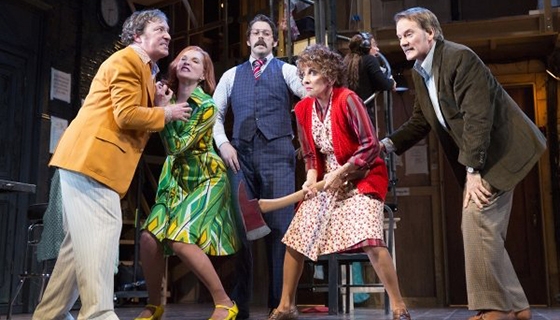 Andrea Martin and co-stars in "Noises Off!" directed by Jeremy Herrin
When not busy tackling multiple acting projects, Andrea serves as a spokeswoman for the Children of Armenia Fund (COAF), an organization that helps rebuild villages in Armenia while serving that country's youngest citizens by building schools and cultural centers as well as providing them with much needed health services. Andrea is proud to call herself Armenian and to support Armenian charities whenever she can: "Being involved with COAF," she says, "Is the one way I feel I can give back to my proud heritage. And I love staying connected to other Armenians that way. One day, I will want to bring Chloe to Armenia. I hope that at that point, Armenia will once again be a flourishing country and a safe home for some of the most brilliant and talented artists in the world."