Submitted by
Komrakova
on Fri, 05/20/2016 - 14:47
MAY 23, 2016 – ISTANBUL, TURKEY – In her first public address as Aurora Prize Laureate, Marguerite Barankitse will discuss how grassroots initiatives in conflict-afflicted communities are influencing humanitarian engagement and shifting the rules of engagement. 
Having rescued over 30,000 orphaned children during the years of civil war in Burundi, Marguerite is living proof of the power of one individual to effect change for thousands. 
Her approach is one of empowerment, "It is the local people who determine the kind of future that they want to build," Marguerite Barankitse explains. "My organization Maison Shalom is now trying to finance education for refugees. I want them to go back to Burundi as doctors and agronomists, not as rebels with weapons in their hands. It's about giving young people hope and a life with dignity."
Marguerite from Maison Shalom and REMA Hospital in Burundi was named as the inaugural Aurora Prize Laureate on April, 24, at a ceremony in Yerevan, Armenia.
About the Aurora Prize for Awakening Humanity
On behalf of the survivors of the Armenian Genocide and in gratitude to their saviors, an Aurora Prize Laureate will be honored each year with a US$100,000 grant as well as the unique opportunity to continue the cycle of giving by nominating organizations that inspired their work for a US$1,000,000 award.  Recipients will be recognized for the exceptional impact their actions have made on preserving human life and advancing humanitarian causes.
The Aurora Prize Selection Committee includes Nobel Laureates Elie Wiesel, Oscar Arias, Shirin Ebadi and Leymah Gbowee; former President of Ireland Mary Robinson; human rights activist Hina Jilani; former Australian Foreign Minister and President Emeritus of the International Crisis Group Gareth Evans; President of the Carnegie Corporation of New York Vartan Gregorian; and Academy Award-winning actor and humanitarian George Clooney. 
The Aurora Prize will be awarded annually on April 24 in Yerevan, Armenia. 
About the UN World Humanitarian Summit
The first-ever World Humanitarian Summit, set to take place in Istanbul on 23-24 May 2016, is a global call to action by United Nations Secretary-General Ban Ki-moon.
The Summit has three main goals: to re-inspire and reinvigorate a commitment to humanity and to the universality of humanitarian principles; to initiate a set of concrete actions and commitments aimed at enabling countries and communities to better prepare for and respond to crises, and be resilient to shocks; and to share best practices which can help save lives around the world, put affected people at the center of humanitarian action, and alleviate suffering.
The Summit will be held at the highest political level possible, including Heads of States or Government. The Summit will include approximately 5,000 participants representing global leaders from government, business, aid organizations, civil society, affected communities and youth, among others.
English
Image: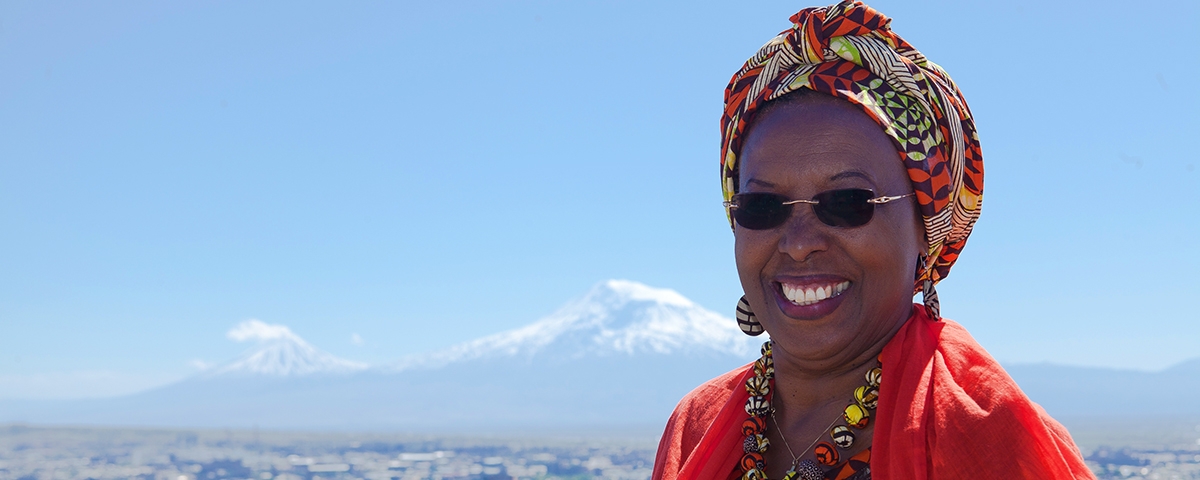 Subtitle:
Marguerite Barankitse speaks at the gathering of 5,000 politicians and leaders from the global humanitarian community.