"For us, Genocide is not just about one day, April 24. It's about our lives, or a great part of our lives. To me, April 25 is even more important, as we Armenians have to move forward," says avant-garde folk artist and Grammy award winner Arto Tunçboyacıyan.
As a singer, composer and multi-instrumentalist, Arto has heeded his own words and moved forward. He has appeared on over 2,000 recordings and, in 1998, he founded the Armenian Navy Band, incorporating traditional and contemporary Armenian music.
Arto's maternal grandfather, Hovhannes Ptikyan, was a fabric seller in Chorum. Arto recounts that his grandfather spent months traveling from one village to another marketing his wares, while his wife, Haykuhi, stayed home to care for their children. As the Genocide progressed, Hovhannes and his relatives were killed. His grandmother then paid a fee of 50 lira each for herself and her two children to be driven by buffalo cart in the forced convoy. On the journey, she fell ill and the cart driver ejected her and her children. Alone and afraid, Arto says, "She fled into a forest. When she saw fireflies, she thought they might be people smoking cigarettes and approached them. She was horrified by what she saw. In the morning, one of her children was dead from eating soil."
Arto's paternal grandfather, Hovhannes Tunçboyacıyan, was a church official in Sebastia (now Sivas, Turkey). As a member of the clergy, he was one of the first victims of the massacres. Arto says that churches were the first places Christians were taken from for execution. Other members of Hovhannes' small family were also killed.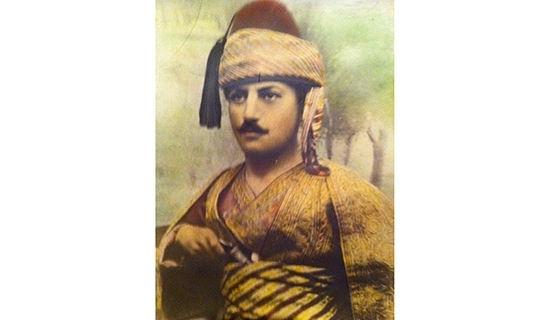 Arto's father, Sedrak Tunçboyaciyan
Sedrak Tuncboyaciyan, Arto's father, was only 10 years old when the assaults began in Sebastia. "My dad saw how they slit the throats of two sisters who were his neighbors. Terrified, he ran in a panic and fell into a well. He was helped to safety by a shepherd," says Arto. Sadly, Sedrak's good fortune in being saved was not shared by all in his family. Seven of his 11 siblings were killed in Sebastia. Three brothers, Sedrak, Misak, Gagik, and their sister Ovsanna managed to reach Istanbul. There, they had an opportunity to sail to another country. Instead, they chose to remain in Istanbul, as it seemed relatively safe to them. Unlike Sebastia, Europeans inhabited Istanbul, giving the family a sense of security.
In Istanbul, Sedrak Tunçboyacıyan married Valentina Ptikyan. They had two sons and a daughter – Hovhannes, who became the famous musician, Onno Tunç – Arto and Taguhi. They lived in the Gedikpasha area of the city. His father and one of his father's brothers were shoemakers, while another brother was a tailor. Arto remembers often helping his father with his work. There were many tasks: taking the shoe size, shaping, sewing and delivering the shoe models from one place to another.
Arto Tunçboyaciyan at a concert rehearsal in Yerevan ©PAN Photo
In 1981, Arto left for the United States. On his birthday, August 4, in 1984 he decided to surprise his parents and visit them in Istanbul. "I didn't give them any notice that I was back from America; I just went home. They were sitting at the table, drinking to my health and wellbeing. My mom was crying and I knocked on the window three or four times. My mom drew near the window and said, "Sedrak, how much did we drink, that we hear Arto's voice?" and I answered back, "Mom, it's me," then my dad came out to embrace me," recalls Arto.
"Only then, for the first time, did my father talk to me about what he had witnessed during the massacres in Sebastia," says Arto. Until that day, he knew the Genocide only through his father's silence. Sedrak could not share the horrors with anyone and tried to ease his pain with alcohol.
"He was extremely afraid of speaking out. You see, they used to cry for no reason sometimes. My dad wouldn't tell us anything, but finally told us of his neighbors, the sisters, whose throats were slit. He told us that just before passing away. One has to share something before death, that's why he told us that story," says Arto, adding that he understood everything from the look on his father's face.
"You know, I presume in those times, dying was the easiest thing to do. The deceased were gone; those who remained suffered a lot," notes the musician. Between 20 and 29 members of Arto's mother's and father's families were killed in the Genocide. In December 1984, Arto called his sister in Istanbul to inquire about his father, and learned that he was in a coma.

By the end of the 1980s, when the independence movement began in Armenia and tensions with Azerbaijan escalated, Arto says that Turkey's attitude toward Armenians became increasingly negative. It was at that time that his mother and sister moved to the United States. His mother passed away in 2003 and was buried in Istanbul beside his father. His elder brother Onno, who had inspired Arto to create music, died in 1996.
"To me, there's no centennial or millennium of the Genocide. The 101st year is the same as the 200th year. The important thing is how people preserve the Armenian nation. All we have to do is not cheat each other and live a pure life," says the leader of the Armenian Navy Band.
Cover photo by PAN Photo
The story is verified by the 100 LIVES Research Team.