Submitted by
global_publisher_JR
on Wed, 01/27/2016 - 15:12
English
Intro:
Sylvia Unjian-Tataryan has been an active participant in a number of Armenian organizations since 2000. As a tour guide who accompanies all manner of dignitaries, presidents, philanthropists, cultural figures and ambassadors on their trips to Lebanon, she is rather an ambassador-at-large herself, not only for Lebanon, the country of her birth, but also for Armenia, the country of her heart.
Story elements:
Text:
Sylvia Unjian-Tataryan has been an active participant in a number of Armenian organizations since 2000. As a tour guide who accompanies all manner of dignitaries, presidents, philanthropists, cultural figures and ambassadors on their trips to Lebanon, she is rather an ambassador-at-large herself, not only for Lebanon, the country of her birth, but also for Armenia, the country of her heart.
Text:
A dramatic exit plan: real-life theater
On her mother's side, Sylvia's family was from Erzurum, a large city in northeastern Turkey. There her great-grandfather, agha Artin Haroutyun, was a merchant (the Turkish word agha, meaning "lord," is a title of respect). "A noble family they were," notes Sylvia. "The only granite house in Erzurum with a few stories belonged to them."
But all was not well outside the Haroutyun home. In 1895, one of agha Artin's Turkish friends, a senior military officer, came and warned Artin of a huge calamity awaiting the Armenians. So dire was the outlook that the officer advised Artin to gather up his family and leave the city within the week. The two friends agreed upon a date, a time, and a specific checkpoint. With a mixture of real-life theater guided by a shared knowledge of human behavior, the two hatched a plan wherein they would act as though they had never met. Further—and most importantly—to make the border crossing appear utterly believable, Artin agreed to submit himself to the rude and condescending manner in which the officer would have to address him. The roughly hewn, life-or-death scene in place, a few days later, Artin's group of ten—his wife, Hiulane, eight more family members and one servant—arrived as planned.
The Turkish military officer, true to his word, did indeed ensure that the Haroutyuns cross the border to freedom, however uncertain said freedom might be. 
The details of how the group reached Aleppo are not known, but the grim results are. Upon the family's arrival, three of Artin and Hiulane's children passed away, apparently from diseases they had acquired along the arduous journey.
Image: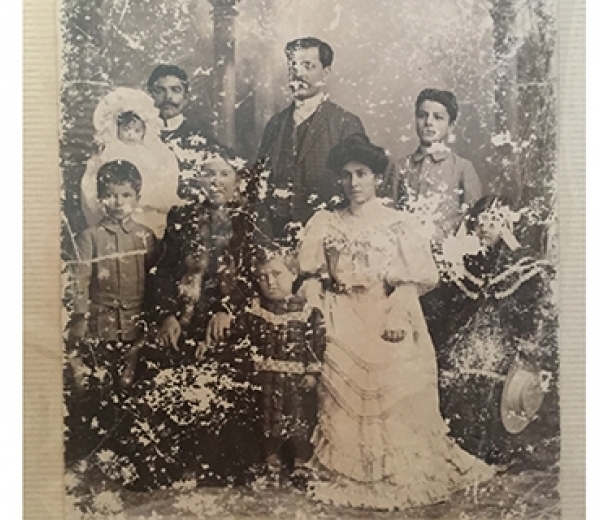 Text:
Ter-Astvatsatryan family: in the center – Artin, Hiuliane is dressed in white, 6-7 year-old Onik is beside her, the attendant with Onik's little sister on the left side
The secret of the stamp
"My great-grandmother, Gyulizar, stashed a few jewels in her bags to dispense as needed," says Sylvia, recalling the stories told to her by Gyulizar's daughter, Veronica. But it's what Sylvia's great-grandfather had—a small, seemingly ordinary postage stamp—that fueled the family's hasty escape.
Artin was a stamp collector. "He kept them in albums," Sylvia explains, "albums he had meticulously made with his own hands." The powerful message on one special stamp therein was confirmed after both Artin's death and that of his son, Sylvia's grandfather, Onik Terastvatsatryan, who had inherited the collection. As Sylvia tells it, years after the stamp had been carefully placed in the album, a philatelist visited to take a look at the collection. He zeroed in on that one stamp. Written in Ottoman Turkish, it contained a warning about the impending Armenian Genocide. The stamp's production was short-lived, its creator hanged for committing treason.
Sylvia's family then understood that the tiny message-laden square affirmed Artin's friend's warning, causing Artin to hastily uproot the family—a full two decades before the Genocide officially began. 
Image: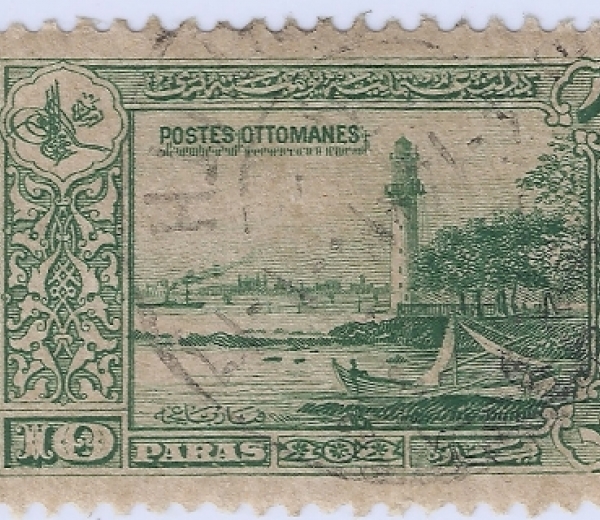 Text:
                    Stamp issued in Ottoman Empire, from the personal collection of Sylvia Unjian-Tataryan's grandfather
"When I questioned my grandmother Gyulizar about those days," recalls Sylvia's mother, Seda, she used to answer, 'Oghul (child), my old sorrows and pain arise anew'."
The birthday plan
Onik Terastvatsatryan, Sylvia's grandfather (and son of the stamp collector), was born in Aleppo. Onik worked for a good 40 years as deputy CEO for an Aleppo-based German company specializing in local energy. His excellent knowledge of German allowed him to translate the user manuals of huge mechanical tools for the local staff, thus making him an indispensable resource for foreign managers of the company. Artistically gifted as well, he mastered a number of crafts, including the silver-plating of church supplies.
Sylvia's maternal grandmother, Veronica, was also born in Aleppo, in 1909. One of seven, she had five sisters and a brother. Veronica's brother, Hmayak, was born on April 24, 1915 – the day the Armenian Genocide began. Understandably, the family felt it unethical to have a celebration on April 24, but depriving the boy of the joys of his birthday would be too cruel. Why should a child pay for the sins of others upon his own people? Therefore, Veronica's mother, Gyulizar, came up with a plan. "Every year grandmother would organize a dinner 'in memory of all Hmayaks who perished on April 24, 1915'," Sylvia's mother Seda explains. There was a somber undercurrent, to be sure, but the young boy was nonetheless able to celebrate.
Gyulizar, as well as her husband Arshak Chalyan, came from a seaside city Mersin in Cilicia and apparently reached Aleppo by sea. "My grandfather worked for a French railway in Aleppo," recalls Seda, who was born there. One of her two sisters, Aida, still lives in Aleppo.
Image:
Text:
Sylvia with her mother Seda
A long and winding road
The family of Sylvia's father, Noubar, was from Adana, a major city in southern Turkey. Noubar's father Mihran Unjian sold cosmetics and accessories. His mother, Gyulenya Keshishian-Unjian, came from the family of a tavern keeper. No doubt in search of salty, colorful stories, Sylvia would often ask her grandmother to tell her more about her father's occupation, but she would always answer with the same detail-free response: "In Adana, my father had a khan, a hotel-like place where travelers could find shelter for their horses or donkeys and themselves."
Sylvia's disappointment notwithstanding, her grandfather's care for strangers passing through his hometown may well have influenced her own career choice. 
Just as the turbulent rumblings of the Ottoman Empire were felt by the Haroutyuns in northern Turkey, so too did the political roilings of the early 1900s make themselves felt in the Unjian household. Therefore, the family decided to move to Greece. Some time later, though, rumor had it that the situation had eased back to normalcy, so back to Adana they went.
Unfortunately, those rumors were false: the killings were actually getting worse. Witness to horrific corpse-laden scenes, the Unjians were soon on the move once more.  After escaping through the port of Mersin, they settled on a Greek island with their sons Sargis and Merouzhan, older brothers of the yet-to-be-born Noubar. Not all the Unjians made it through, though, notes Sylvia. "Grandmother told me how the severe conditions were too much for their one-day-old daughter, who did not survive the very first night of her life."
Not surprisingly, emotional scars remained, resurfacing in particularly tryng times. "Decades after their escape, when the Lebanese civil war broke out, my grandmother relived all the terrible events of her youth. She told us how they had to walk over dead bodies," Sylvia recalls.
Image: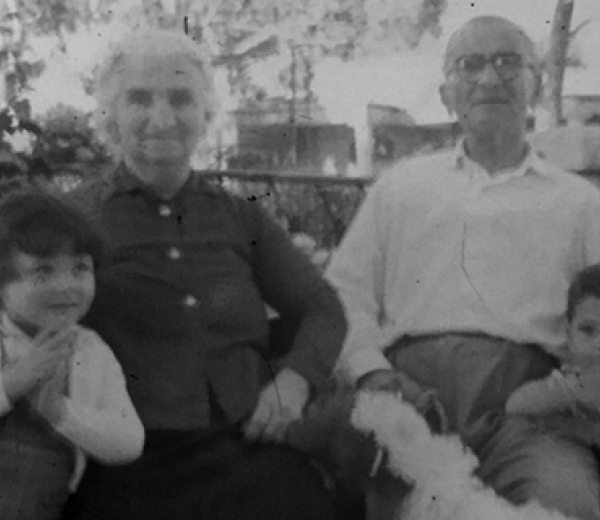 Text:
Sylvia's paternal grandfather and grandmother – Mihran and Gyulenya – with grandchildren
յThe two Unjian sons were growing up and money was getting tight. Mihran decided to move the family to Damascus. There he worked as a blacksmith in French wrought-iron style. "The iron entrance gates of St. Mary's Cathedral, the most famous pilgrimage site in Saydnaya (a few miles north of Damascus), were handmade by my grandfather," says Sylvia. Part of Our Lady of Saydnaya Monastery, believed to have been constructed in around 550 AD, the religious site is of importance to Muslims and Christians alike.
But the family was soon once again on the move. After receiving a letter from relatives living in Lebanon, they left for Zahlé, where in 1924 Sylvia's father Noubar was born. At some point in the 1930s, the family finally settled down in the Zokak el-Blat District of Beirut. Sylvia picks up the story, saying, "My father started working for a merchant, and after becoming more self-confident, opened his own little store." 
Hats off to Lebanon
In 1946-1947, during the years of massive immigration to Soviet Armenia, Noubar decided to stay in Lebanon, proclaiming: "I love it and I will stay here." Shortly thereafter he became the representative of German, Swiss and Italian leather goods companies. Among the companies was Borsalino, known especially for its fedoras. But no matter which business he represented Noubar enjoyed an excellent reputation, notably when serving officials. Noubar's brother Merouzhan picked up the trade and worked alongside his brother.
It's a small world, after all
When business dealings demanded that Noubar travel to Aleppo, Gyulenya told her son that they had relatives there, who had settled in Syria after the Adana massacres. Upon arriving in Aleppo, Noubar saw none other than Seda. It was love at first sight. It was also an amazing intertwining of fate, infatuation and family. As Sylvia explains, "my mother and father are actually very distant relatives." Seda being too young for marriage at the time, their mothers agreed that the wedding would take place in two years.
Image: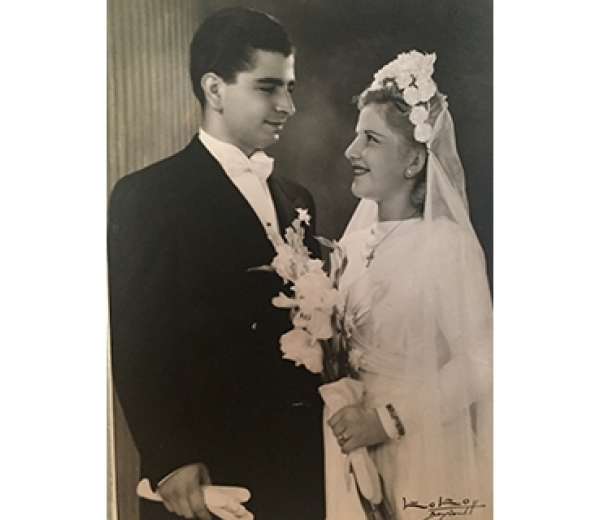 Text:
Seda and Noubar Unjian on their wedding day
"I was lucky," says Seda, "to have such a smart and dedicated man as a husband. He was very mature and organized for his age."  
In that happy marriage Sylvia and her two brothers–Pertch and Shahan–were born.
Image: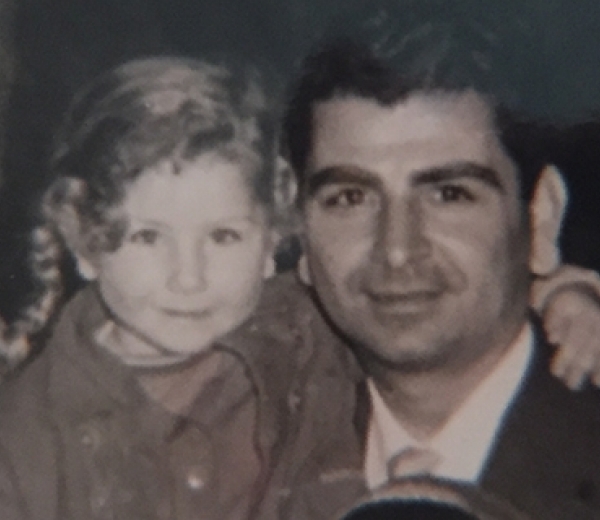 Text:
Little Sylvia with her father Noubar Unjian
It is impossible to describe the pride and warmth with which Sylvia remembers her father. Following his example, she works hard to contribute to a positive perception of all things Armenian. And she is succeeding, as proven by the many letters of gratitude and top-notch feedback she receives from the tourists who are lucky to discover a little Armenia within Lebanon: countless stamps of approval that are far from hidden and portend only good.
The story is verified by the 100 LIVES Research Team.
Subtitle:
Lebanese tour guide: "I often tell visitors to Lebanon about Armenia and Armenians"
Header image: