Submitted by
global publisher
on Mon, 01/25/2016 - 11:45
English
Intro:
"I married both the man and the pearls," says Dalita Alex (née Dalita Vartanian) in her charming, half-joking way. Born in 1949, this warm, vibrant and accomplished woman has lived on several continents, finally settling in Switzerland. There, with her husband John Iskenderian Alex, she helped create a successful pearl cultivation business. She has since authored four books and has also started organizing annual exhibitions of her jewelry.
Story elements:
Text:
"I married both the man and the pearls," says Dalita Alex (née Dalita Vartanian) in her charming, half-joking way. Born in 1949, this warm, vibrant and accomplished woman has lived on several continents, finally settling in Switzerland. There, with her husband John Iskenderian Alex, she helped create a successful pearl cultivation business. She has since authored four books and has also started organizing annual exhibitions of her jewelry.
Text:
Dalita's life story—which includes travels from the Far and Middle East to North America and Europe—is inextricably linked with that of her great-grandparents. Rather like precious pearls strung together, the stories have become a priceless family heirloom.
An oasis for orphans
"My great-grandfather, Schamamyan, came from Kilis, a small village between the cities of Marash and Aintab, which is on the modern-day border between Syria and Turkey. The owner of a huge olive tree plantation, he was a very wealthy man. His daughter, my grandmother Digranuhi, told me that their cellar was always well-stocked with thousands of bottles of olive oil, which my great-grandfather sold all across Asia Minor," Dalita recalls.
Image: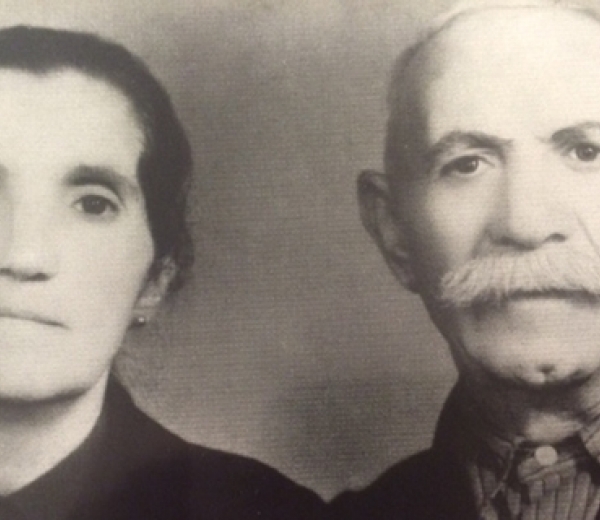 Text:
         Dalita's grandmother Digranuhi Schamamian and her husband Manuel Tchapkinian 
"Our family was held in high esteem by the people of Aintab, Marash and other cities of Southeastern Anatolia," says Dalita. "Even when she grew old, many Armenians—among them dignitaries of Beirut—would come to pay their respects to Digranuhi, kissing her wrinkled hands in gratitude. All this moved me deeply," Dalita expounds, recalling her childhood memories.
Perhaps the greatest wealth of Dalita's family, however, were her great-grandparents' big hearts and welcoming arms: though they had six children of their own, Digranhui among them, they adopted 13 orphans. And that was before the Genocide began.
Image:
Text:
                                                  The Schamamian family in Aleppo
As with all Armenians of the early 20th century, the family's problems began well before the start of the Genocide. As Dalita recounts, one day Turks broke down the gate of their multi-story house, taking her great-grandfather with them. Despite the gold and jewelry he had hastily fastened to his belt in the desperate hope of buying his freedom from the Turks, he was never to return. Soon after, the entire family was sent on a march through the Syrian Desert, a horribly harsh journey along which countless Armenians died. The family used whatever gold and jewels they had for three purposes: to pay Kurds for the release of abducted Armenian children (or those who had simply been orphaned along the way), to pay Turks so the family could occasionally travel by chariot, and to bribe anyone necessary simply in order to stay alive. 
Eventually the family arrived in Aleppo, the largest city in Syria. Dalita's grandmother was then 15 years old. Sometime after their arrival in Aleppo, Digranuhi married Manuel Tchapkinian. The couple went on to have five children: the oldest one, Mary (Dalita's mother), who was born in 1928, and four sons. In the 1940s Mary wed Garbis Vartanian and the couple remained in Aleppo. Mary's parents, however, not wanting their sons to serve in the military of an Arab country, migrated to Leninakan (now Gyumri) in Armenia in 1948.
Image:
Text:
                          Dalita I. Alex with her father Garbis Vartanian and mother Mari
Moving on up
Garbis Vartanian, born into a family of Genocide survivors in Aleppo, would become one of the city's dignitaries. "What an achievement, considering the fact he never had a formal high-school education," Dalita says about her father. At age 13, tired of being reprimanded in school, he resolved never to return. Dalita explains: "Unperturbed, my father told his parents not to worry, declaring with the greatest conviction that he was going to be rich and take good care of them in their old days."
And he kept his word. Soon after completing his training as a mechanic, Garbis opened an auto-repair shop. Some time later, when there was an opportunity to market cars manufactured by Swedish automaker Scania all across the Middle East, he didn't fail to seize it, making him the first such dealer in the entire region. Such progress notwithstanding, "…with the situation of the Christian minority in Syria worsening year after year, my parents eventually decided to move to Beirut," Dalita says.
Image: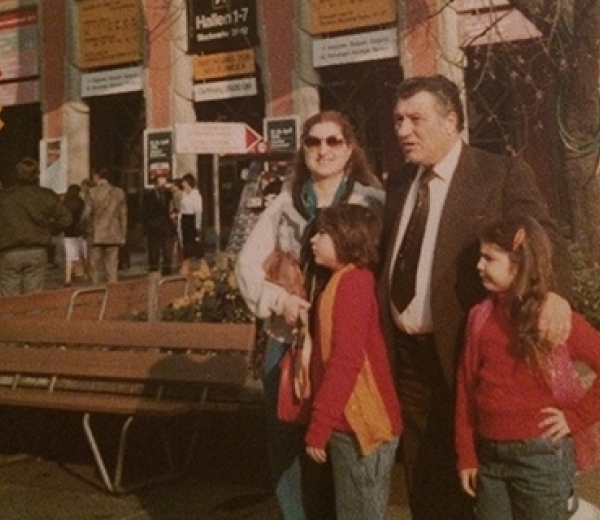 Text:
               Dalita I. Alex with her husband John I. Alex and children in Geneva, 1987
Marriage, motherhood and a mission
While Dalita's family found refuge in Syria and Lebanon, her future husband's family did so in Palestine. John Iskenderian was born in Bethlehem but his family soon left for South America, namely Argentina, Brazil and later, Bolivia. (In preparation for the move to South America, the surname Alex was appended to Iskendarian. The reasons have to do with acquiring a passport, but the net result was an easier name for others to recall, so it stuck). John met Dalita in 1969 in Lebanon, where he frequently traveled as a businessman. Then 19 years old and with a BA degree already under her belt, Dalita was studying philosophy and history at Beirut University College. Dalita and John fell in love at first sight and married just two weeks after their first meeting. Merely days after the wedding, the couple left Beirut for Kobe, Japan.
Image: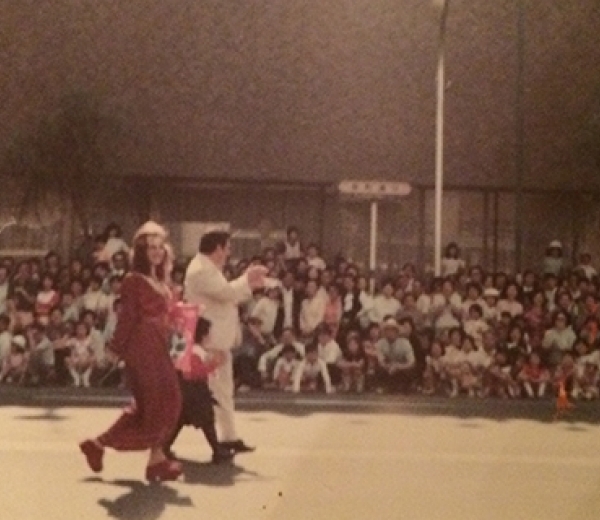 Text:
Dalita I. Alex represents Armenia together with her husband John I. Alex and her son Arthur at a parade in Kobe, Japan
By early as 1963, John Iskenderian was already an honorary pearl auction member. "He had come to Japan from Brazil to buy pearls, he liked Kobe and decided to live there. I followed him. Kobe was the center of pearl business long before China started producing pearls. Even if you bought pearls from another city in Japan—including Tokyo—they had to be inspected in, and—if they were of a high enough quality—exported from Kobe," Dalita explains.  
In their new country of residence, the couple had two of their three children, Arthur and Marie-Dalia. While in Kobe, where the family lived for seven years, the young mother became something of a self-appointed Armenian ambassador, devoting herself to explaining who Armenians were and what the essence of the Armenian culture was. 
"I consider explaining my cross to bear. I call it a cross because it's a tough task to accomplish. Armenians being virtually unheard of in this part of the world, the Japanese mistook us for Americans because of our Caucasian appearance." 
Once Dalita and John met Charles Aznavour, the famous French-born singer and son of Armenian immigrants, during one of his concerts in Osaka. "I will never forget this encounter. Mr. Aznavour's facial expression of bedazzlement and enthusiasm when he met an Armenian couple among his Japanese fans was quite a sight," Dalita remembers. Dalita's excellence at Armenian "ambassadorship" actually landed her an appearance on Japanese TV. "They let us walk in the parade in Kobe dressed in our national costumes," she says proudly. She also insisted on integrating the Japanese culture: both John and Dalita speak Japanese fluently.
Image: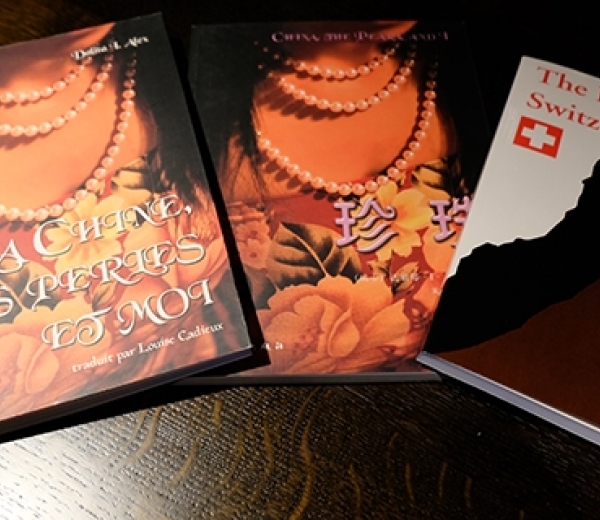 Text:
Dalita's books "China, the Pearl and I" and "The Prince in Switzerland," dedicated to her son Arthur
The Chinese request Armenian pearls of wisdom
John's willingness to share his extensive expertise in pearl cultivation with his wife gradually turned her into an expert, too. "One day we were contacted by Chinese government delegates. They asked us to teach them the secret of Japanese pearl cultivation, as we were the only ones with that know-how. My husband asked one of his Japanese master pearl cultivators to accompany us to China, and off we went," Dalita says.
This bold and historic move by the Iskenderians was the progenitor of what is today the successful, healthy variety of Chinese cultured pearl. 
Moreover, the Chinese government approached Dalita a few years later, requesting that she write a reference book on the subject. The book "China, the Pearl and I," published by Intercontinental Press in Beijing, was translated into Chinese and French and has sold more than 50,000 copies. 
Image:
Text:
A jewelry exhibition in Zurich, in which renowned Armenian artists participated, organized by Dalita's daughter Alexia in December 2015
A new home and unexpected competition
In early 1975 the couple decided to pack up the family and head for home. In Lebanon, however, civil war was looming, prompting John to suggest that they try their luck in Switzerland, a country he knew well from many business trips. Based on their knowledge and experience in the pearl-cultivation industry and the tantalizing possibility of a new job market for the small European country, the Swiss authorities granted them industrial and residential permits, thereby making them the first industrial pearl dealers in Europe. Continuing their liaison with China, the joint international venture flourished for 25 years, creating pearl factories across China, new jobs there and new jobs in Switzerland. Success was continuous until  "…illegal and anti-contractual competition from the local Chinese pearl farmers and dealers caused overproduction and price dumping, which in turn created worldwide chaos on the pearl market. In the end, we sat on kilos of unsold pearls," Dalita recalls. Yet with all those pearls at hand, Dalita took the upper hand: "We had so many that I made the best of it: In 2001 I became a designer and launched my own jewelry line: Best Pearl." 
Image: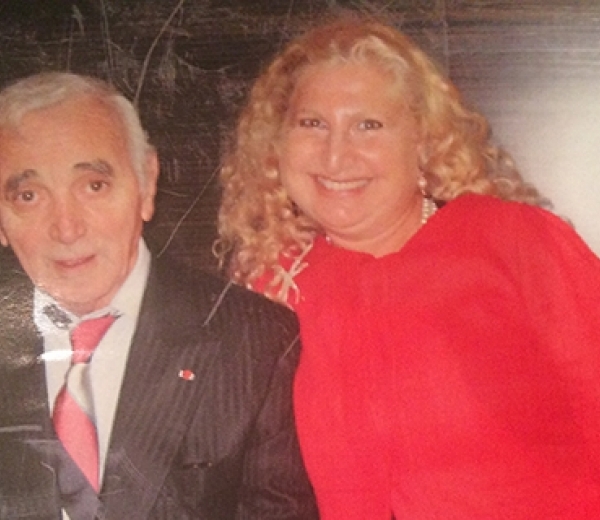 Text:
Dalita I. Alex and Charles Aznavour meet again to celebrate the Declaration of Independence of Armenia at the invitation of the Armenian Embassy in 1991.
An Armenian gem
"When I see the Syrian refugees of today I have to think of us Armenians 100 years ago. We left our homes in terrible fear, plagued and decimated by diseases during our flight. In this situation, the main goal was survival. And despite it all, we insisted on giving our children a basic education, scribbling letters in the sand if need be. This ardent will and belief in a better future is what I will be eternally grateful for to my ancestors. Today, I speak seven languages, ironically enough, including Turkish, which I learned from my grandmother Digranuhi when she told me her story of survival every night. I'm Armenian through and through, with every fiber of my being. My Armenian identity is in my heart and soul." 
The story is verified by the 100 LIVES Research Team.
Subtitle:
Owner of Best Pearl, Switzerland: "I'm Armenian with every fiber of my being"
Header image: