"He who ventures may lose, but nothing ventured, nothing gained at all."
Today, the Ohanian brothers are global leaders in marketing and recycling used garments. For over 30 years, they have been giving old clothing a second life. What humbly began with a mere five employees has grown into an enterprise employing 2,000 people. While Nerses focused on strategic growth targets, Hagop broke into new markets, and this combined approach has allowed the brothers to grow an empire that markets used garments in 90 countries and has branches on six continents.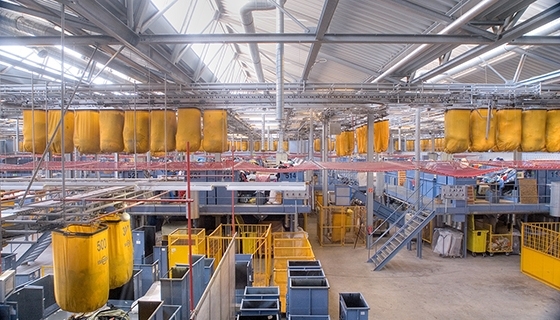 The SOEX GROUP sorting plant in Wolfen, Germany.
Up to 400 tons of used garments from all over Europe get shipped every day to the
SOEX GROUP
sorting plant in Wolfen, in the German state of Saxony-Anhalt.
With its philosophy of sustainability, the SOEX GROUP was featured, among others, by the German
popular science TV show Galileo
. By developing a customized technology, the company now hopes to acquire the ability to recycle shoes, a process which has so far been difficult to implement – so difficult that
Spiegel Online wrote
that a successful implementation would be sensational. The sorting plant is now being visited by a never-ending stream of high-ranking politicians known for their environmental consciousness. In 2012, the European Recycling Company, a subsidiary of the SOEX GROUP, won the Silver Zero Waste Award.
Clothing being manually sorted at the SOEX GROUP plant.
"I'll pay you back"
In Germany, the company is run by Nerses, who was born in Syria and came to the country at the age of 14 to help his father Souren. "We've been through difficult times. When the Civil War in Syria erupted, we lost everything and also acquired heavy debts. I was still in school back then. Very often we had nothing to eat. I hated being poor," Nerses says. Although Nerses was destitute and did not speak German, he knew that it was his obligation to provide his family with a better life at any cost.
SOEX GROUP founder Souren Ohanian.
At that time, Nerses's father Souren dealt in cars and auto parts. He bought them in Germany or the United States and resold them in his home country of Syria. "It was during my very first trip to Germany that I fell in love with the country. The rules, the order, the cleanliness – it all appealed to me a lot," Souren recalls.
In 1977 Souren founded the SOEX GROUP in Germany. Father and son worked 12 to 14-hour days while the family lived in far-away Syria. Three years later their financial situation had become stable enough to bring the rest of the family to Germany.
Souren Ohanian (center) shortly after arriving in Germany for the first time.
Yet, the road to success was bumpy. On more than one occasion, they were deceived and betrayed by those they had trusted. When the company yielded an annual revenue of two million German marks, a business partner robbed them of the profits. "I saw how much my father had been shaken by it and promised him, 'Pa, don't worry, I'll sort it out'," Nerses says.
Clothing prepared for recycling at the SOEX GROUP plant.
He had a plan: to focus on large companies in the used garments business. Nerses recalls: "At the time there were two large collectors of used garments based in Hamburg – one of them was Melosch, which had been contracted by Axel Springer, the other was a company run by a good and reputable businessman. I went up to him and said, 'Mr. Jörg, my name is Nerses Ohanian. I don't have any money, but if you give me merchandise and a credit, I'll pay you back.' I still remember that he looked at me and then reached for his phone, telling someone on the other end of the line to send me the merchandise, all of it. And 'all of it' was between 600 and 700 tons. He gave me a credit of 400,000 German marks. He simply trusted me."
A tapestry of recycled clothing at the SOEX GROUP plant.
Nerses tells the story like happened yesterday. In his mid-50s today, he appears honest, passionate and full of energy. It must have been his transcending charisma that paved his way to the top. In 1995, Souren had transferred the management over to his sons Nerses and Hagop, and the company's been growing ever since.
Nerses's brother and business partner Hagop Ohanian.
Forced to choose
One hundred years ago, the Ohanian family faced challenges of an existential kind: they were not spared by the catastrophe of 1915. "My father lost his family and friends, he barely survived himself," says Souren, who named his oldest son Nerses after his own father. "It's not only the name they have in common," says Souren, "above all it's the personality." In those dark days, if someone had told Nerses Sr. that he would survive the Armenian Genocide and that his descendants would build an empire that recycles used garments, he wouldn't believe a word of it.
Souren Ohanian (top left) and his father Nerses Ohanian Sr. (bottom right) with family members Eglantine, Hagop, Arousiak and Silvart.
In November 1914, when the Ottoman government entered into World War I by declaring war on the Triple Entente, Nerses Sr. was forcibly drafted into the army. In the last days of April 1915, when a large group of Armenian intellectuals was being arrested in Constantinople as a pretext to disarm and murder Armenian soldiers and begin mass killings of Armenian civilians throughout the Empire, Nerses was made to fight against the British in the Battle of Gallipoli. In the course of this long battle he was injured by three bullets to his leg and ended up in the hospital. "By the time he was discharged from the hospital to be redeployed to the front lines, all of his comrades-in-arms had already been killed in action," Souren says. "My father rushed back to his home village of Hromkla to get his relatives to safety across the Euphrates."
The small village of Hromkla was located far from the Gallipoli Peninsula – on the Euphrates river, between Aintab and Urfa (present-day Gaziantep and Sanliurfa in southeastern Turkey). Some 40 Armenian families lived in the village until 1915. All that is left of it today are the ruins of a medieval castle.
Hromkla, also called Rumkale, the village of Nerses Ohanian Sr. as it looks today. Photo by Phil Sapirsteing, Flickr.
Nerses Sr. rented two large boats, each manned by a crew of two. "The two boats could easily have held several families," Souren explains. "My father was resolved to rescue as many villagers as possible, risking his own life in the attempt."
Nerses Sr. rowed to the village in his own small boat to meet his family at a location agreed upon beforehand. Pausing near the riverbank, he waited for the two large boats to arrive, but they never showed. "They must have been stopped and sent back by Turkish guards. The only reason my father was able to reach the village with his own small boat in the first place was his Ottoman army uniform," Souren says.
The dire situation required a quick decision.
With room for only one other person on his small boat, Nerses Sr. picked his little cousin Hagop Tcherjian.
Once they reached safety, they learned that all of the villagers had been massacred and that their houses had been pillaged and burned. "My father never saw his family again," Souren says.
For Armenians, the situation deteriorated day by day: Armenian soldiers serving in the Ottoman army had already been disarmed and executed as potential traitors. All across the empire, the Armenian elite was hunted down and killed. Many of those still alive were sent as forced laborers to the yet unfinished Baghdad Railway, a fate Nerses Sr. shared. "The labor was so hard, the gradual and systematic extermination of the laborers was part of the plan. For many years, my father was forced to work in the scorching sun," Souren recalls.
Birecik and his friend Ali
Despite experiencing so much misery and suffering at the age of 24, Nerses Sr. remained optimistic and kind. "My father was a good-hearted and honorable man. What he had, he shared with everyone. He loved people; their nationality and religion didn't matter to him. He would always say, 'There are good people everywhere'." He was proven right. In Birecik, a town in Southeastern Turkey not far from the current Syrian border, he met a Kurd named Ali. The two of them worked together in coal production. "Neither would judge people by their religion. They complemented one another. While Ali prepared the coal, my father took care of shipping it – they worked well together as team," says Souren.
They traveled a lot and worked in many different places. Although some years had passed since the Genocide, Armenians were still persecuted in Turkey. "In those days, the Turks kept trying to kill my father, but each time Ali claimed that he was a Kurd named Djuma," Souren says.
Later, my father would often tell us about Ali, saying that he was a good, trustworthy and fair person. He was deeply grateful to him.
In the 1920s Nerses Sr. first came to the small city of Jarabulus before settling down in the much larger Aleppo with his wife, Arousiak Kethcejian, and his four children. He worked in agriculture for a French company. "Every now and then, my father would tell us about his life, each time starting his stories with these words: 'Bullets fired at people end their lives, while I was saved by them'." Nerses Sr. lived to the age of 103.
Souren Ohanian as a child with his mother and sister in Aleppo, Syria.
Nothing ventured, nothing gained
Aside from co-running the SOEX GROUP, Nerses founded another company seven years ago,
I:Collect (I:CO)
. As a forerunner of progressive thinking in the recycling business, I:CO received the Cradle to Cradle Systems Innovator Award in New York. Meanwhile, it cooperates with more than 60 trading partners worldwide, including H&M, PUMA, North Face and Levi's.
The SOEX GROUP headquarters in the German state of Saxony-Anhalt.
The large windows of his spacious office overlook an area where some 30 trucks a day deliver used garments. While letting his gaze sweep over the sorting plant, Nerses says, "If you want to be successful, you must be prepared to take a risk. He who ventures may lose: but nothing ventured, nothing gained at all."
The story is verified by the 100 LIVES Research Team.