Submitted by
global publisher
on Mon, 01/25/2016 - 16:22
English
Intro:
The child of Armenian Genocide survivors, renowned Canadian scholar Isabel Kaprielian-Churchill has dedicated much of her professional life to researching and chronicling Armenian immigration and culture of the Diaspora. Her recent studies have focused on the little-known aspect of Armenian culture that played an important part in helping Armenians survive the Genocide: lace and needle arts.
Story elements:
Text:
The child of Armenian Genocide survivors, renowned Canadian scholar Isabel Kaprielian-Churchill has dedicated much of her professional life to researching and chronicling Armenian immigration and culture of the Diaspora. Her recent studies have focused on the little-known aspect of Armenian culture that played an important part in helping Armenians survive the Genocide: lace and needle arts.
Text:
Shielded from horrors of the past
Born in Hamilton, Ontario, Professor Kaprielian-Churchill recalls an idyllic Canadian childhood, where she was one of four children: "I had three older brothers. One died very young from pneumonia. I had a very happy childhood. My parents, who were survivors of the Armenian Genocide, would do anything for us," she says.
Professor Kaprielian-Churchill attended McMaster University and holds a Ph.D. from the University of Toronto. After teaching at the University of Toronto, she accepted a position at Cal State Fresno in 1996 in the Department of History, where she was named Professor of Armenian and Immigration History. In 2006, she retired and was named Professor Emerita of History.  
Kaprielian-Churchill's work covers a wide range of topics including Armenia diaspora, ethnic and immigration studies, genocide and refugee studies, the history of childhood and the family, and the Armenian Diaspora. She is the author of countless monographs, articles and books, including the 2012 "Sisters of Mercy and Survival: Armenian Nurses, 1900-1930," which was granted the Richard and Tina Carolan Literary Award. Her definitive history, "Like Our Mountains: a History of Armenians in Canada," (McGill-Queen's University Press, 2005), won the 2006 Clio Prize, awarded by the Canadian Historical Association for the best book on Ontario history. She was also awarded the Marion Porter Prize for co-authoring "Looking Into My Sister's Eyes: An Exploration in Women's History," an honor bestowed by the Canadian Research Institute for the Advancement of Women for "the most significant work of Canadian feminist research." 
When not writing, lecturing and touring, Professor Kaprielian-Churchill enjoys playing the piano. She currently makes her home in Toronto with her husband Professor Stacy Churchill and their family. 
A "choiceless" choice
Isabel's father Kapriel Kaprielian came to Canada in 1912 as a sojourner, leaving behind a wife and two children in the village of Jerman, Keghi, Ottoman Empire. Keghi is located in the province of Erzurum, and the village of Jerman is currently known as Yedisu. Keghi is a mountainous and isolated land, but exquisitely beautiful. After WWI, Kapriel spent the better part of a decade trying to find his family, but then learned that they had all been killed during the Armenian Genocide. He later married Isabel's mother, Lousaper Zakarian, who came over in 1924 as a picture bride after spending several months in Marseilles. 
Image: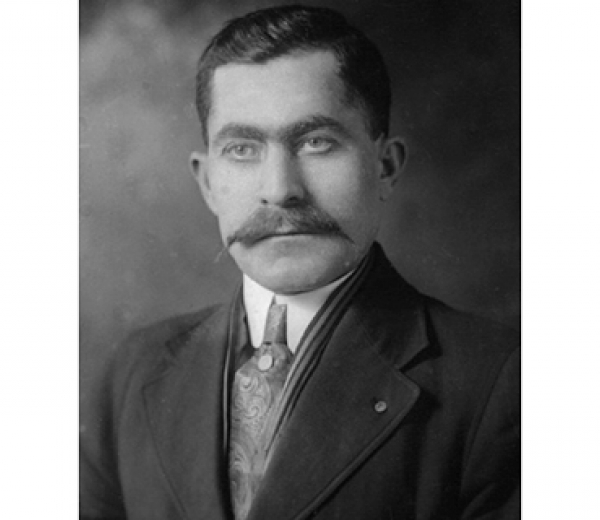 Text:
Groom photo of Kapriel Kaprielian sent from Hamilton, Ontario to Lousaper Zakarian in Aleppo, Syria 
Lousaper was born in Erzurum in 1905 into a fascinating family: her maternal grandmother Azniv Zakarian was a singer and soloist in the city's Armenian cathedral. Her maternal grandfather Tateos Zakarian was a craftsman, a master metallurgist who ran his own atelier. "From what I gathered from my mother," says Kaprielian-Churchill, "they moved in very elegant circles in the city. They were well-read and well-educated. My mother had one sister, two years younger than she…My grandfather was an astute man. Before the Armenian Genocide started he heard that there was going to be trouble, so he prepared bowls and cups with false bottoms in which he hid coins and jewels." 
The family was deported in one of the convoys from Erzurum. Because of her grandfather's skills, the Turks gave him a choice. He could convert to Islam, in which case they would give him a home, an atelier and everything that he needed, and they would look after his family as well. 
If he refused, they would kill his entire family right before his eyes. He converted. Kaprielian-Churchill calls it "a choiceless choice." 
For his wife Azniv—a devout Christian who had dedicated her life to the church and church music—it was an excruciatingly difficult decision. Every day she would bolt the doors and draw the curtains. Then she would read her Bible and say her prayers and sing her hymns. But her isolation could not save her from the horrors that befell the rest of her family. One day she heard that her seven brothers had all been killed. "My mother said she died of a broken heart," Kaprielian-Churchill recounts. "She couldn't bear the thought that all her brothers had been killed. She probably didn't want to live after that." 
The remaining family eventually fled to Aleppo, Syria, where Lousaper started a correspondence with Kapriel in Canada. They exchanged photographs and decided to marry each other. She embarked on the great adventure from Aleppo to Canada via Marseilles, France. They established a home in Hamilton, Ontario and had three sons and a daughter.
Apart from the Turks in Erzurum who offered conversion as a means of salvation, Kaprielian-Churchill does not know of anyone who helped her parents' families escape. She does however recognize that American missionaries in and around Erzurum saved countless Armenians: "Many of them died as a result of their dedication to the Armenians. That is something to be grateful for, indeed."
Swords shrunk to needles
          … Here is the snowflake that never melts,
          And time itself preserved in Armenian lace.
          We have always miniaturized.
          Look at our paintings, small, precise.
          We have always minimized.
          Look at our story, pressed into lies.
          Look at our country, boundary capsized.
          Swords shrunk to needles, daintily sized,
          Ready to make lace or put out eyes.
                                     -Diana der Hovanessian, Songs of Bread, Songs of Salt
Some of Kaprielian-Churchill's recent research has centered on a little-known aspect of Armenian culture that played an important part in surviving the Genocide: lace or needle arts. In a lecture she delivered earlier this year at a United Nations conference in New York dedicated to the Armenian Genocide and organized by the Armenian Relief Society, Professor Kaprielian-Churchill told the fascinating story of the role that needle arts played in the survival of the Armenians. In what she terms "speaking through the needle," thousands of Armenian women during the Genocide and after made money through their needle crafts to provide sustenance to their families.
In the late 19th and early 20th centuries, massacres transformed Armenian family life, leaving widows, orphans and widespread poverty in their wake. Women who had been stay-at-home wives and mothers were now forced to work in order to provide for their family's livelihood. In order to support these efforts, American and European missionaries began to industrialize and commercialize fancy Armenian handiwork on a broad scale. In Urfa (now Sanliurfa, in southeastern Turkey) Miss Corinna Shattuck and Dr. Fanny Shepard, the wife of the American medical missionary in Aintab (now Gaziantep, in southeastern Turkey), started a firm called Industries for Women and Girls. By 1897, Armenian experts in Urfa were teaching and supervising young women producing doilies, aprons and handkerchief edgings for sale. In 1912, it was estimated that at least 10,000 people derived complete or at least partial support from this source, including close to 2,000 in Shattuck's enterprise alone. 
These women were primarily producing needle-lace edgings on fine linen handkerchiefs, which were then sent to Ireland and Germany and exported all over the world. 
From 1903 to 1908, it is estimated that the women had produced almost 30,000 pieces of embroidery on Urfa chiffon or muslin and edged some 650,000 handkerchiefs. 
During the Genocide many of these workshops were destroyed, but after the massacres were over they picked up again. 
One famous workshop organizer,
the Danish teacher Karen Jeppe
, promoted the needle arts among Armenian girls in the German orphanage in Urfa before the war. In 1921 she settled in Aleppo, where she was appointed a Commissioner of the League of Nations to rescue and rehabilitate Armenians who had been detained in Muslim homes and institutions. "In this dangerous assignment," Kaprielian writes, "she managed to rescue at least 1,700 individuals. She set up an orphanage and opened a Sewing Hall where the older girls and women could learn fancy handwork in a safe environment and earn a living wage. Jeppe sold the finished products in Northern Europe, France, England and the United States."   
One particularly talented woman by the name of Arousiag Mikaelian was even hired by none other than Elsa Schiapparelli herself to knit unusually fine pieces known as Bowknot Sweaters: her technique eventually became known as Armenian knitting. 
Interestingly enough, Isabel's mother was herself a master of the needle. While waiting in Marseille for her immigration papers, she crocheted a gorgeous bedspread based on the 11th century Bayeux tapestry. 
Image: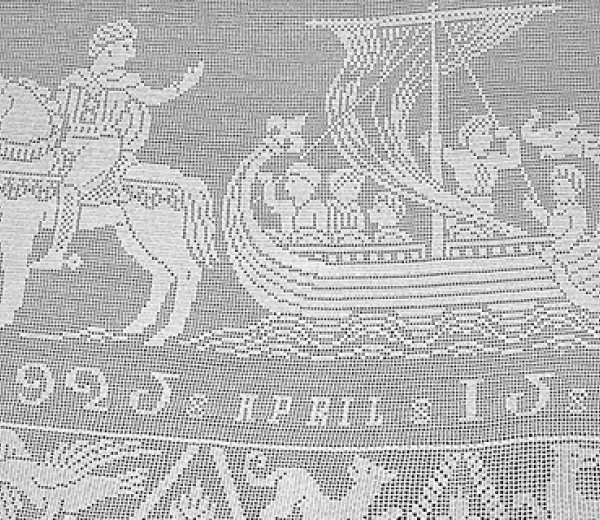 Image: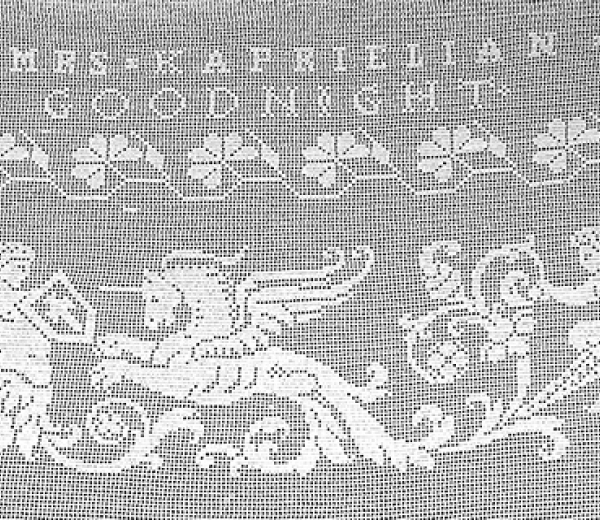 Text:
                             A bedspread crocheted by Isabel's mother Lousaper Zakarian
"When you look at it, the similarities are clear," Kaprielian-Churchill notes. But how did a young, 19-year-old Armenian girl from Anatolia ever see this famed tapestry that depicts the events of the Norman Conquest? "That remains a mystery to me," says Kaprielian-Churchill, who also marvels at the immense talent that these women possessed: "Needle arts were prevalent. Every Armenian girl, my mother included, knew how to crochet and needlepoint. Thank God, because it literally saved their lives. And how wonderful that my mother, after everything that her family had gone through, had the creativity and wherewithal to prepare something so lovely," she says. 
The story is verified by the 100 LIVES Research Team.
Subtitle:
Decorated Canadian scholar on the needle art(s) of survival
Header image: