León Carlos Arslanian's fame reaches far beyond the Argentinian Armenian community. A lawyer and a former judge, he presided over the historic Trial of the Juntas. He served as Argentina's minister of Justice, as minister of Justice and Security of the Buenos Aires Province and as president of Buenos Aires' Institute of Criminal Policies and Security.
In 1976 the Argentinian military staged a coup in the country. A dictatorship, the National Reorganization Process, was established and lasted until 1983, when the military juntas relinquished power in the face of mounting opposition from the public.
In 1985, nine military officers of the first three juntas were put on trial for the gross human rights violations they committed during their rule. The trial was presided over by a tribunal of six judges, León Arslanián among them. He oversaw the sentencing phase and pronounced the harsh sentences given out to the defendants. To this day, the trail remains the only large-scale procedure by a democratic government against a former dictatorial government of the same country in Latin America and the first conducted by a civilian court. The verdict was groundbreaking and left an indelible mark of global proportions.
Thus León Carlos Arslanian, an Argentinian of Armenian descent, connected the histories of two very distant countries. "I accepted the challenge and took on the risks it implied. It was all very symbolic. It allowed me to establish a connection to what happened to Armenians," he remembers.
Arslanian's longstanding commitment to defending human rights is a direct result of his family history. "I had been influenced by my family's story and saw this very clearly during the trial. I could see and connect Argentina's past with that of Armenia, a past that wounded both peoples. Advocacy for human rights and my interest in culture, social matters and politics are in the genes I have inherited from my father," he says.
Justice in his blood
Levón Arslanian, León Carlos's father, was the second of five children. He was born in 1902 in a typical Armenian family in Aintab (now Gazintep in Turkey). His father, Garabed, was a silk and carpet merchant who died of poor health at the young age of 35. The children, four boys and a girl, remained in the care of their mother, Epruhí Vochgezenian.
Epruhí and her little girl perished when the systematic extermination of Armenians began in the Ottoman Empire in 1915. The four brothers Artín, Levón, Nubar and Pyuzand managed to flee from the Genocide to Aleppo, Syria, with the help of an uncle.
For two years, the four brothers remained at a Syrian orphanage. When Artín turned 17 and Levon turned 15, the two oldest brothers went to Beirut in Lebanon to learn the trades of tailors and shoemakers. With help from the International Red Cross, the brothers obtained
Nansen passports
, and after a long journey through France and England they boarded a ship called Darro bound for Argentina in 1923. Meanwhile, the two younger brothers continued living in the orphanage until 1927, when they too came to Argentina.
Argentina welcomed immigrants with open arms. "Immigration in Argentina was a very well-organized process," León Carlos remembers. "There were regulations and even a large place called Hotel de Inmigrantes at the port. My father and my uncle stayed there." Vahakin Arslanian, Artín's son, recalls: "After that, the Red Cross sheltered them in a large house with hardwood floors where there was a stable. One night, uncle Levón ended up crying not because of the fleas that bit him, but because the horses made too much noise."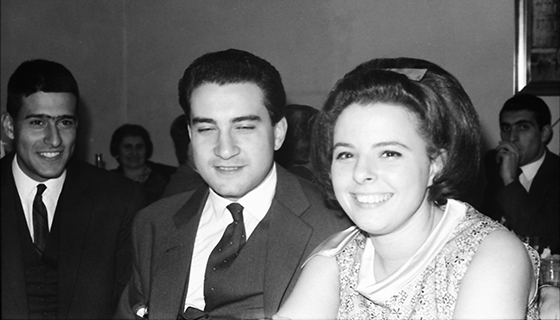 León Carlos Arslanian and his wife Isabel Rosas
By sticking together the brothers were able to overcome the adversities that came their way. With hard work and dignity they prospered and built their families in the new country that welcomed them. "Neither my father nor my uncle Levón lived on anyone's handouts," Vahakin says. "They never begged for money or stole anything."
Levón Arslanian, León Carlos's father, found work at a tailor shop and was soon able to open his own store, which he kept until retirement. "He raised a beautiful family of three children and eight grandchildren. A family he would most certainly be extremely proud of," León Carlos says. Artín Arslanian had two children and worked a shoemaker, later turning his shop into a sports store.
The brothers built their lives without looking back, but they never forgot where they came from. "They never spoke about what happened, they did not want to talk about it," León Carlos explains. "They were young when it all happened. Given the fact that they were orphans and had no one to care for them, they preferred to forget," says Rita, Artín's daughter and Vahakin's sister.
León Carlos Arslanian surrounded by relatives
Shine bright like a diamond
Little by little, a thriving Armenian community formed in Buenos Aires, with its own church (Saint Gregory the Illuminator Cathedral) and an Armenian Center that aids Armenians in discovering and preserving their identity. "The connection to Armenia, the story, the reference is always there. This is closely connected to the recovery of memory. The concept of a diaspora is extremely complicated: it is something that compels you to search for the origin because it is the only way to reconstruct your past, your identity, your life," León Carlos believes.
The diaspora is the desire to keep a homeland that was stolen, regardless of its physical location.
"This is why the diaspora is as important as the homeland. The Armenian identity is an important model of willpower, of progress, of growth. Everywhere, you can see Armenians shine like precious stones reflecting sunlight," says León Carlos.
León Carlos was born and grew up 10,000 miles away from his ancestral homeland listening to stories about it, but one day the stories became very real. "The first time I went to Armenia I felt a rush of emotion. I sought my origins, I wanted to identify with the soil, I wanted to look for every object or place where I could feel the presence of my father and my family. It was an extraordinary experience. Armenia has an impact on you," Arslanian affirms.
The story is verified by the 100 LIVES Research Team.