Submitted by
global_publisher_JR
on Wed, 09/04/2019 - 07:42
Maison Shalom, an international NGO that cares for thousands of orphan children and refugees from war-torn Burundi, will celebrate its 25th Anniversary with a program featuring public talks and discussion panels by distinguished philanthropists and experts on topics such as humanitarianism, education, among other pressing global issues. The Aurora Humanitarian Initiative Co-Founder, impact investor and social entrepreneur Ruben Vardanyan, and the Initiative's Chair, Medical Director of Mother of Mercy Hospital and 2017 Aurora Prize Laureate, Dr. Tom Catena will travel to Rwanda this month to take part of the festivities.
"It is a great honor to join the celebrations commemorating the 25th anniversary of Maison Shalom, just as it has been an honor to award its founder, Marguerite Barankitse, with the inaugural Aurora Prize in 2016," said Ruben Vardanyan, Co-Founder of the Aurora Humanitarian Initiative. "Marguerite is a true hero and a living embodiment of the Aurora spirit. Thanks to people like her the Aurora community of exceptional humanitarians continues to grow and help people in need, spreading the message of Gratitude in Action."
In 2016, Marguerite Barankitse was named the inaugural Aurora Prize Laureate for her extraordinary efforts in saving thousands of lives and her caring for orphans and refugees during the years of civil war in Burundi. As the inaugural Aurora Prize Laureate, Marguerite Barankitse received a $100,000 grant and $1,000,000 donation to organizations that have inspired her work.
"The Aurora Prize has had a tremendous impact on myself, Maison Shalom and hundreds of people we were able to help with the award. We couldn't have done it without you – it was a miracle of love and human dignity. Now we're ready to show the world what we managed to achieve in 25 years, and that's just the beginning," said Marguerite Barankitse, founder of Maison Shalom and 2016 Aurora Prize Laureate. "I look forward to welcoming the Aurora delegation to Kigali and showing them the same hospitality I've experienced in Armenia where everybody treated me like family."
Marguerite Barankitse started Maison Shalom in the middle of the atrocities of the Burundian Civil War, when she took in the first 25 orphan children offering them a safe space to help re-build their lives. Inspired by a culture of peace and reconciliation, Maison Shalom's mission has expanded since its creation in 1993 to care for children orphaned by AIDS not just in Burundi, but also in Rwanda and the Democratic Republic of the Congo.
English
Image: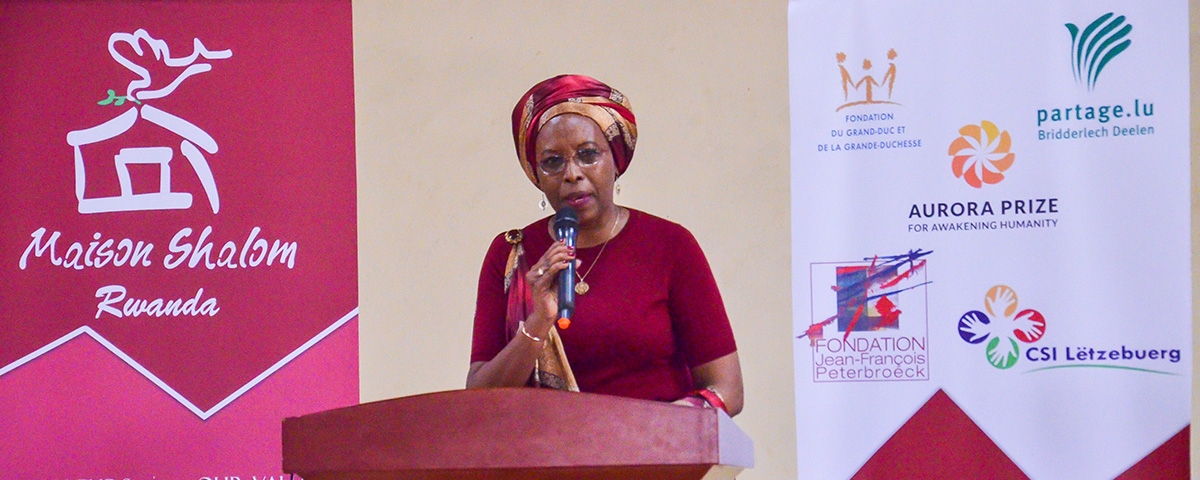 Subtitle:
Aurora Humanitarian Initiative Co-Founder Ruben Vardanyan and Chair Tom Catena to join Maison Shalom Founder and 2016 Aurora Prize Laureate Marguerite Barankitse in Kigali, Rwanda