Submitted by
global_publisher_JR
on Fri, 04/19/2019 - 17:44
On April 12, 2019, the ceremony dedicated to the 104th Anniversary Commemoration of the Armenian Genocide event took place at the Massachusetts State House. Distinguished officials, representatives of the local church clergy and students from an Armenian school gathered together to pay respect to the victims of 1915 tragedy and honor their descendants. Dr. Noubar Afeyan, Founder and CEO of Flagship Pioneering and Co-Founder of the Aurora Humanitarian Initiative, was the keynote speaker.
Students from local St. Stephen's Armenian Elementary School captivated the audience with a touching rendition of the American and Armenian national anthems, highlighting the importance of both homelands – native and adoptive – for Armenian Americans.
Noubar Afeyan began his keynote speech by reminding the guests that they all gathered there to commemorate the Armenian Genocide and to give thanks to those who helped Armenian survivors and their descendants to rise again. He also drew some parallels between the 1915 tragedy and modern crises. "The heroes who saved the lives of Armenians and helped them revive compel us to work today against those who perpetrate such evil acts and to support those who face the same dangers today to save the life of others. From the despair and trauma of a century ago, we have struggled to revive and, in many ways, thrive today, thanks to the generosity and acceptance of our adoptive countries. That same journey is being traveled by millions of refugees today throughout the world, as sadly the atrocities that force people to seek safety have not subsided. In fact, they are even occurring on the very same soil where Armenians perished in modern day Syria" he said.
Armenians are uniquely positioned to make a big impact, argued Dr. Afeyan, as they have spread so widely after the Genocide. "104 years ago, about 1.5 million of targeted Armenians perished; hundreds of thousands were forced to leave their homeland to find secure places to survive. After the Genocide, 120 thousand Armenian orphans from 1915 till late 1920s were dispersed in different orphanages in modern day Lebanon, Egypt, Syria, Cyprus, Greece, Hungary, Italy, Russia, Georgia, Armenia, France, Switzerland, Canada and elsewhere. Numerous international and national organizations were involved in relief and orphan care activities. Now, the descendants of those who survived are far flung in regions from Australia to South America, to the US, to Russia, to Europe, to Armenia: now an independent country," he pointed out. 
Noubar Afeyan then touched upon the fact that during the 1915 Armenian Genocide there had been millions of victims – but there'd been saviors, too. He urged the guests not only to remember the survivors of the Armenian Genocide but also to show gratitude to those who helped them escape: "As the archetypical genocide, much has been written about the perpetrators and the victims, but what gets a lot less attention is that during this tragic period were born survivors and their saviors. Humanitarians from around the world came to the aid of starving Armenians calling it a "crime against the humanity and civilization", as it was labelled in a joint declaration made by France, United Kingdom and Russia in May 1915. The legacy of the American Committee for Near East Relief is a vivid example of global humanitarian intervention on behalf of Genocide survivors," he reminded.
Dr. Afeyan mentioned that his interest in Genocide was based in personal experience, as he is the grandson of Genocide survivors from Adapazar and Oorfa. His grandfather, Bedros, escaped death not once but twice – and it was a kind-hearted stranger, a German officer, who saved him the second time. "How ironic that at the time when the German military was actively supporting the Ottoman Turks in the forced deportations, individual officers and soldiers, at great risk to their own lives, were actually saving Armenians, of which one of them was my grandfather. Growing up hearing that story from my great aunt, Armenouhi, made me realize that beyond perpetrators and victims, there were also saviors and survivors," reminisced Noubar Afeyan.
It was that realization that inspired him to launch Aurora: "Four years ago, at the occasion of the centennial of the Armenian Genocide, many of us struggled to find meaning and motivation from our collective tragic experience.  Together with my partners, President of the Carnegie Corporation, Dr. Vartan Gregorian, and Russian Armenian philanthropist Ruben Vardanyan, we co-founded a new Humanitarian Initiative and Prize, Aurora, named after a famous survivor of the Armenian Genocide, Aurora Mardiganian.
Our overriding ambition was to find a way of remembering not only the survivors of the Armenian Genocide but also to show gratitude to their saviors – the people whose bravery, in the face of such adversity, helped save lives then, and allowed many of us to be here today. Within this short space of time, that idea has evolved into a global movement."  
After that, Dr. Afeyan explained the concept of Gratitude in Action that underlies Aurora's activity. "The Aurora Humanitarian Initiative and Prize seeks to empower modern-day saviors to offer life and hope to those in urgent need of basic humanitarian aid and thus continue the cycle of giving internationally. In essence, the Aurora Humanitarian Initiative is about three words – Gratitude in Action. Gratitude causes action that inspires new gratitude that hopefully causes new action," he emphasized.
In conclusion, Noubar Afeyan suggested modern Armenians in Massachusetts and beyond use their nation's experience as inspiration for lending a helping hand to those in need. "We come from the biblical land where Noah's ark is said to have landed near Mount Ararat. For us this has deep significance as it is the symbol of a second chance at life. Today we are commemorating the Armenian Genocide that started 104 years ago. Those of us living today were given the second chance. The question for us is what we are going to do with it. Armenians have a lot to be thankful for. Every day that I live here, I feel a responsibility to do something about the opportunity that I was given. My answer and suggestion to my fellow Armenian Americans is to use our past as a force for good. Let's find ways to express our gratitude by supporting today's refugees and needy. Let's embrace humanitarian causes just like the ones who gave us our second chance," he said.
Photo © Kenneth Martin
English
Image: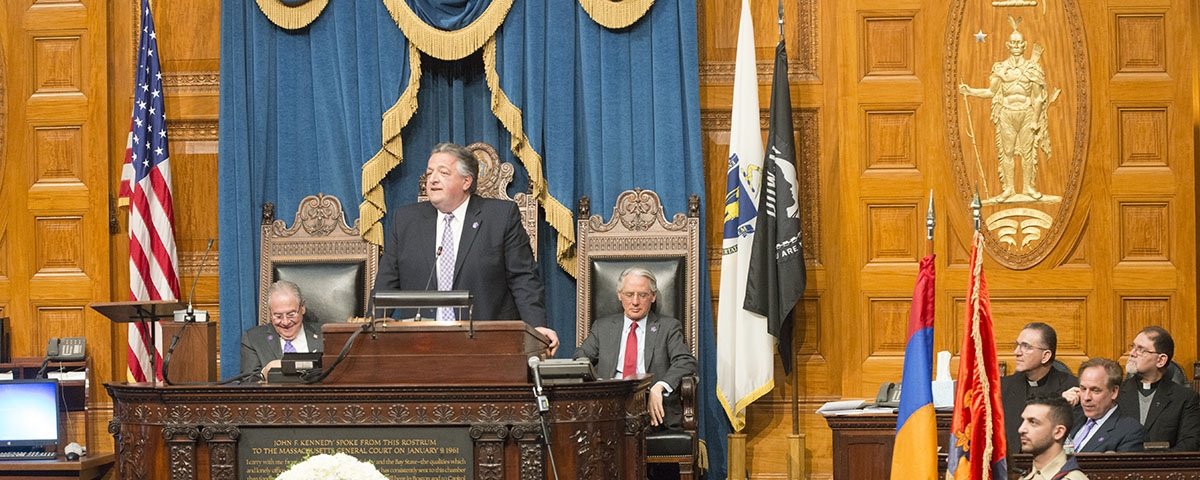 Subtitle:
Dr. Afeyan was the keynote speaker at the 104th Anniversary Commemoration of the Armenian Genocide that took place on April 12, 2019.